Alumni
Big Challenges, Bright Future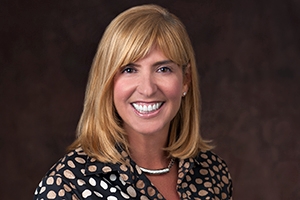 As American University's incoming vice president for development and alumni relations, Courtney Surls is not just taking a new job. She's part of a colossal undertaking to unite and strengthen the AU community. Yet with her affable personality and infectious energy, Surls appears ready for just about any challenge.
"I am a naturally enthusiastic person. I am inherently optimistic," says Surls. "And I find huge satisfaction in being able to bring people together."
She officially starts in this role on September 15.
Importance of Empathy
Her optimism might strike some as surprising, given that she grew up in a funeral home in Iowa Falls, Iowa. But she had a loving family, and she says the family business taught her valuable lessons about interacting with people in sensitive situations.
"When I came home from school, in order for me to get to my bedroom, I would have to walk through my father's office. Sometimes he would be meeting with a family at the most vulnerable time when they had just suffered a loss. And what I learned from that experience was how to read the people in the room as I was passing forth," she explains. Surls still draws from those moments while working in a fundraising and development capacity. In this type of position, she says, empathy is required to discern what other people need.
Tragedy struck her own family as well. When Surls was 16 years old, her father died of a sudden heart attack. Yet Surls was then inspired by her widowed mother, who went back to school to earn undergraduate and graduate degrees en route to becoming a community college counselor. Surls also had singing aspirations, taking voice lessons and eventually earning a music curriculum and education degree from Iowa State University.
Life on the West Coast
With a brother living in Hermosa Beach, California, Surls headed for the West Coast and took a job teaching at a Catholic high school in Playa del Rey. One of the priests at the high school needed a development person, and Surls put her name forward. With her mind blown by a workshop in Baltimore, she returned to California with ambitious plans for the school. But the priest was perplexed. "He looked at me like I had horns and said, 'I want you to run the carnival,'" she recalls, laughing. "I did do the carnival, but I finally convinced him that maybe we could move beyond that."
Around this time, Surls earned her master's degree in educational administration from Loyola Marymount University. Enthralled by the higher education atmosphere, she showed up at Loyola's development office and later landed a job there. In 2004, she got hired at the University of Southern California's Marshall School of Business. She subsequently served as associate dean and senior associate dean for external relations at the business school.
She was initially appointed vice president of development, for the entire university, in an interim capacity. She suddenly had a much larger staff and enormous responsibility, but she thrived in the position. When a permanent senior vice president was hired, she worked with him to launch a major six-billion dollar campaign. Though fully immersed in the development world, she also sang as a cantor in a Los Angeles area Catholic church.
After her husband transferred to Falls Church, Va. with Northrop Grumman, they relocated to D.C. Surls stayed on for a year with USC before starting in her most recent position as senior vice president for development at the Newseum. That job entailed not just philanthropy, but building a constituency around the First Amendment.
The Joys of Giving
Surls describes one moment that influenced and reflected her philosophy. When a man living in his 90s showed interest in giving a sizable donation to USC's dentistry school, Surls and others worked assiduously to foster this relationship and make the donation a reality. After months-long negotiations, she called the donor on the phone to thank him again. "I said, 'I just want you to know this is the best thing that has ever happened to the dentistry school.' And he paused for a moment, and I thought, 'He hates me,'" she jokes. "But he said, 'No, you're wrong. I want you to know this is the best thing that's happened to me.'"
It's not just asking people for money and support, she says. You can create an atmosphere that's meaningful for everyone, and that is what she hopes to do at AU. "I'll be going out there on behalf of this incredible university that is making a major impact, not just on the city and the nation, but the world," she says. "And it's not hard to invite people to invest in the future."