Student Life
Fast Facts on the Class of 2021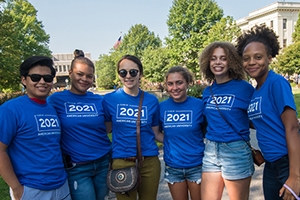 As first-year students get settled into campus life, here's a snapshot of the new class.
By-the-Numbers
Showing tough competition, just 29 percent of student applicants were admitted to this year's class. That's only the second time in American University history that the admit rate was below 30 percent.
Average GPA: 3.64.
Average SAT score: 1260.
Average ACT score: 28.
First-year students hail from 45 states (plus Puerto Rico). The top four states represented are New Jersey, New York, Pennsylvania, and California.
Female: 64 percent. Male: 36 percent.
Hispanic: 15 percent. Asian American/Pacific Islander: 10 percent. Black/African American: 9 percent. Total underrepresented minorities (Native American, Black, Hispanic, and Multiracial): 25 percent. International: 4 percent. Excluding the U.S., there are 54 nationalities represented.

*Editor's Note: These numbers are taken from May enrollment deposits. Updated numbers based on official enrollment this semester are not yet available.
Then and Now
The typical AU first-year student was born in 1999. Here's a look at news and what was popular—the term "trending" wasn't used in the internet stone age—that year. For sake of comparison, we've got an update on 2016–2017.
1999: After the House drafted articles of impeachment against President Bill Clinton, the Senate acquitted him in February 1999.
Now: Hillary Clinton lost a bitterly contested presidential election, and she's just starting a much-publicized book tour promoting What Happened.
1999: On Larry King Live, Donald Trump announced his presidential exploratory committee to run for president as a Reform Party candidate in 2000. He polled poorly and withdrew his bid.
Now: Donald Trump is president.
1999: Star Wars: Episode I—The Phantom Menace was the highest grossing film that year.
Now: Star Wars remains incredibly relevant. Rogue One: A Star Wars Story was one of the biggest moneymakers in 2016, and Star Wars: The Last Jedi is due out in December 2017.
1999: The Backstreet Boys' album Millennium was the biggest selling album of the year.
Now: Drake's album Views—when factoring in hard copy sales, downloads, and streaming—was the number one album in 2016.
1999: The first episode of The Sopranos aired in January on HBO, spurring a "Golden Age of Television" and challenging network TV.
Now: HBO's Game of Thrones is a pop culture phenomenon in 2017.
1999: Serena Williams won her first Grand Slam title, defeating Martina Hingis in the US Open Women's Singles final.
Now: Serena Williams won the Australian Open in 2017, marking her record-setting 23rd Grand Slam victory.
1999: Sports legends Michael Jordan and Wayne Gretzky retired. Jordan would return in 2001.
Now: NBA stars Kobe Bryant, Tim Duncan, and Kevin Garnett all retired in 2016.
1999: Former Pro Wrestler Jesse Ventura became governor of Minnesota.
Now: Rapper-singer Kid Rock is considering a run for the US Senate in Michigan.
1999: Amazon.com founder Jeff Bezos was named Time magazine's Man of the Year.
Now: Bezos owns The Washington Post. Amazon continues its vast expansion, announcing plans to acquire Whole Foods in 2017 for $13.4 billion.
1999: The Dow Jones Industrial Average closed above the 10,000 mark for the first time.
Now: The Dow Jones hit 22,000 in August 2017.
1999: The euro was established as a nonphysical currency in January.
Now: The euro is the common currency for 19 of 28 European Union countries.
1999: Discovery became the first space shuttle to dock at the International Space Station.
Now: This month, Expedition 53 launched a mission to ISS, where crew members are expected to conduct experiments in biology, biotechnology, Earth science, and physical science.