On Campus
Nine Memorable Moments from WOTY Event with Malala Yousafzai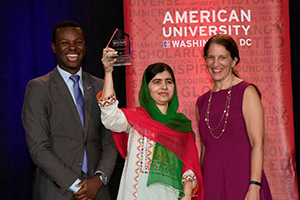 Before Malala Yousafzai walked out to a standing ovation on Monday night, the sold-out crowd was already abuzz with excitement. Members of the AU community stood in long lines outside Bender Arena waiting to catch a glimpse of the 2017 Wonk of the Year.
Inside, students tried to answer Wonk quiz questions about her. Yousafzai is the youngest recipient of what award? The Nobel Peace Prize. And while watching video footage of previous AU speakers, the crowd erupted with applause when the faces of former president Barack Obama and Canada's Prime Minister Justin Trudeau flashed on the big screen.
The WOTY event was hosted by the AUSG Kennedy Political Union, the university, the AUSG Women's Initiative, and the Muslim Student Association. Earlier WOTY honorees were Bill Clinton, Anderson Cooper, Laura Bush, and Donna Brazile. AU celebrates each WOTY for embodying four qualities: intelligence, passion, focus, and engagement.
"You could not have an awardee who more perfectly represents the values of this award," said AU President Sylvia Burwell in her introduction. "She exhibits a boundless passion. A passion that reveals itself in her inability to be indifferent."
After Yousafzai's speech, she sat down with President Burwell for a question-and-answer session. Here are nine memorable moments from the evening.
1. Yousafzai referenced previous Wonk winners, and how she is different. "I am the first foreigner to receive this. I am the first Pakistani to receive this. The first Muslim to receive this...I'm also the first Pashtun to receive it. I'm also the youngest one to receive it. And I'm also the shortest one to receive it," she joked.

2. On speaking out for girls' education in her home region in Northern Pakistan: "I realized that when my education is banned, I would not be able to follow my dreams—to become a doctor, to become a teacher, to be myself," she said.
3. While recovering from a Taliban shooting, she learned something about herself: "The terrorists had actually made a big mistake. They had made a big mistake because, first, I used to think about getting attacked or being harmed. But I had gone through this already, and now I knew that nothing can stop me."
4. Her father, Ziauddin, was in the audience, and she noted his support for her activism: "I got the opportunity to be here because of my father—because he allowed me to speak. There were many more girls who could have spoken out, who could have raised their voices. But they did not because their parents, especially their fathers or their brothers, stopped them," she explained. "There's nothing special in my story, but only that no one stopped me. So, girls can do anything."
5. Addressing AU students about the value of education: "Imagine a life where your mind is just completely limited, where your world is very small. So, knowledge and learning makes your world bigger. It makes your mind bigger. So, be thankful for it."
6. In response to a student question, she emphasized Islam's true message: "Islam, to me, is a religion of peace. A religion of brotherhood, humanity, kindness, tolerance, forgiveness," she said. "We need to really think about what our religion teaches us. And, also, unite and say that those people who are misusing the name of Islam, they are not us. We do not stand with them."
7. Answering a student's question about how she'd encourage men to fight for gender equality in education: "Think about your daughters. Think about your sisters. Think about your mothers. And allow them space, give them opportunity. You don't have to do something extra. Just give them the space and give them the opportunities."
8. After a student asked what advice she'd give to young girls, she stressed the need for self-confidence: "You have to continue following your dreams. Do not underestimate the potential that you have, and that you can change the world. So, I would just say do not stop. Just continue and keep on moving." Burwell then quipped, "I think that was good advice to old girls, too."
9. She closed with some lighthearted comments about her younger brother, and how she doesn't want him following her to Oxford (where she'll start next week): "He says, 'Who am I going to annoy, and who am I going to tease?' And now he's telling me that after two years, he's going to apply to Oxford. And that is shocking. I just do not want that. I might send him to American University." Burwell replied, "We will look forward to your brother applying here at American University!"