AU Establishes Working Group on the Influence of Slavery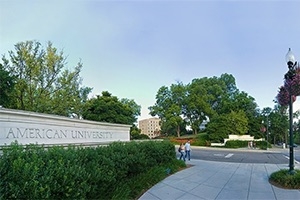 American University has established the AU Working Group on the Influence of Slavery. "The occasion of the university's 125th anniversary is an appropriate time to ensure that our history is accurate and comprehensive," said Fanta Aw, vice president of campus life and inclusive excellence.
Nickolaus Mack, a junior in the School of Public Affairs and School of International Service, recently raised questions about whether slavery impacted AU's founding.
AU was chartered after the Civil War, in 1893, and its first undergraduates were not admitted until 1925. Yet most institutions founded in the 18th and 19th centuries benefitted, at a minimum, from an economy that relied on slavery. AU's founder, Bishop John Fletcher Hurst, was the son of a farmer who owned slaves. There is also evidence that the land where AU is located was once home to slaves, decades before the university acquired the land.
Drawing from the perspectives of students and faculty experts in the Antiracist Policy and Research Center; the African American and African Diaspora Studies program; the Public History program; the University Archives; and the University Chaplain's Office, the working group will review preliminary research conducted by the university archivist, identify any gaps, and engage the campus community in constructive conversation. The group's members will also make recommendations to Fanta Aw, vice president of campus life and inclusive excellence, on how to best address and communicate their findings.
The following members of the AU community will serve on the working group:
Christine Platt, managing director of the Antiracist Research and Policy Center
Mark Schaefer, university chaplain
Sybil Roberts, incoming director of the African American and African Diaspora Studies Program
Leslie Nellis, associate university archivist
Nickolaus Mack, undergraduate student
Malgorzata J. Rymsza-Pawlowska, director of the Graduate Program in Public History and assistant professor in the Department of History
David Aldridge, AU alum and reporter for Turner Television Networks
Bette Dickerson, associate professor emerita in the Department of Sociology and interim assistant vice president of campus life
Members will meet for the first time April and will begin to work on their charge immediately. Findings and recommendations will be shared with the community no later than September 2018.