On Campus
Faculty Training on Inclusive Pedagogy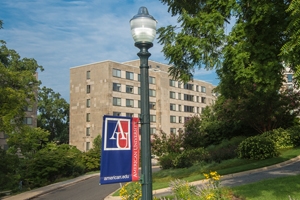 To improve the racial climate on campus, faculty engagement is imperative. And many American University students have pressed for more rigorous faculty training around race and inclusion.
"In response to the racial incidents on campus, students expressed concern about whether our faculty were sufficiently adept at addressing issues of race," says Mary Clark, AU's senior vice provost and dean of academic affairs. "They felt the professors were either not addressing this in class—they weren't saying, 'By the way, I know that racial incident must be on your mind,'—or they seemed very uncomfortable in doing so."
Faculty had previously taken implicit bias workshops with outside groups, but Clark started pondering new ways to approach this challenge. With the help of a key consultant, a select group of AU professors could work with faculty peers across campus. "Faculty are going to respond better to those who know the culture here and, indeed, will respond best to their own colleagues," Clark recalls thinking.
AU set up a new Faculty Development Leadership Cohort (FDLC) on Diversity and Inclusion, essentially a process of training the trainers. The early feedback from faculty has been overwhelmingly positive, and there are plans to form another cohort next year.
Training the Trainers
For the cohort, 14 AU faculty members were chosen to participate in the initial training sessions. To facilitate the group, AU brought in Kumea Shorter-Gooden, a clinical/community psychologist, longtime professor, and former chief diversity officer at the University of Maryland, College Park. They held five, four-hour sessions in October and November of 2017.
"I worked with this faculty team to develop their competence, expertise, and understanding on these issues. So we ask, 'How do you teach in a way that's inclusive? How do you engage students from different backgrounds and cultures and identities? How do you make sure that students see themselves in the syllabus and in the curriculum?'" Shorter-Gooden explains. "There's a lot of evidence that if, for example, a history class is taught as a history of what white guys did, it's harder for women to connect, to engage, to learn."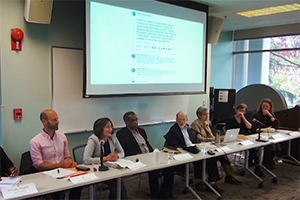 They also dealt with "hot moments," hypotheticals of tense classroom discussions. The hot moments can be triggered if a student says something perceived as racist, sexist, or homophobic. Some examples were a student joking in a math class that "all irrational numbers must be female." Or if an African-American student is talking about overpolicing in black communities, and some white students sigh or roll their eyes. Another scenario is how a class reacts to a racist act on campus.
"If you're a faculty member trained as a biologist, or someone who has a doctorate in English, how do you know what to do? Most of us didn't get PhDs in how to handle these kinds of hot moments," says Shorter-Gooden. "It's creating classrooms as spaces where all students can learn effectively, and where we're actively engaging with what's going on in the world."
Spreading the Knowledge
The 14 professors took what they learned, and subsequently fanned out to various departments at the university to lead and co-lead sessions—usually 75-90 minutes—with their faculty colleagues.
Eventually, some 500 faculty members were trained by the cohort professors. Evaluations from those sessions have been encouraging, and, anecdotally, Clark has heard from professors who were impressed.
"One individual said that this was the best training program that they had experienced at AU in the 20 years that they had been here. That the faculty-to-faculty engagement was what was the most meaningful and impactful for them," Clark says.
Environmental science professor Kiho Kim—a cohort professor who became a trainer—noted how his science colleagues responded.
"One of the more frequent comments that I heard back was, 'We didn't have enough time,' which I think is a really good comment to hear. They said they felt engaged, and that they could have thought about this more deeply and for longer periods of time," Kim says.
Intensive Discussions
During the initial cohort meetings, the conversations were often penetrating and powerful. Cynthia Miller-Idriss, a sociology and education professor, described them as something akin to therapy.
 "We had this group of people who spent really intense time talking about very personal things, and also processing our own relationship to issues of diversity and race and inclusion," she says. "It's a very emotional subject. We bonded, and I feel much more connected to the rest of the university now."
As those cohort sessions progressed, they moved from intimate issues to finding pedagogical tools to teach their colleagues, and ultimately, their students. Based on student survey data, cohort members learned that during hot moments—when a student blurts out an offensive remark—professors do need to speak up.
"When faculty ignore an issue that comes up in the classroom, students from vulnerable groups often read that silence as agreement with what was said," notes Miller-Idriss. "Addressing those hot moments are a really important first step in having our students feel a little bit more heard and understood in the classroom. It's not an easy thing to do, but it's a tangible thing that faculty can do."
Incorporating New Ideas
It will be a while before AU can assess this program's impact on the students. Yet after being immersed in these sessions, Miller-Idriss noticed some differences this semester. She incorporated new "ground rules" for respectful dialogue in her class on terrorism, education, and extremism.
"As we moved into those hard discussions, it's a simple way to remind people that this is what we all agreed upon," she says. "It made us feel more like a community of learners."
A professor for 15 years, Miller-Idriss says this is the best class she's ever had, and she partly attributes this to the pedagogical training on inclusiveness.
Kim is adjusting his teaching approach, confronting real-world events less directly related to his curriculum. "I had responsibilities to really lean into some of the issues that I have largely not addressed in my classroom," he says. "I needed to express that I was an ally on issues of obvious right and wrong. So, I think I stepped into that role more comfortably."
Shared Responsibility, Inclusive Community
Shorter-Gooden believes the role of university professor has changed over the years. "Those of us who are baby boomers got our doctorates and began teaching in a very different time. The issue of teaching inclusively was not part of the lexicon at all," she says.
In addition, even how a professor taught wasn't heavily scrutinized. "There was an assumption that if you had been taught, you knew how to teach," Shorter-Gooden says. Now they know that, "there really is an art and a science to it, and we do have some responsibility for students' experience."
The cohort was diverse—some were people of color who've often felt othered, and some were white professors thinking about allyship and privilege. That was by design, Clark explains, for an urgent matter affecting the entire university.
"We all should be doing work in self-reflection," she adds, "and we all need to lead in this area."