Student Life
Incoming Students "Explore DC" Through Service
For nearly 30 years, members of the freshman class have kicked off their time at American University by serving the wider DC community. In that time, the 30-person program that was originally known as the Freshman Service Experience has grown into Explore DC—multiple days of service projects, DC immersion experiences, guest speakers and performers, and more.
This year's Explore DC program launched on the evening of August 21 with an opening ceremony featuring Sister Mary Brown, founder of youth arts program Life Pieces to Masterpieces, and Kondwani Fidel, a performer and author from Baltimore. The program continued through two days of service and site visits and included about 750 participants—mostly incoming freshman, as well as transfer students, and, for the first time, 210 students in the International Accelerator program.
"Service is such an important theme throughout our entire university,"said President Sylvia M. Burwell, who participated at an Explore DC site for the second year. "The people who come here know AU is a place for changemakers. It's also an important part of what I believe is our responsibility as a university to contribute to the community around us."
With a focus on six crucial issues—youth and education, housing and homelessness, community health, environmental sustainability, identity and civil rights, and immigration and refugees—around 100 student leaders connected students with over 80 organizations in DC and surrounding suburbs.
"If we can get our students to start their college experience by going out in the community and doing service, that's a great statement that reflects what American University cares about," said Marcy Campos, director of the Center for Community Engagement & Service. "It's not about the DC of museums, monuments, and tourism. This is about the community, neighborhoods, DC's unique history, the nonprofit sector, and the issues people face on a day-to-day basis. Our students begin their DC experience in the city, firsthand, and not in the classroom. That is what is unique about Explore DC."
The 2018 program was largely driven by five student leaders: graduate student Hannah Kurtz and juniors McKim Jean-Pierre, Santiago Rivera, Tessa Bratton, and Tyler Sanders. The student coordinators expressed passionate belief in the importance of getting out of the "AU bubble" and giving back to the DC community.
"The majority of our participants are not from DC, and the point of the program is so that they understand the very specific problems that exist in DC facing certain communities," Bratton said. "Students should understand why we can be a part of the problem and work toward fixing it."
Toward that end, a small group of incoming students gathered at House of Ruth's Madison House first thing in the morning on August 22. House of Ruth has provided services to women and children who have experienced domestic violence, homelessness, and other issues for 41 years.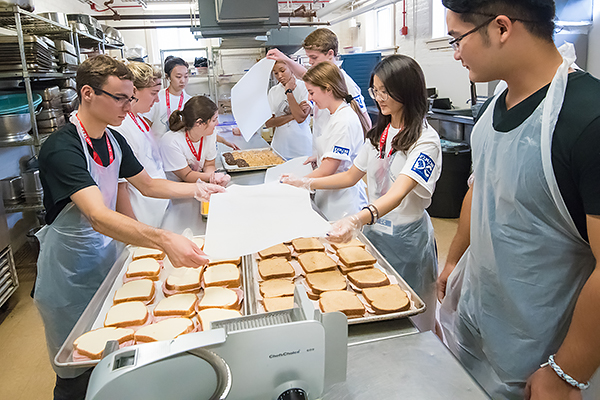 As the students, led by School of Public Affairs senior Joshua Singer, learned about House of Ruth and donned hairnets and aprons to prepare lunch, incoming freshman Emma Holland reflected on why she joined Explore DC.
"People should know that DC is one place, but in all of the different quadrants, there are many different types of people and ways of life," she said. "I wanted to be outside of AU and the Tenleytown community."
Singer added that one of the best parts of Explore DC is the way the organization helps.
"It gives back in a way that empowers people," he explained. "Instead of going to a community and saying, 'We are going to tell you what you need,' this organization comes with an understanding of, 'We are here to serve.' We're going to come and ask you, 'How can we help you in the best way possible?'"
Meanwhile, far across town, another crew of students were engaged in some heavy lifting. At A Wider Circle, in Silver Spring, the Explore DC group spent the morning and early afternoon loading furniture onto vehicles for the organization's clients.
A Wider Circle was founded by former AU professor Mark Bergel. Inspired by the service component required for one of his classes, Health and Social Connection, he launched the organization in 2001.
"We have all been given gifts for which we have not worked—even just being born into a life where we don't have to worry about where food is going to come from," he said. "For a lot of people in this country, that's not the case. And for a lot of people in DC, daily life is a real struggle."
A Wider Circle provides a number of services to the community, including its largest program, Basic Needs Services. This entails providing furniture, dishes, pots, pans, and other large and small home goods to families transitioning out of shelters, escaping domestic violence, or otherwise living without basic needs.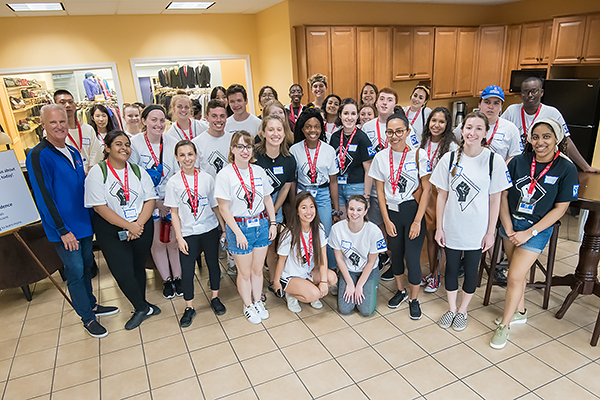 Alongside the students helping in the Wider Circle warehouse was Jack Cassell, chairman of AU's Board of Trustees. Cassell connected with Bergel when he won the Cyrus A. Ansary medal, which recognized Bergel's leadership as a role model to AU's students and alumni. During the awards dinner, Cassell promised to help out at A Wider Circle during Explore DC.
For incoming student Rebecca Atkins, who lent a hand at A Wider Circle, Explore DC was not only a way to give back to the community but also an opportunity to get to know her new classmates.
"Once you have a task to do, if you're working together at something, you bond in a deeper way than small talk," she said.
The first day of service closed out just as rain began to fall. Students headed back to campus to enjoy an evening of programming focusing on the six pillars and to rest up for another full day on Thursday.
The following morning featured the introduction of a new kind of project for Explore DC: At the Armed Forces Retirement Home in Northwest DC, each volunteer had their own connection to the military, whether they were veterans or ROTC members, or had family servicemembers. These students were joined by a familiar face: President Burwell.
"I was excited to do this particular project with this particular part of our community—our ROTC students, our veteran students, and others," Burwell said. "We're here doing service and honoring service."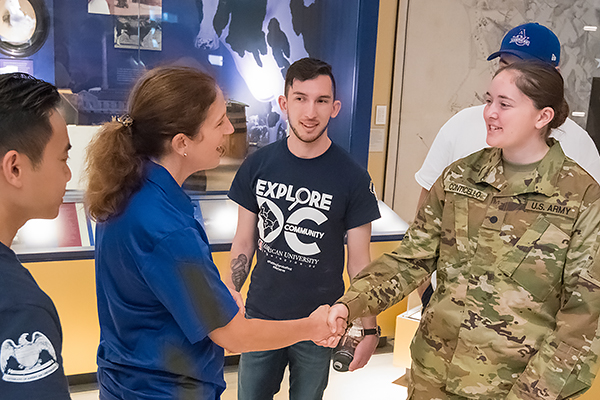 Burwell, along with the student volunteers and Fanta Aw, vice president of campus life and inclusive excellence, spent several hours weeding and tending to a garden on the grounds of the retirement home, which houses several hundred veterans from all branches of the military. Some residents' service dates all the way back to World War II.
Kevin Frazier, a senior in the Kogod School of Business and president of Veterans of American University, said the veteran-focused Explore DC group provided the opportunity to "give back to the community and the veterans that came before us and paved the way for the opportunities that we have now." He added that Veterans of American University and other campus veteran groups are working to identify and connect vets and military affiliated students on campus.
"We have a vast knowledge of support for those transitioning from military life to school life," Frazier said. "We're bringing them into the fold, if they want, to help them flourish and succeed."
Explore DC concluded Wednesday afternoon, but student leaders like McKim Jean-Pierre hope this is just the beginning for the program's participants.
"Knowledge of the city and its issues is really important," she said. "I'd love for students to be able to go through this experience and then go on to talk about it and educate their friends. "The more you're aware, the more likely you are to do things to help."