On Campus
What Staff, Faculty, and Students Are Doing to Advance Inclusion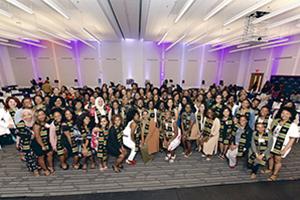 Shortly after the launch of American University's Plan for Inclusive Excellence, the university announced the establishment of Inclusive Excellence Mini-Grants. At the end of March, a handful of projects from units across campus were selected to participate in the pilot, which concluded at the end of July.
The goal of Inclusive Excellence Mini-Grants is to help fund innovative programs designed to foster collaboration across campus and advance the goals of the plan. Look out for a call for applicants to the 2018-19 mini-grant program in the coming months. In the meantime, learn about the projects that launched this initiative by promoting a sense of community, belonging, and connection.
Community Graduations: Third Annual Black Graduation and Second Annual Latinx Graduation
The Community Graduations mini grant supported the continuation of two AU traditions—the third annual Black Graduation, on April 22, and the second Latinx Graduation, held on April 28. Black Graduation welcomed 192 attendees and featured Ibram Kendi, director of the Antiracist Research and Policy Center, as the keynote speaker, and Latinx Graduation had 100 attendees and featured alumna Ana Polanco, SPA/BA '98, as keynote speaker.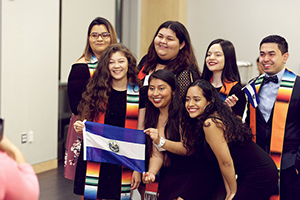 "The mini grant went toward purchasing the Kente cloth and serape stoles, so students weren't restricted by financial access," said Belinda Peter, assistant director of multicultural and affinity engagement in the Office or Development and Alumni Relations. "The students were allowed to wear the stoles for commencement."
Each event had a planning committee that included student, faculty, staff, and alumni representatives and was attended by members of the Black Alumni Alliance and the Latino Alumni Alliance.
"This was the first time that both of these events had participation from all of the student organizations that are a part of each community, as well as the law school and both alumni alliances," Peter said. The events also featured student speakers and award winners.
"From our formal feedback survey, we heard that they especially loved the student speakers and the opportunity to celebrate together," Peter said, adding that some of those surveyed said they hope future ceremonies will be able to expand even further to allow for unlimited registrations.
Plans are in place for the two ceremonies to continue in the future, and to welcome additional Community Graduation groups.
"We hope to start lavender graduation for LGBTQ students and an Asian graduation," Peter said. "Those conversations have already started."
I'm White, Now What?  
On June 27, around 25 faculty, staff, and students gathered for a unique training. Through "I'm White, Now What?" organizers AJ Springer, a senior public relations manager, and Paul Norton, a writer and editor with University Publications, sought to bring together the university's largest racial demographic for a training that was "explicitly anti-racist in nature."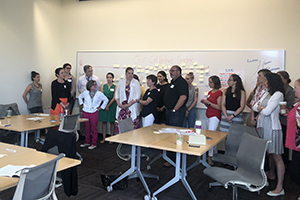 "This particular project was designed to talk more about moving us from being nice to each other, which is really important as well, to what can we do to change things, upend some systems, and really make a difference?" Springer said. "How can we see these systemic changes that we talk about?"
To that end, Springer and Norton brought in facilitators Aja Taylor and Nicole Newman of Two Brown Girls Consulting, LLC, to hold a three-hour long interactive training aimed at giving participants "a foundational understanding of systemic racism and privilege." Taylor and Newman used the history and context of Washington, DC, to inspire discussions around race and policy, privilege and power.
"The overall goal was to intentionally bring together white faculty, staff, and students," Springer explained. "We know that the work is difficult, but also, just like people of color need safe spaces to work things out, white folks who are interested in being anti-racist, they need spaces to work things out as well, and a space to make mistakes and talk."
The program was designed to be complex, thought-provoking, and even uncomfortable at times. As Springer and Norton noted in their post-event summary, "While these conversations are often hard and unsettling, a shift in mentality should be seen as positive."
Norton, who also participated in the workshop, said the training changed the way he looks at the world. An aspect that particularly moved him, he added, was the discussion of "gentrification," which often means displacement or dislocation to longtime residents.
"Outside work, I go out of my way to make that distinction to friends and family," he said.
In terms of interest in continuing the project in the future, evaluations for the training were almost uniformly high, according to the event report, with some attendees stating they wished it had lasted longer. The pair also noted they received messages from staff and faculty after the event was full to inquire about attendance.
"I want this training to be the start of individuals being more firm in their diversity and equity goals," Springer said, "Knowing what it means to take a stand, go to bat, and be an ally."
Spring Cultural Festival  
In March 2018, International Student and Scholar Services (ISSS) collaborated with the AU Student Government and a number of other organizations across the campus to launch a new social media campaign tied to the annual Spring Cultural Festival.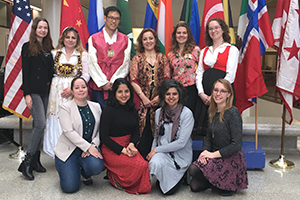 The #IamTheOther campaign and video developed from a desire to help American students, international students, DACA students, and others "connect around a common goal and a common denominator, which is American University," said Senem Bakar, ISSS director. Members of the AU community were encouraged to share their own videos and stories celebrating the cultural richness of AU through the #IamTheOther hashtag.
The group noted in its post-event summary that the campaign and festival were intended to "create a more positive climate on campus and thus promote diversity and inclusion."
Though the Spring Cultural Festival happens every year, "this was the first one where we extensively collaborated with the student government, and I was very impressed with their enthusiasm," Bakar said. "Because of their participation, the event was embraced by the student community."
As the new semester gets underway, Bakar noted her team plans to continue the #IamTheOther campaign through an ongoing collaboration with the student government, as well as some deans' offices. The initiative will hopefully expand to include other programs, seminars, and discussions.
The Ties That Bind  
For Washington College of Law, the mini grant represented an opportunity to help members of the WCL community connect and discover commonalities among one another. Through the Ties That Bind, about 20 participants gathered for a discussion "focused on the differences and commonalities that everyone shares," said Kendra Brown, senior director for diversity, inclusion, and affinity at WCL.
"While some folks didn't know each other, they were pleasantly surprised, as we often are in life, to see how much we share with those we share space with," Brown added, noting that it can often take an intentional opportunity like the Ties That Bind event to encourage people to sit down and really get to know one another.
Brown said they received positive feedback after the event. In fact, one of the main critiques was that participants wished they'd had even more time to spend together.
"Individuals were very grateful for the sincerity of the conversation," she said. "They learned where people were from, what experiences had shaped them, and who they are." Participants also reported that they enjoyed learning about the diverse background of their colleagues.
After this initial success, WCL has plans to hold more Ties That Bind sessions this fall.
"It was definitely an opportunity for people to understand how they fit into the Plan [for Inclusive Excellence] and how the plan includes everyone," Brown said. "I was grateful to be able to help individuals see how they are part of the plan."