On Campus
Welcome, New Faculty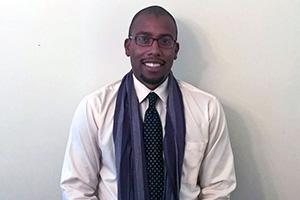 Have you noticed a few unfamiliar faces on campus? If you've haven't met the recently hired faculty members, here's a look at the 25 new tenure-line* professors. University Communications and Marketing interviewed six new professors for this story.
College of Arts and Sciences
As a child, Onaje Woodbine faced long odds in a troubled urban environment. If his life were a basketball game, it'd be like withstanding a first quarter onslaught from the Golden State Warriors or the 1990s Chicago Bulls.
Yet he did endure and succeed: Woodbine is now a tenure-track assistant professor of philosophy and religion in AU's College of Arts and Sciences. His book, Black Gods of the Asphalt: Religion, Hip-Hop, and Street Basketball, has been optioned for a TV series by Moonlight actor André Holland; and Woodbine turned his book into a play, which was performed by his students at Oprah Winfrey's leadership academy in South Africa.
These accomplishments might have seemed improbable during his early years in Roxbury, a poor, crime-ridden neighborhood in Boston. "I was basically in fear all the time," he says. "There was so much violence. In the 1990s when I was growing up, there were a lot of gang activities."
He persevered with support from his mom, Robin Offley, a ballerina at an African-American dance company. "She literally sacrificed everything for me to be here," says Woodbine.
Though raised by a single mother, Woodbine's father returned to his life at a key moment. Woodbine was distraught over the death of his community center basketball coach, and his dad—a Taoist and Tai Chi practitioner—helped him cope through meditation. "We worked through a lot of the pain that I had been experiencing," he says. "He taught me that I had everything I needed within me."
Woodbine started getting straight As and was later admitted to Yale University. Though he'd been a leading scorer, Woodbine quit the Yale basketball team and wrote about his decision in Yale Daily News. There was a racial divide on the team, he says now, and he recoiled from the misogynistic language he heard in the locker room.
"At Yale, I found other identity options as a young black man," he explains. "I realized that if I continued to invest everything into this game, I wouldn't be able to explore the fullness of my personality."
Intellectually, he still grappled with the relationship between African Americans and basketball. This became the focus of his Boston University doctoral dissertation, and his eventual book, Black Gods of the Asphalt. Woodbine explored how young players find meaning from the game, while often dealing with the deaths of loved ones.
"We go to the court to discover our humanity—often to find opportunities to grieve loss and death, to protest injustice, and to find home and a sense of belonging," says Woodbine.
Fun fact: Onaje's half-brother is actor Bokeem Woodbine, whose stellar performance in Fargo earned him an Emmy nomination. Onaje Woodbine, also a theater enthusiast, wants to work with the AU Performing Arts Department, and he's now writing a stage script with black students in Baltimore.
"I'm interested in how marginalized communities use religion and spirituality as a mode of survival, and a way to reclaim their humanity. And at AU, there are opportunities to really engage those communities."
CAS (Cont.)
For Amelia Tseng, language is so much more than a means to communicate. She researches the nexus between language, society, and identity, with a focus on immigration communities in multicultural settings.
"I look at how language and identity are related—how they change, how they're contested," says Tseng, a new assistant professor in the World Languages and Cultures Department. "It's also tied to bigger questions of social justice, access to schools, discrimination, and how cultural pride sustains you."
It's a field that increasingly animates her students. "They tend to engage with it, because they see it in their own lives and families, no matter what their backgrounds are. Everybody has a language story. Everybody has an immigration story in there somewhere," she says.
It's hardly surprising that Tseng was drawn to issues of language and identity. She's originally from Arizona, arguably ground zero for the nation's battles over immigration, bilingualism, and multiculturalism. She's also the child of Chinese immigrants, and she spoke English, Cantonese, and Spanish before later learning Mandarin and Portuguese.
"I grew up in a very multilingual household in a very bilingual part of the world," says Tseng. "And when the climate outside the house is heavily Latino, and that gets so politicized, you can't help but become aware, at a very young age, that people are treated differently."
Tseng later taught in a Phoenix school while attending graduate school at Arizona State University. Her intro to linguistics class at ASU was an intellectual revelation.
"It was like a light went on in my head," she recalls. "These were things I'd been observing around me. And I thought, 'I'm not weird or crazy. Language is really part of life, and there's a way you can study this scientifically.'"
Tseng eventually earned her PhD in linguistics at Georgetown University. She also immersed herself in work with the DC Latino community, which is still a primary area of interest. In part through her research appointment at the Smithsonian Center for Folklife and Cultural Heritage, she's studied bilingual identity and how DC Latino immigrant English sounds similar to local African-American dialects.
"It's not exactly the same, but you can hear the influence. And yet it's still distinctly Latino," she explains. "It's definitely part of the multilingual tapestry around here."
It's that diversity that excites Tseng—as both a DC resident and a scholar. "There are so many stories in this city. There are people from all over the world—all different perspectives and all different experiences. And there's always another story to be learned."
School of Public Affairs
If you mention socioeconomic inequality, people often think of jobs, income, or household wealth. But new School of Public Affairs assistant professor Claudia Persico examines hidden—or in some cases, invisible—factors that divide us. Exhibit A: air pollution.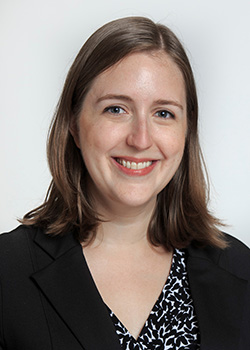 She's coauthored work, with Joanna Venator, on toxic release inventory sites within one mile—about how far air pollution travels—of public schools in Florida. Students who were closer to those sites saw their test scores lag and behavioral problems increase. 
Persico also coauthored research, with David Figlio and Jeffrey Roth, about Florida siblings, comparing earlier-born children who gestated near Superfund sites, areas of land identified by the EPA as contaminated by hazardous waste, with kids born after the Superfund sites were cleaned up. Older kids—who generally tend to outperform their younger siblings—had lower grades, lower test scores, and higher school suspension rates.
"All of the different types of identification strategies we did told the same story. It seems that gestating near toxic waste negatively impacts children. And Superfund sites are national. They're everywhere, in every state," Persico says.
Persico grew up in a state notorious for its pollution: New Jersey. "When I show a toxic waste map of the United States, I like to joke that, 'The red splatch right there is where I'm from,'" she says.
She spent her formative years in Kinnelon, New Jersey, where both her parents had cancer scares and her sister dealt with learning disabilities. Persico wondered if pollution adversely affected her family.
"These things are all little pieces, but they came together through my interest in inequality and public health and the environment," she explains.
She got her bachelor's degree in biology at Boston University, and subsequently worked at BU as a research assistant under autism specialist Margaret Bauman. Persico relocated to Illinois, earning a master's degree in philosophy from University of Chicago. But she wanted to create change through policy and activism, and she did nonprofit work with low-income kids on the South Side of Chicago. She then enrolled in graduate school at Northwestern University, earning her master's and PhD in human development and social policy.
At SPA, Persico—most recently an assistant professor at University of Wisconsin-Madison—will continue researching issues around health, education, inequality, and the environment.
"I'm really interested in doing applied work that's useful to policymakers, that could really be used to help make the world a better place. I think that's what drives me."
School of International Service
It's easy to say you're an "environmentalist," but Jesse Ribot spent decades probing what that means on the ground. He's studied how governments frequently occupy forested areas in the name of "environmental protection." In practice, he says, that can mean timber companies chain sawing trees against the wishes of local populations.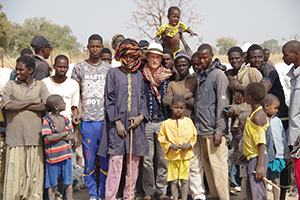 "To me, it's a terrible miscarriage of justice when environmentalism leads to environmental injustice," says Ribot, who's studied the political economy of environmental management in Sub-Saharan Africa, Asia, and Latin America. "It is also not ecologically sustainable since subjected people resist."
To argue his point, he showed up in Rio at the 2012 United Nations Conference on Sustainable Development with a personalized t-shirt. "My motto was, 'No environmentalism without representation.' And I really believe that," he says. "It's not a world that we want to preserve if it comes at the cost of human dignity, rights, recourse, and representation."
Ribot, currently a Guggenheim fellow in New York, will start in Fall 2019 as a professor in AU's School of International Service.
Throughout his life, Ribot saw value in questioning conventional wisdom. A South Orange, New Jersey, native, he got active on environmental issues on the very first Earth Day in 1970. He later formed a high school environmental group, but he worried they were implementing superficial changes.
"One afternoon, by the time we had 100 plastic bags filled with garbage, we had cleaned about 250 yards of one stream that ran on for miles. I said, 'Let me out of here!'" he says. "This is ridiculous. You need policy. You need institutions in place."
Not wanting to just clean up after others, this launched his career.
After earning his undergraduate degree at Hampshire College, he worked at the Solar Energy Research Institute. It was shuttered (and later renamed) by the Reagan Administration, but Ribot used contacts to land a job at Lawrence Berkeley National Laboratory. He'd then get his master's and doctorate from the Energy and Resources Group at University of California, Berkeley.
Over the years, Ribot had affiliations with MIT, Harvard, Yale, University of Illinois, and other colleges. He came to Washington in 1999 to work for the World Resources Institute, where he spent a decade writing and doing research. He also started a "research bootcamp," or his own "university," to train some 80 young scholars—mostly from Sub-Saharan Africa and other developing regions.
"These were aspiring researchers who didn't have opportunities in their own countries. And I absolutely pushed them through until they could publish," he says. "I made them write. I made them re-write. I made them go back and do more fieldwork, and they really became a terrific crew of scholars."
Ribot believes instructing AU students will be an exciting new adventure, and he cherishes mentorship and teaching. "It's the richest thing to do with your time—to watch young minds grow," he says. "And I learn more from my students than I learn anywhere else."
Kogod School of Business
Heng Xu is a new professor of information technology and analytics, and she's director of the Kogod Cybersecurity Governance Center. Xu has specialized in data privacy issues for some 15 years. But now—especially after the Facebook-Cambridge Analytica scandal—a wider segment of the population is paying attention.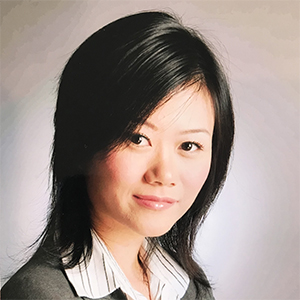 Even with increased consumer awareness, Xu says users are still playing online games and quizzes without due consideration. Any number of apps, while asking for your permission, can collect personal data on you.
"It's really hard to get people's attention. To think about the implication of clicking that button," she says.
She worries that people have the same mentality from 20 years ago, where they'd click "yes, I agree" to a long service agreement they hadn't read. "They adhere to that same mental model with today's mobile apps. They don't bother reading what kind of data these apps can grab from them," she says, which can include phone records, contact lists, images, and videos.
If you allow an app to access your location or Facebook photos, she adds, you could also be exposing your friends' data.
"No matter how careful I am, I really cannot control my friends' behavior. How they say yes to every single permission that's coming from every single mobile app that they're trying to enjoy. That's the scariest part nowadays," she notes.
With these recent developments, Xu's research is evolving from an "individualist" perspective to a "collectivist" perspective. "What's the implication of data sharing concerning my friends, my parents, and my kids? Some young parents are sharing their kids' pictures from day one, and it could all be archived in a cloud."
A China native, Xu grew up in the Sichuan Province capital city of Chengdu and later earned her PhD in Singapore. She left these two urban settings for a faculty job at Penn State University, and she experienced culture shock in the rural confines of Happy Valley.
"That was an interesting place. I learned the American football culture," she says. "On some weekends, it had this urban type of culture. You had all of this traffic, with 100,000 people trying to come into this small town for football."
Xu isn't new to Washington: She was a program director on cybersecurity and privacy at the National Science Foundation. And she's excited to join Kogod, in part, because business executives will play a critical role in safeguarding data and infrastructure.
School of Communication
If Twitter is a deluge of opinions, there's no shortage of people debating its influence. Journalists are conflicted about how often to cover the online musings of the nation's Tweeter in Chief, Donald Trump.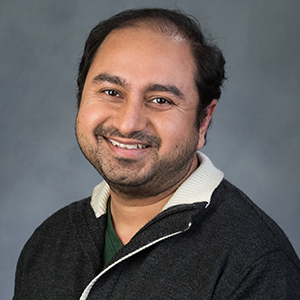 Saif Shahin, a new assistant professor in the School of Communication, cautions against trying to ascertain Twitter's impact. But unlike many others, Shahin is a scholar who's extensively studied social networking sites. He's examined how emerging technologies bring sociopolitical changes to countries like China and India, and the intersection between social media and politics in the US.
For example, Shahin and another academic gained valuable insights from the live tweeting of all three Trump-Hillary Clinton presidential debates.
"We wanted to know if we still have these ideological echo chambers during debates, which are naturally supposed to be about two sides interacting and conversing with each other. Or do we see more cross-cutting conversations? And we found that it was still very much an echo chamber," he explains.
Shahin hails from Patna, India, and he followed in his journalist-father's footsteps. He started working for a newspaper in Delhi just before college. He'd later get his undergraduate degree, and through a scholarship, earn his master's in online journalism at University of Central Lancashire in England. During that period, he wrote about the South Asian community in the region and interned with the BBC.
He became a working journalist in the Middle East, including time in Qatar during the Iraq War. Doha became a diplomatic hub—because of the Qatar-based US Central Command, among other reasons—and Shahin was there for the action. "I got the opportunity to meet and interview a lot of foreign leaders. So that job was the high point of my journalistic career," he says.
He also engaged with think tanks and universities in the Middle East, and this piqued his interest in research. He'd return to India and earn an MPhil, before eventually pursuing a doctorate in the US. "It was a hard decision to leave journalism," he recalls. "But I thought about how I wanted to move forward with my life, and I realized that academia suited me."
Shahin got his PhD in journalism from University of Texas at Austin, and most recently taught at Bowling Green State University in Ohio. So far, he's enjoying his new life at AU, and he appreciates DC's cosmopolitanism. 
"At American, but also in the city generally, you see so much diversity," he says. "And I often try to talk to people about who they are, where they're from. It's kind of my journalistic sensibility. It's still very much there."
Other Appointments**
School of Communication
Caty Borum Chattoo, who directs the Center for Media & Social Impact, is now officially an assistant professor on tenure track. Learn more about her focus on comedy for social change.
Krzysztof Pietroszek is an assistant professor whose interests include virtual and augmented reality.
Kogod School of Business
Nan Zhang, a professor of information technology and analytics, was previously on faculty at Penn State University.
Asad Kausar, an associate professor of accounting and taxation, taught in Singapore.
Ali Sanati, an assistant professor of finance and real estate, specializes in areas such as empirical corporate finance and corporate investment.
Mikhail Wolfson, an assistant professor of management, has dealt with issues such as team composition and informal learning.
School of International Service
Dotan Haim will start in fall 2019 as an assistant professor. Haim has been a postdoc fellow in US foreign policy and international security at Dartmouth College.
School of Public Affairs
Andrew Ballard, a new assistant professor of government, has specialized in areas such as congressional elections and institutions. 
Janice Iwama is an assistant professor of justice, law, and criminology. Her teaching and research specialties include bias/hate crimes and policing.
Lallen Johnson, assistant professor of justice, law, and criminology, has focused on issues such as race and justice, communities and crime, and urban crime patterns.
David Malet, also an assistant professor of justice, law, and criminology, has dealt with homeland security, bioterrorism, and political violence.
School of Education
Robert Shand, an assistant professor of education, has focused on teacher labor markets and educational opportunities for disadvantaged students.
College of Arts and Sciences
Chun-Hsi Huang is a professor of computer science and has worked on subjects such as extreme-scale computing and data analytics.
Laurie Bayet, assistant professor of psychology, has interests in cognitive neuroscience methods, child development and infants, and developmental psychology.
David Gerard, an assistant professor of mathematics and statistics, was previously a postdoctoral scholar at the University of Chicago.
Alex Godwin is an assistant professor of computer science. He's a Georgia Institute of Technology PhD and former research assistant.
Mark Nelson, an incoming assistant professor of computer science, is slated to begin in January 2019.
Kareem Rabie is an assistant professor of anthropology. Rabie has teaching and research interests in areas such as contemporary Israel/Palestine, cultural anthropology and human geography, and global political economy.
American University Washington College of Law
Hilary Allen, an associate professor at AUWCL, has focused on securities regulation, corporate finance, and banking law.
*Note: The term "tenure-line" includes tenured and tenure-track faculty. 
**Note: A few of the new professors are currently serving in an acting capacity.