In the Community
Incoming Students Get to Know DC History and Culture By Serving the Community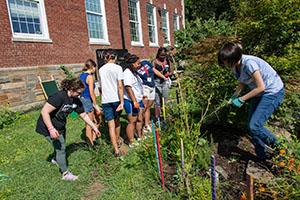 This past week, American University welcomed the class of 2023 to campus. Like decades of new students before them, many had the opportunity to get to know and serve the DC community through a unique AU experience known as Explore DC.
The two-day Explore DC program for incoming first-year students and transfer students consists of one day spent serving the DC community and one day of immersive learning by visiting sites across the city.
After an opening ceremony on August 20, featuring remarks by Robert White, DC council member at-large, and Baltimore-based writer Kondwani Fidel, about 478 participants and 80 student leaders spent two days volunteering with and learning from organizations in all eight wards of DC, as well as the wider DMV area.
At one of the service sites, DC Bilingual Public Charter School, the volunteers got down in the dirt, helping to weed and mulch the school's garden. DC Bilingual is a dual immersion Spanish and English school serving more than 400 students, from pre-k through fifth grade. It's home to one of the largest school gardens in the city, where students help grow fruit, vegetables, herbs, and flowers. The garden also features pollinator habitats, a koi pond, and a community compost.
Daniel Barrera Ortega, a FoodCorps AmeriCorps service member in the school's Department of Food and Wellness, led the AU students in their work and described the garden's significance.
"We try to make connections between the cafeteria, the classroom, and the garden," he said. For example, fifth graders at the school participate in a program called the student garden market. They harvest, wash, and package crops from the garden and sell them to the school community. Not only does this teach students more about nutrition and where food comes from, Barrera Ortega said, but it also connects to academics by providing real-world opportunities to practice math and science skills.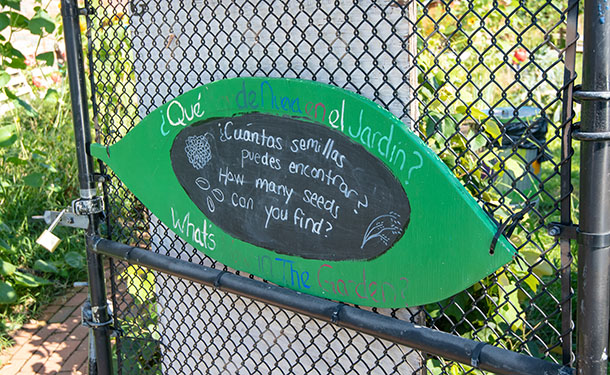 Brittney Revan, a sophomore in the School of Public Affairs, was a student leader at the DC Bilingual site. She was inspired by her work at A Wider Circle as an Explore DC participant last year and continued to volunteer at the organization throughout the school year. A Miami native, Revan was new to the DC area but said she's noticed some similarities in both cities' "vibrant cultures."
"I hope these students get the same thing I got out of Explore DC, which was a first look at the city," Revan said. "How to use the transportation systems and start making connections, finding new ways to help the community and let the community help you."
Ruby Fair, an incoming first-year SOC student from New York City, said the program is allowing her to become familiar with the wider DC community, rather than just AU's campus.
"I have all four years to get to know AU, but I don't know how often I'll have the opportunity to garden in a school," Fair said. "And giving back to the community where I'll be living is rewarding."
As part of the immersion aspect of the program, students also visited various landmarks and cultural sites to learn about the rich history of their new home city. Across town from DC Bilingual, a small group of students visited the Mayor's Office on Latino Affairs, where they met AU alumna Angela Gonzales, SIS/MA '06, and some of her colleagues.
The Office on Latino Affairs, which was established in 1976, serves the vital function of connecting with the DC Latinx population to improve the community's social and economic quality of life through partnerships, civic engagement, and community-based grants.
Students learned about the office's work and how they can get involved through volunteering, or even simply raising awareness by sharing social media posts.
"We loved having the students here. The Latino population is growing in the city, and we really want to make sure that those who may not be aware of what's going on in the community get connected," said Gonzales, who is also vice chair of AU's Latino Alumni Alliance. "We can become allies to each other, and we love sharing the challenges our community has, as well as our successes."
By the end of the day on Thursday, the second day of the program, students had completed a total of 1800 hours of service while experiencing the diverse city they now call home.
"Learning through service makes your learning grounded in reality," Barrera Ortega said. "DC isn't just American, GW, and Georgetown—it's a thriving community of all different people. To get students out here to see that and encourage them to learn about the history of the district is really valuable."