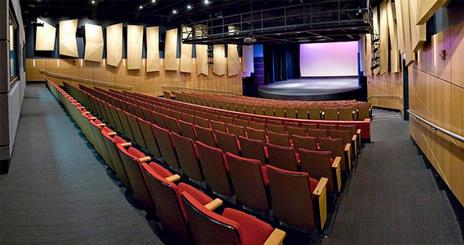 Greenberg Facilities
Theatre seats 296 and includes professional quality film-screening, audio, lighting, set-making, and costuming capacity
Overview
Please also see Facility and Technical Details.
Greenberg Theatre seats 296 (see Seating Chart) and features professional quality amenities, including:
audio-video, lighting, and film-screening equipment
production staff, orchestra pit, set-making, and costuming capacity
PA-equipped dressing rooms, green room, and backstage
box office with ticket sales via window, phone, and internet
Policies, Forms, and Rates
Please review our rental information, rates, and policies below, all in PDF format. Please note that for alcohol to be seved at events a formal request process must be followed as specified in the AU Alcohol Policy form (see below).