Capital Advantage:
Diversions & Excursions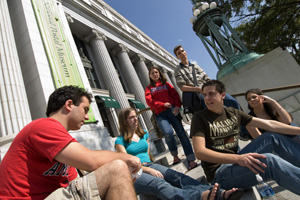 American University students hang out on the steps of the National Postal Museum.

Washington, D.C., with its history, culture, and cuisine, is as much a part of the American University experience as exams and term papers. Boasting dozens of museums, including the Smithsonian's famed 14; memorials, from Washington to Lincoln; and eateries, both low budget and upscale, the District is always buzzing with activity.
Washington is also a starving student's paradise. On any given day, you can browse eclectic Eastern Market, jog along the Reflecting Pool, or enjoy the National Gallery's collection of Monets without spending a dime. There's never a shortage of people to watch, culture to celebrate, or national treasures to behold.
No car? No problem. Whether your destination is U Street or K Street, Chinatown or Georgetown, it's only a short ride away on Washington's world-class Metro system.