Business and Economics
Kogod Alum a Smashing Hit at Makeup Counters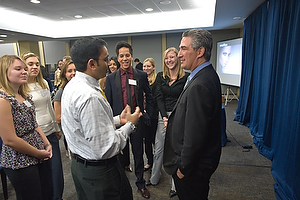 For Dean Factor, the beauty business hasn't always been pretty.
Twelve years after launching SmashBox Cosmetics, Factor, Kogod/BSBA '87, reflected on lessons learned during Kogod's Alan Meltzer CEO Leadership Speakers Series, Nov. 20.
The grandson of Max Factor, who transformed the beauty industry in the 1920s with his pouty-lip look, Factor capitalized on his Hollywood lineage, starting SmashBox Cosmetics in 1996 with older brother Davis.
Despite tremendous buzz and a flood of orders, the business got off to a rocky start. The brothers rolled out 300 products in less than a year, and Factor admits the line simply got too big, too fast.
Still, the SmashBox CEO said, "it was of the best experiences of my life. It taught me the value of a dollar, which you never really know until you're worried about payroll."
The brothers downsized and focused on perfecting their products, aimed at the fashion-forward, skin-conscious woman. Today, SmashBox is a $200 million per year business.
During his hour-long lecture, Factor also touched on his first business venture: SmashBox Studios in Los Angeles, which he and Davis opened in 1990.

It was Annie Leibovitz's controversial photo of a naked and pregnant Demi Moore—shot in 1991 at SmashBox—that put the studio on the map. "Everyone wanted to know where it was shot," recalled Factor. "After that, we were booked solid."
Factor also offered aspiring entrepreneurs in the audience five pieces of advice:
• be open to ideas from everywhere and anyone
• don't worry about the status quo
• be attuned to game-changing issues and decisions
• trust your instincts
• everyone has a unique edge, find yours
"Everyone has something that's unique about them," he said. "I was sitting in your seat in 1987 and I didn't know what it was. So, I used the Max Factor name.
"In the business world, you need to be different to succeed."