Current Students with Learning Disabilities or ADHD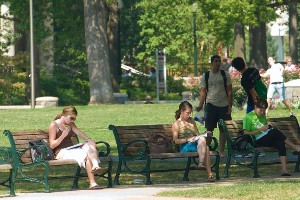 Disability Support at American University
American University is committed to ensuring accessibility to university programs and activities for all qualified students with disabilities. In order to promote full participation on campus, the following offices may be of assistance.
The Academic Support Center (ASC) works with students with learning disabilities or Attention Deficit Hyperactivity Disorder (ADHD)


Disability Support Services (DSS) works with students with medical, physical, psychological, and sensory disabilities


The Office of the Associate Dean for Student Affairs in the Washington College of Law provides accommodations in the law school after students document their disability with one of the two offices listed above.
Eligibility for Accommodations
Students with learning disabilities or Attention Deficit Hyperactivity Disorder (ADHD) are encouraged to identify themselves confidentially to the Academic Support Center as soon as possible once admitted or following a diagnosis. Upon receipt of documentation that meets the published guidelines, a student must meet with an ASC counselor to determine a plan that best meets the student's needs. The counselor and student will discuss services and accommodations available to the student and review procedures at the university.
Documentation Guidelines
The Academic Support Center is responsible for reviewing professionally prepared documentation of a learning disability or Attention Deficit Hyperactivity Disorder. Based on the impact of a documented disability, ASC staff will determine effective and reasonable modifications, verify the disability for faculty and other qualified personnel on the request of a student each semester, and recommend course and test accommodations on behalf of the university. Students should provide relevant, current documentation from a qualified professional which will assist in determining appropriate accommodations. The ASC reserves the right to request additional or updated documentation, as needed.
Documentation of a learning disability should be presented in a psychoeducational or neuropsychological report, including test scores and discussion of results. IEP's and 504 plans from high school are generally not considered sufficient documentation at the postsecondary level, but in some cases may contain the test report and scores required. For entering freshmen, the evaluation would generally be administered no earlier than tenth grade. For adults and nontraditional students, documentation guidelines may vary. Detailed information on documentation guidelines is available on our Guidelines for Documenting a Learning Disability and Guidelines for Documenting Attention Deficit Disorder. Please contact the Academic Support Center to obtain a paper or alternate format copy.
Confidentiality
Information about a student's disability and accommodations, if any, is treated as confidential under applicable federal and local laws, and is only provided to individuals who are required to receive such information on a need-to-know basis or for whom a student has authorized such a release. In many cases, a student might benefit from communication between an ASC counselor and an academic advisor or faculty member. A student must generally grant permission for an ASC counselor to share information with parents.
Specialized Services 
• Students may request letters for professors verifying the disability and notifying faculty of the need for classroom accommodations.

• Accommodations are determined on a case-by-case basis and may include such modifications as
Extended time for exams
Use of computers for essay exams
Note takers for lecture classes
Reduced-distraction space for taking tests
Access to alternate format textbooks
Access to assistive technology
• Testing facilities in the ASC are available if a professor and student are not able to make adequate arrangements for test accommodations.
• Students submit an online test request at least one week prior to each exam to be taken in the ASC.

• Priority registration for courses may be available for students who have current, relevant disability documentation on file in the ASC.

• A reserved section of Finite Mathematics that satisfies the university's mathematics requirement is offered for students with learning disabilities.

• A student may request regular meetings with an ASC counselor who can provide both academic support and help with accommodations.

• The Writing Lab in the ASC offers individualized writing assistance from counselors who are trained to work with students with learning disabilities and ADHD.
Arranging for Accommodations
Accommodations are made with the understanding that every student is held to the same academic standards while an individual student with a disability may meet these standards through non-traditional means. 
Once documentation of a learning disability or ADHD has been approved, students must meet with a counselor in the ASC to develop an accommodations plan. The counselor will provide information about accommodation procedures and ASC resources. Students may schedule appointments with their ASC counselor whenever questions arise about the accommodations process at the university. 
Each semester students must complete a Request for Letters to Professors form in the ASC. The form identifies which professors a student selects to notify in that particular semester. All students must meet with their ASC counselor at least once each academic year, usually at the beginning of the fall semester. Students requesting note takers must meet with their counselor every semester if note takers are needed.
A standard letter which includes a list of the student's approved accommodations is prepared in the ASC for the requested professors each semester. Students are notified when to pick up the letters from the ASC and are encouraged to meet with each faculty member in person to deliver and discuss the letter, preferably during office hours.
Students who request to take exams with accommodations in the ASC should use the online Test Accommodations Request Form at least one week prior to each test. For details about requesting disability-related test accommodations online, students may consult the Student Guide to Using the Online Test Accommodations Request Form, or they can contact the testing coordinators in MGC 243, at 202-885-3489, or at examsandnotes@american.edu.
Grievance Procedures
The university's Discrimination and Discriminatory Harassment Policy identifies university resources for students with disabilities, provides general information about the university's procedures for requesting accommodations, and describes informal and formal means of resolving complaints related to requested accommodations. The policy protects the rights of individuals with disabilities to be free from harassment and discrimination, and to be reasonably accommodated by the university. Students who feel that their rights under that policy have been violated may use the grievance procedures to file a complaint. 
The Director of Judicial Affairs and Mediation Services is the university's Section 504/ADA compliance coordinator. The compliance coordinator provides information about grievance procedures and can be reached in person at Butler Pavilion 408, by phone at 202-885-3328, or via e-mail at jams@american.edu. 
The purpose of the grievance procedures is to provide corrective actions, as warranted. Actions may include reasonable accommodation or adjustments, measures to reverse the effects of discrimination, and measures to ensure proper ongoing accommodations. In order to provide timely corrective action, a complaint must be filed no later than one year after the alleged discrimination. 
Revisions to Grievance Procedures for Students with Disabilities, effective as of December 19, 2007 
The University Grievance Procedures for Students with Disabilities was revised in December 2007. The Disability Grievance procedures include the following new provisions: 
3. Advisors 
At their own discretion, complainants and respondents may be advised by an American University student, faculty, or staff member. The role of advisors is limited to consultation and support. While advisors may be present at a proceeding, they may not address the Grievance Committee or question witnesses. Because the purpose of this proceeding is to provide a fair review of complaints filed by students with disabilities rather than a formal legal proceeding, participation of persons acting as legal counsel is not permitted. 
4. Request for Accommodations 
The 504 coordinator will provide a party with reasonable accommodations to participate in an informal or formal grievance. Accommodations may include, but are not limited to the following: sign language interpreting services or information in alternative formats. If a party requires an accommodation for a disability to participate in the grievance process, please contact the 504 coordinator. The 504 coordinator will interact with a party and the appropriate university disability offices to review the request. Generally, a five (5) business day advance notice of an accommodation is required to review reasonable accommodation requests. However, a response to an immediate need for accommodation will be considered to the fullest extent possible.