Research
Student Invited to Share Project with Dalai Lama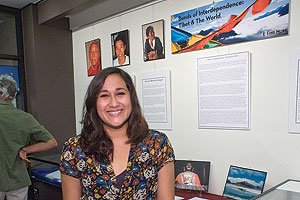 A student project that began in the Himalayas, grew with the help of an American University professor, and gives voice to both Tibetans and Chinese is expected to end up in the hands of the Dalai Lama during his Oct. 10. campus visit.
Ellie Ezzell, SIS/SPA '12, has been asked by the Conservancy for Tibetan Art and Culture (the event sponsor) to put her project, now on view in the library, into book form for the visiting spiritual leader, who will deliver a talk on Buddhism at Bender Arena.
The project is the story of an enterprising student, an encouraging professor, and a passionate involvement with global issues that draws many to AU.
Ezzell's curiosity about the world led her to precede her freshman year at AU with a "gap year" of cultural immersion, language study, and community service abroad. In the spring of 2008, she was in India for a three-month program when she first saw the protesters. Ezzell had been in a 10-day meditation retreat in Dharamsala, the home in exile of the Dalai Lama and center of Tibetan refugee life, when protests broke out before the Beijing Olympics.
"Basically we came down from the mountain and came directly into protest," she recalls. "There were people crying in the streets, effigies, pictures of bloody bodies. It was very overwhelming."
She had not, until that time, known much about the issue of Tibet. She was in India mainly to study Hindi and learn about South Asian culture through Global Learning Across Borders; before that, she'd been in Morocco, learning Arabic. She knew only the bare bones of the conflict over Tibet.
"Politically, I didn't know who was right or wrong," she says. "But we saw people suffering."
So Ezzell and a friend in the program decided to learn more by hearing directly from Tibetan refugees about their experiences. During their time in Dharamsala—and later, in Ladakh, also a stronghold of Tibetan culture in India—they collected interviews, film footage, and photographs, mostly with English speakers but sometimes with a translator.
Then Ezzell went off to her freshman year at AU, her friend went to another college, and the interviews sat untouched. "I was feeling guilty about that. We got these people's stories, they trusted me with them, and I wasn't doing anything with them. So I talked to Professor Davies."
Ezzell was in the University College program on Western Legal Tradition, led by Professor Bill Davies, School of Public Affairs.

"She told me she'd been in India and had all this material and wanted to write a paper about it, but I thought that was a bit of a waste of all the media she had," Davies says, thinking of the photographic portraits and film footage collected along with the interviews. "So we talked, and once she got the green light to do an independent study, she was off like a rocket."
Davies and Ezzell agreed that the project needed Chinese voices, too. So she expanded it by interviewing Chinese students, many of them at AU; researched the perspective of the Chinese government; and added those to her material from Tibetans in India. 
Funded in part by a grant from the AU Human Rights Council, the multimedia project won her an award as Outstanding Honors Freshman in the annual Honors Award Ceremony of the University Honors Program. She will also present it at the National College Honors Council this October. At the invitation of the Conservancy for Tibetan Art and Culture, she is currently putting it into book form for presentation to the Dalai Lama.
The interview project is rich with faces, memories, and personal viewpoints of a complex situation. Tibetans share their sadness, fears, and loss. Chinese share their hurt and the suspicion that, as one anonymous AU student put it, "I think the Western media fake the idea of the whole issue."
It's not an easy topic, and reactions from viewers who have seen the exhibit at Bender Library, where it is currently on display, express their appreciation. "Thank you for a balanced exploration of a difficult situation," one writes. And this one, too: "This is now my favorite part of the library."
As for Ezzell, she looks forward to being in the audience during the Dalai Lama's visit to AU, and hopes to get the opportunity to present her book version of the project in person.
"To me, the most important part of it is the common things that people share," she says. "Obviously, it has a political side, but the human side that made me care about Tibetans also made me care about the Chinese. Everyone loves their family, wants to do well in life, wants to do the right thing. What's important is to find the commonalities."