International
Student Abroad Gives University Talk in Japanese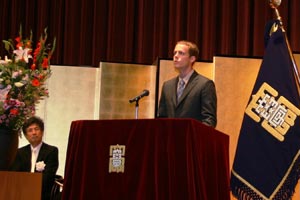 Erik Jensen will earn two degrees at the same time, from universities thousands of miles apart.
At American University, Jensen is working on a master's in international communication from the School of International Service. He'll also earn a master's in international cooperation and development from Ritsumeikan University in Japan. The partnership between the two schools, which began in 1992, was the first such program between a Japanese and a U.S. university.
Jensen was warmly greeted at Ritsumeikan this fall. He was invited to give the welcome address at the school year's opening ceremony, where he told the assembled students he was "humbled and excited to begin studies and work to deepen the connection between my own country and Japan."
He said it in Japanese.
Students in the dual master's degree program spend their first year at AU and the second at Ritsumeikan. They tend to have strong language skills, and the program is self-selecting, says Heidi Ashton Yoon, manager of dual degree programs at SIS. "They're taking a full load of research and classes in Japanese." They could do the work in English, "but all our students have wanted to do it in Japanese so far," Yoon says.
Jensen first went to Japan after earning his bachelor's degree, and lived and worked there from 2002 to 2007. As the new semester got underway in Japan, he answered some questions from American Today about his experiences.
What inspired your interest in Japan?
I grew up in Conway, Arkansas, practicing aikido, a Japanese martial art, which my father teaches. One of my motivations to first go to Japan was to practice aikido there. I continue to practice this art, but my interests expanded to language, cultural and international issues concerning Japan and Northeast and Southeast Asia.
You spoke no Japanese when you first went to Japan. Now you can give a complex speech in the language. How did you achieve this level of language skill so quickly?
I had no Japanese speaking ability when I first arrived in Japan in 2002, and I spent my first three years in a rural region where that made life pretty hard. The frustration of being unable to effectively communicate was the motivating factor for starting Japanese studies.
What has really worked for me is a continual focus on reading comprehension. In addition to Japanese novels, I spend my mornings reading the online versions of several Japanese newspapers. It helps me increase my vocabulary, kanji comprehension, and stay up-to-date with current cultural trends and national news.
What drew you to AU?
I came to AU for the dual master's degree program with Ritsumeikan. My interest is in the links between communication and development; therefore the combination of these programs fits me really well. The ability to gain two master's degrees in two languages and also study in two different countries was one of the main reasons I chose AU.
What are your plans for the future?
I hope to work in the international development field and focus on educational and cooperative agreements regarding the environmental impact surrounding energy development issues. In the future, I also would like to teach.