In the Community
Operation Cookie: Scouts Work with SIS to Send Treats to Iraq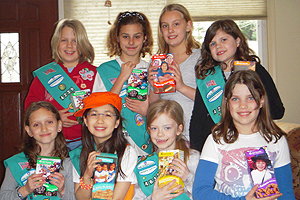 Troop 4239's sales pitch was as difficult to resist as a box of Thin Mints.

The Girl Scouts, based in Garrett Park, Maryland, asked customers to buy a box of their famous cookies for themselves—and one for U.S. military personnel in Iraq. The youngsters collected about 500 boxes of the sweet treats.

School of International Service professor Michelle Egan helped the girls, including her daughter, Georgina, with Operation Cookie. Working with SIS alumnus David Southworth, who's stationed in Iraq, and National Guardswoman Annie Adam, an SIS student, Egan coordinated two shipments, the first of which has already arrived in the Middle East.

"The girls are very service focused," Egan said of the Scouts who, last year, donated cookies to servicemen and women at the Naval Medical Center in Bethesda. "They learned that they can do things locally, but they also need to think globally."

The nine-year-olds have already moved onto their next service project: planning a dog show in June to benefit the Humane Society.