International
ASEAN Center Hosts U.S.-Malaysia Partnership Conference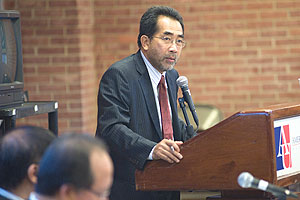 American University's new ASEAN Studies Center cosponsored its first event Oct. 9, a conference on the strategic partnership between the United States and Malaysia.
"This conference I believe is truly timely because the strong bilateral relations have somewhat been eclipsed by domestic priorities and challenges from both countries," said Michael Yeoh, CEO of the Asian Strategy and Leadership Institute, which also cosponsored the conference. "It is the time for us to refocus on the potential as both countries have new national leaders. We also have in D.C. a dynamic new ambassador."
That ambassador, Jamaludin Jarjis, has been in Washington only about a month, but he found his way to AU to speak at the conference.
"What we wish is for our future generations to [fulfill] their dreams," he said of his country's vision.
Malaysia, a country of roughly 27 million people, is one of 10 members of the Association of Southeast Asian Nations. It is the 16th-largest trading partner of the United States. The U.S., however, is its largest trading partner, and among its top three foreign investors. Like the U.S., Malaysia has a new national leader. In April, Dato' Sri Mohd Najib bin Tun Haji Razak was sworn in as prime minister.

Tan Sri Bernard Dompok, Malaysia's minister of plantation industries and commodities, said in his keynote address that there are many future opportunities for partnerships between the countries, especially in information technology and biotechnology.
"We need to work cooperatively to [improve] the benign neglect that has [overtaken] our bilateral relations," he said. "Hopefully Malaysia can soon host a U.S. presidential visit after more than four decades."