Students Arrive on Galapagos, Ready to Film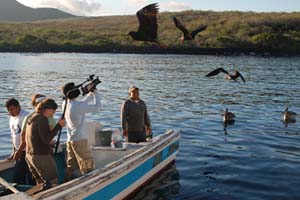 While many students headed home after exams, a few lucky SOC students took off for the Galapagos Islands for an intense week that will complete their work for The Practice of Environmentalism: Science, Policy and Communication in the Field, a new interdisciplinary course from the School of Communication, the School of International Service and the College of Arts of Sciences. 

As the blog entries from SOC professor and artist-in-residence Bill Gentile show, the students are working in small teams to produce a series of documentaries about sustainable living.  Gentile, a photo journalist and documentary filmmaker, is there to help them apply the techniques of backpack journalism to their projects.  
The students came well prepared for the job, having spent the winter semester learning field research methods, policy analysis and, from SOC professor Larry Engel, documentary production techniques.