On Campus
SIS Celebrates Opening of New Green Gem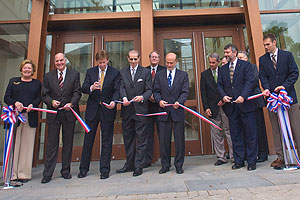 Four years of planning, fund raising, and construction culminated in a snip of the scissors, May 14, as the American University community celebrated the opening of the new School of International Service building.
"The founders of the School of International Service would be proud of what we've done here," said Dean Louis Goodman during the ribbon cutting. "It's a privilege to steward their vision, and I hope the people that follow us will be proud of what we've done."
The 70,000 square-foot, environmentally-friendly building is an architectural marvel befitting the nation's largest school of international service. Designed to be LEED Gold certified, the building features 7,000 square-feet of solar panels on the roof; low-flow faucets and fixtures to reduce water consumption; and the first LED-lit parking garage in Washington, D.C.
"You don't get points for creating community in the LEED protocol, but that's what this building will do in spades," said lead architect Kevin Burke of William McDonough and Partners. "This is a building that connects and inspires . . . it's a beacon of hope."
During the ceremony, AU president Neil Kerwin presented the dean with a key to the building. "This is a building that Lou Goodman, his faculty, staff, students and alumni built . . . It's a world-class building for a world-class school."
The dedication ceremony for the building—which will house 3,000 students and 90 full-time faculty—is September 23.