Alumni
Announcing the 2017 AU Alumni Award Winners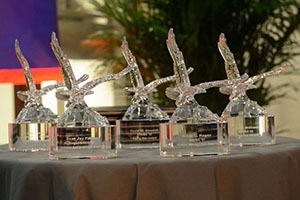 American University is known for its accomplished alumni. AU graduates are thought leaders, business leaders, and world leaders. This year, the university's Alumni Association celebrates five outstanding alumni for their achievements. 
The American University Alumni Board and the Office of Alumni Relations will honor the recipients of the 2017 alumni awards on Friday, October 20. Selected annually from nominations submitted by faculty, staff, and alumni from around the world, these awards are the highest honors presented by the Alumni Association. 
This year's winners are:
Alumni Eagle Award – Ann Kerwin, CAS/BA '71
The Alumni Eagle Award recognizes alumni who have rendered outstanding service to the university and/or the Alumni Association.
Ann Kerwin, CAS/BA '71, has been associated with American University since arriving as a freshman in 1967. She holds a degree in art history and is married to Dr. Neil Kerwin, President Emeritus of American University.
Ann was part of the team that produced the book American University Arboretum + Gardens: The First Ten Years, published in November 2013. In recognition of her efforts on behalf of the Arboretum and the Library, the Ann Kerwin Garden was dedicated earlier this year. 
Ann is a member of the AU Library Advisory Council, served on the CAS Arts Advisory Council, and is a former honorary board member of AU Hillel.
Ann and Neil Kerwin established and continue to support the Kerwin Family Emergency Financial Aid fund, which the Board of Trustees endowed in their names in 2017. They also established and are longtime contributors to the Neil and Ann Kerwin Doctoral Fellowship Fund, which supports dissertation research that is deemed by the School of Public Affairs faculty and dean to be of the highest quality and likely to lead to publication in a major peer-reviewed journal or press.
Alumni Recognition Award – Penny Pagano, CAS/BA '65
The Alumni Recognition Award recognizes alumni who inspire the world around them through service to a philanthropic mission or the AU community.
Penny Pagano received her BA from AU and a master's degree from the Medill School of Journalism at Northwestern University in 1967. Her career as a journalist included newspapers, magazines, radio, and television.
Penny covered Capitol Hill, the Supreme Court, and other news for Fairchild Publications, was a reporter for the Washington Bureau of the Los Angeles Times, and served a TV host for C-SPAN. As a freelance writer, Penny contributed to a number of publications, including American Journalism Review and Discovery Communications.   
An interest in local politics led her to a job as chief of staff for the Ward 3 Councilmember on the DC City Council, and from 2008-2012, she worked as AU's director of community and local government relations.  She was involved in the planning and city zoning approval for the university's most recent 10-year campus plan, which included the new Washington College of Law and student residence halls.
Penny served on the Alumni Board and is currently co-chair of the AU Women's Network. She is also a member of the AU Library Council and the Community Liaison Committee. As a Golden Eagle, Penny cochaired her 50th class reunion in 2015.
Neil Kewin Alumni Achievement Award – David Aldridge, SOC/BA '87
The Neil Kerwin Alumni Achievement Award recognizes alumni who have distinguished themselves through their professional accomplishments. 
David Aldridge has covered the NBA for nearly 30 years as a print, broadcast, and digital journalist, and was recognized for his work in 2016 with the highest award a reporter covering the league can receive: The Curt Gowdy Media Award from the Naismith Memorial Basketball Hall of Fame. 
Aldridge is the "insider" for TNT, covering breaking news both for that network and for NBA TV and NBA.com, and serving as a studio analyst on NBA TV programs. He also serves as a sideline reporter for TNT, appearing both on game broadcasts and on Inside the NBA. 
David writes the popular weekly "Morning Tip" column for NBA.com. His career has included stints at The Washington Post and the Philadelphia Inquirer, where he covered most of sports' biggest events, from the Super Bowl to the World Series, and the 2016, 2012, and 1992 Summer Olympic Games.
A longtime member of the National Association of Black Journalists and of NABJ's Sports Task Force, Aldridge was the recipient of NABJ's 2016 Legacy Award, given annually "to a black print, broadcast, digital, or photo journalist of extraordinary accomplishment who has broken barriers and blazed trails." Aldridge is also a past winner of the Sam Lacy Award as Journalist of the Year from the Rainbow/PUSH Coalition.
Aldridge graduated from American University in 1987 with majors in print journalism and history.
Rising Star Award
This award recognizes recent American University alumni (received their undergraduate degree within the last 10 years) who are making significant contributions to society through their professional or philanthropic work.
Andy MacCracken, SPA/BA '11, SPA/MA '14
Andy is executive director and cofounder of the National Campus Leadership Council, a nonprofit that empowers student leaders to shape higher education decision-making. Since its 2012 launch, NCLC has built the country's most expansive and engaged network of student government leaders. Andy has worked with more than 2,000 student body presidents on a wide range of critical issues facing students and higher education, including campus sexual assault, college affordability, mental health, diversity and inclusion, free speech, and environmental sustainability. 
In 2014, Andy introduced President Obama at a White House event announcing executive action to support struggling student loan borrowers. He also played a key role in building the White House's It's On Us campaign to end campus sexual assault and spoke at its 2014 campaign launch event. 
Andy regularly consults organizations and institutions on higher education policy and student engagement. Andy grew up in western Colorado but left to study government at American University where he earned a BA in 2011 and an MPA in 2014. While at AU, he served as AU Student Government president, assistant director of the Campaign Management Institute, teaching assistant for the School of Public Affairs Leadership Program, and graduate student representative on the SPA Dean's 2012-13 steering committee.
Tara Palmeri SOC/BA '08
Tara Palmeri is a White House reporter for POLITICO. She is also a CNN analyst and was previously a CNBC contributor. 
Before joining POLITICO's DC team, Tara reported for its European edition, where she covered the Paris and Brussels terror attacks, the Greek financial crisis, and the British referendum. 
Prior to moving to Europe, Palmeri reported on local politics for the New York Post. She started at the newspaper as a reporter for "Page Six," NYC's premier gossip column. The John Edwards trial, the 2012 Republican and Democratic National Conventions, and the Newtown, Connecticut massacre are among the high profile assignments she has covered. 
During President Obama's first term, Palmeri co-authored The Washington Examiner's "Yeas & Nays" column on people, power, and politics in Washington, DC. She started her career as a news assistant for CNN shortly after graduating summa cum laude from American University in 2008.