Alumni
Black Alumni Host Leadership Retreat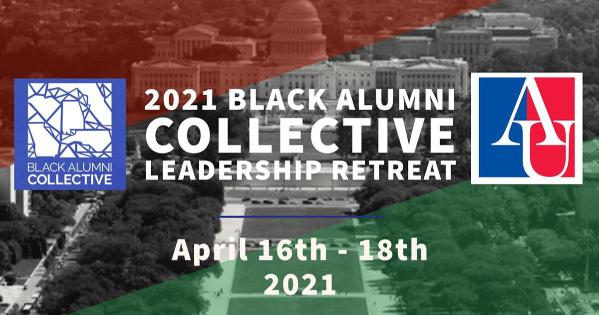 American University's Black Alumni Alliance, led by Chair Kathy Russell, SOC/BA '04, and Vice Chair Qui-Juan Jones, Kogod/BSBA '09, recently hosted a virtual leadership retreat which convened Black alumni leaders from university associations and affinity groups for Black-identifying alumni across the country and internationally. 
President Sylvia M. Burwell delivered opening remarks for the event. At-Large DC Councilmember Robert C. White, Jr., WCL/JD '07, also addressed the group, as did Judge Gerald Bruce Lee, SOC/BA '73 WCL/JD '76, and Rev. Dr. Howard-John Wesley, senior pastor of the historic Alfred Street Baptist Church.
The retreat, presented in collaboration with Black Alumni Collective, a national network of Black alumni volunteers, fostered a unique opportunity to leverage the university's alumni in support of AU's Strategic Plan, Changemakers for A Changing World, and the Plan for Inclusive Excellence. The retreat also heightened visibility for the Black Alumni Alliance Book Award, an initiative at American University that aids students in covering the costs of course-related books. 
The 2021 leadership retreat was developed by Black alumni leaders to explore new opportunities, examine trends, and share best practices for successful alumni engagement. This year's theme was "Lifting As We Climb," representing an intent to continually uplift and open doors for the next generation of Black leaders.
"Alumni association leaders have an important responsibility in laying the foundation for continued success, innovation, and growth among their alumni bases. Instilling a sense of pride, spirit, and excitement is critical, and this conference serves as a tool in leadership development, strategic planning, and collaborative engagement with peers from across multiple universities," said Gordon Andrew Fletcher, SPA/BA '06, SPA/MPAP '17, co-chair of the retreat and immediate past chair of the AU Black Alumni Alliance.
Student support is at the core of many alumni associations' work and aligning Black alumni with current Black students is a mission-oriented goal. This retreat, with its online components, offered Black alumni associations a unique opportunity to work side by side with Black student leaders to advance progress both on campus and beyond. 
For more information about the Black Alumni Collective, visit https://blackalumnicollective.org.