Alumni
Continue Learning after Graduation through Alumni Audit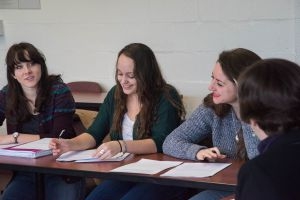 The Alumni Audit program is one of the many benefits American University offers you once you graduate. The program provides a great way for you to keep learning with your favorite instructors even after you don your cap and gown. 
Alumni Audit allows alumni to take one course on campus each semester for only $150. The program has been a popular benefit; 86 alumni participated in fall 2016. Many participants speak highly of the program and have taken part multiple times. Thomas "Tom" Oakley, Kogod/MBA '98, and Theodore "Ted" Kowalsky, CAS/BA '99, are two such alumni.
A Lieutenant Colonel in the Army Reserve assisting with government affairs and overseeing a battalion, Tom has made it his mission to be a part of the Alumni Audit program at American University. He describes the program as "a great way to have your cake and eat it, too" because you can gain all the benefits of being in the classroom without the pressure of taking tests or writing papers. 
Tom has participated in the Alumni Audit program nearly every semester since fall 2012, and it has helped him reconnect with the university. The program not only allows him to explore topics that interest him, but it also helps him develop relationships with faculty members. He says that faculty have gone "above and beyond" providing career advice outside the classroom.
As director for the Office of Grants and Asset Management at the U.S. Treasury, Ted has utilized the Alumni Audit program as a professional development opportunity and a creative outlet. Before pursuing a master's in investment banking at George Washington University, Ted attended AU on a scholarship for creative writing. Over the past few years, Ted has been writing more and says that he is grateful to be in the classroom again through Alumni Audit because the courses "help provide structure for that creative impulse." This semester he is enrolled in an advanced poetry workshop.
For Ted, the Alumni Audit program is also a great way to give back and "stay engaged in the community," especially with professors. This semester marks Ted's second time studying under Associate Professor Kyle Dargan, someone he says provides great advice on his writing. "I always tell people about the [Alumni Audit] program and encourage alumni I know to look into the offerings," he says.
As you approach graduation, it is important to think about how you will continue to grow as a professional. Learning doesn't stop when you graduate. You will soon find that your ability to stay competitive in today's job market will depend on regularly building on your knowledge and skills. The Alumni Audit program can help you do that.