Alumni
From Student Reporter to Studio Host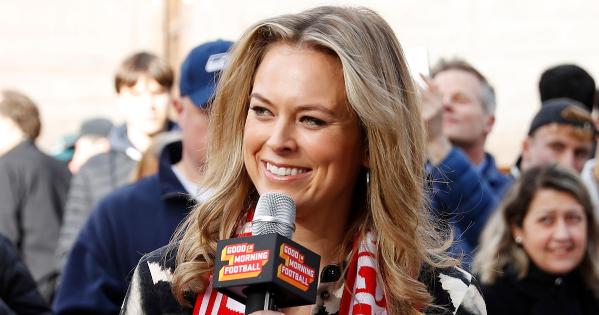 As a junior at American University, Jamie Erdahl, SOC/BA '11, strode into the Athletics Communications office equipped with a dream and a question. "I would like to do [sports broadcasting]," she told any set of ears that would listen. "How can I do [it]?"
Looking back on her two years at AU, the now-decorated reporter and Good Morning Football host credits the university for "having the door open"—for helping her channel her passion for and knowledge of athletics into concrete journalism experience.
Erdahl transferred to AU from St. Olaf College, "a family school" in her home state of Minnesota that both her father and sister attended. There, she furthered her lifelong love of sports, doubling up on her student-athlete status as a basketball and softball player. But as she began weighing her professional aspirations, she felt tugged in a different—yet adjacent—direction.
"Sports television kept coming up as...a career goal," she says. "Quite quickly, I realized that [opportunity] wasn't at St. Olaf." Knowing her older sister was destined for Baltimore, she drew a ring around the city and filed applications to schools within it. When her acceptance to AU arrived, she told herself, "Great—somewhere that speaks to me!" So, she enrolled, slipping off the playing field and into reporting gear.
AU "checked all these boxes that I did not have previously," Erdahl says, referencing DC's "big-city" appeal and the University's D1-sports status. The school's athletic persona sat squarely between that of the huge Big 10 contender she'd observed in the University of Minnesota growing up and the smaller-scale D3 program she'd participated in at St. Olaf. American was a place where she could "strike [a] balance." And today, she identifies "the accessibility of the Athletics Department" as one of the best aspects of her AU experience.
Erdahl enrolled in the School of Communication, seeking out broadcasting opportunities wherever they cropped up. She praises Keith Gill—the university's former director of Athletics and Recreation—and Nancy Yasharoff—then the associate athletics director, communications—for granting her responsibility. Yasharoff even tapped Erdahl to host Eye on the Eagles, a half-hour segment broadcasted by Comcast SportsNet Washington.
By the time she graduated in 2011, Erdahl had interned with NBC and FOX stations, as well as ESPN's SportsCenter and Baseball Tonight. She formerly joked she'd become a Monday Night Football reporter. But this bit turned out to be foreshadowing more than funny: In only a matter of years, she would land a lead-reporter gig at CBS Sports, centered on SEC football.
Before joining CBS, Erdahl honed her craft at New England Sports Network, where she reported live from baseball and hockey games, and hosted NESN Sports Today. Then, she spent eight years with CBS Sports, doing NFL sideline work and some D1-basketball coverage. In 2022, the NFL Network cast her as one of four Good Morning Football hosts, ushering her family toward the Big Apple.
Erdahl, who is married with two daughters, regularly shares her experiences as a working mother and "female in a male-dominated industry." In her modesty, she resists labeling herself a changemaker, pointing out that "many women before [her]" cracked into the industry. Still, she "think[s] just being visible is important," as is true for members of underrepresented groups in all fields. She also shone a spotlight on breastfeeding and pumping, even lifting the topic in interviews. "It's heavy on your being," she says. "I [adopted]...a bigger voice about [it] when I was on the road as a new mom."
Beyond different travel loads, what are the distinctions between sideline and studio reporting? "Sideline in particular is challenging," Erdahl says. "You don't know what's going to happen, [and] your job is to facilitate the editorial direction"—to hop in and out of the frame promptly, dishing out key information in the process. Studio broadcasts, meanwhile, are somewhat laxer, gifting reporters with more time to think through their words. Discussions toggle between big-picture and highly focused subjects. When it comes to spontaneity and preparedness, she says, "it's just good to have both."
In terms of sideline reporting, she says, viewers "want to hear from you, but [you're] not why [they're] watching...except for if it's your mom and dad." In the studio, though, a host can let more personality filter through. Erdahl, for one, isn't afraid to display her love of snacks or make pop culture references. (One day on air, she even wore the same crewneck sweatshirt as Monica from Friends.)
So, what advice would Erdahl offer to students or alumni who hope, as she once did, to roam courtside or sit in a studio? "Do all the jobs." Mastering the art of broadcasting, she argues, requires much more than "sounding and speaking and looking a certain way." A reporter strengthens her abilities by embracing the "big picture"—familiarizing herself with all angles of the industry from operations to stat keeping. 
Erdahl emphasized the same point this past June when she returned to AU to commemorate the 50-year anniversary of Title IX's passing. She was recorded as part of an episode for We Need to Talk—the world's first all-femme sports program—alongside other leading ladies in sports. That day, she pointed out the ground crew and reminded the largely student audience of the workers back in CBS's New York HQ. "This is good TV," she said—and she wants to help position other Eagles to be a part of it, too.