Alumni
Meet Judah Featherman, 2019 Recipient of the Alumni Association Scholarship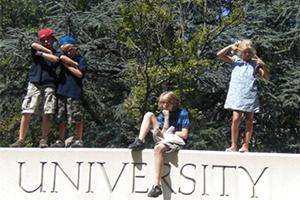 "My mother attended American University in the 1980s, and I grew up hearing stories of her time there that detailed student action, international boycotts, and presidential campaigns. Her stories of Washington, DC's rich culture, history, and people captured my imagination as a child and made me determined to attend the same university," says incoming student Judah Featherman, CAS/BA '23. 
Judah's first visit to AU would not be his last. Touring campus as a first grader, Judah didn't quite understand what college was or who it was for. However, he was captivated by the students walking around and sealed the visit with a photo in front of the American University sign. Fast forward to 2018, when Judah found himself on campus again. This time, he was living in McDowell Hall for the National Student Leadership Conference on Political Action & Public Policy – where high school students learn the intricacies of government and gain a real-world understanding of the U.S. political system.  
The son of Natalie Knochenhauer, CAS/BA '88, Judah is the 2019 recipient of the Alumni Association Scholarship and describes how the influence of AU on his mother's life had a profound impact on his. "My mother has dedicated her life to working for social justice and raising her four children to understand the responsibility we all share for our fellow man," says Judah. "She began her career as a Philadelphia Public Defender and went on to work in the nonprofit world on issues of racial equity, ending stigma around mental health and economic mobility. The values she took from her time at AU were passed on to my three siblings and me, and I intend to bring that commitment to my own work at AU." 
The Alumni Association Scholarship provides financial support to students whose parent or grandparent holds a degree from American University. Renewable for a maximum of four years, the scholarship offers $5,000 per year toward tuition and is awarded based upon the student's academic record, demonstrated leadership abilities, connection to American University, and an essay describing how their family members' experiences at AU influenced their own decision to attend.
Judah is looking forward to participating in the AU community. "I am eager to participate in student life on campus and also to take advantage of the institutions and political life in Washington, DC that hold enormous power to make change.  I, too, am interested in the intersection of academics and action, and it is for this reason that I chose AU, as I feel it embodies this practice and upholds the value," says Judah.