Alumni Success Story
Jorhena Thomas, SIS/MA '04: From AU to Homeland Security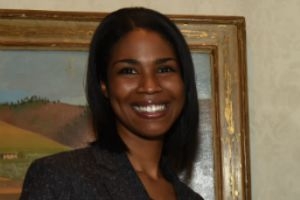 "With my MA from SIS in hand, I was very competitive in the field I wanted to go into," says Jorhena Thomas, SIS/MA '04, while describing the benefits of receiving a master's degree from the School of International Service. "My coursework at AU forced me to think critically, which has served me well in my career progression," she adds.
Born and raised in the Chicago area, Jorhena describes herself as "a Midwestern girl through and through." She earned a bachelor of arts in international studies from Oakwood College in 1998 and a master of arts in international affairs from AU in 2004. Jorhena formerly worked for the Federal Bureau of Investigation as an intelligence analyst for eight years. During this time, she spent five years focused on international terrorism investigations at the Washington Field Office and three years in the International Operations Division as the intelligence program manager for the FBI's 11 Legal Attaché offices in the Americas region.
Jorhena is now deputy director and operations manager for the Washington Regional Threat Analysis Center, which is a division of the DC Homeland Security and Emergency Management Agency. In this role, Jorhena ensures that relevant intelligence information and analysis products get to the right people at the local, state, and federal levels, with a particular emphasis on public safety issues in the District. "I can only do this through a wonderful and dedicated team of analysts, liaisons from partner agencies, and interns," she exclaims. WRTAC focuses on all public safety issues—including terrorism, law enforcement, emergency management, and critical infrastructure protection.
During her time at AU, Jorhena remembers watching the buildup to the Iraq war while taking a class with Dr. Clovis Maksoud. She recalls him providing "incredible insight and perspective" as events developed over the course of several months in that region. Jorhena also joined a "wonderful array of dedicated and passionate fellow students" as a member of the Student Organization for African Studies while on campus. 
As an alumna, Jorhena enjoys giving back as a member of the AU Alumni Board and as a SIS alumni-student mentor. The experience of being a mentor to a current AU student is something she finds extremely rewarding. "I've learned as much from my mentee as she's learned from me," she says.
In her spare time, Jorhena enjoys reading biographies, getting great deals in thrift stores, and traveling to exciting destinations with her two children: an 11-year-old daughter and a nine-year-old son. One recent highlight was taking her children on their first international trip. The family traveled to Guatemala where they enjoyed time with a host family, learning how to harvest fruit from trees, wash laundry by hand, and hand-grind coffee. "It was eye opening, humbling, and fun," she says.    
Although she is undoubtedly busy with both work and family, Jorhena is impassioned about volunteering. "I volunteer at AU because I think it is a great institution and I want to continue to be a part of what makes it great," she says.