Alumni Profile
From Weather to Breaking News, Alumnus Tony Perkins Keeps D.C. in the Know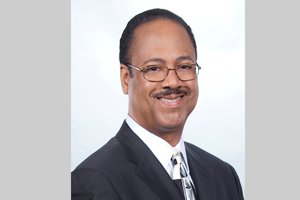 When you need the morning news, alumnus Tony Perkins, SOC/BA '81, will greet you on Fox 5 DC. Perkins officially assumed the anchor role at the Fox 5 Morning News desk alongside Allison Seymour in July. Beginning a new chapter, Perkins shares he "comes to work every day excited" by the workplace dynamic.

Perkins' face is familiar to D.C. viewers and national audiences. He worked on the Fox 5 program before, serving as weatherman in the '90s before becoming a weather forecaster and features reporter at Good Morning America. He returned to the Fox 5 family in 2006, serving as weatherman, part-time anchor, and early morning anchor. Thrilled by his recent promotion, Perkins believes his new responsibilities offer more variety in his daily work.

While he loved the weather, Perkins says he was "ready to move on." He enjoys opportunities for hard news interviews and lighter features that utilize a different skill set. But his favorite role is as the voice of breaking news.

By definition, breaking news is important, and an anchor must "present and interpret" why people need to know about a situation. When on the air live, Perkins is "able to make sense of [the situation] for people" and deliver facts.

The metro region has been Perkins' home since childhood, and he is proud of professional and personal ties to Northern Virginia and the District. Perkins knows the area and its history; and he's glad to share his knowledge. When it came time to go to college, Perkins didn't feel the need to go away. He loved the D.C. area for its "history and multicultural community." As a result, AU was a perfect fit.

Perkins knew broadcasting interested him, and he explored visual media at AU, honing interests in TV and film. Perkins developed his talents through the campus radio station and the black student newspaper that later became a section in The Eagle. Through his involvement in student government, he helped found the campus television station.

Perkins remains an active AU supporter as a member of the School of Communication's Dean's Council and mentor to AU students, marrying his professional expertise with his love for AU. Perkins has also been an early leader in the Campaign for SOC and has named the "Anthony (Tony) Perkins Journalism Laboratory." In 2006, AU's Alumni Association recognized Perkins' broadcasting accomplishments with its Alumni Achievement Award.

A professional whose career spans nearly three decades, Perkins has seen technological advances and witnessed changing resources. For those interested in broadcasting, Perkins advises, "stay on top of what's going on in the world." He says that today "it's easier to follow what's going on in the world," but not everyone takes advantage of the access. As professionals, "knowledgeable, smart people are highly valued."

Perkins also advises "keep your options open, and stay open to opportunities." While he's been involved in news, entertainment, radio, and TV, Perkins' career has taken different turns. Had he said no to the weather desk, his path may have gone a different way. Instead, Perkins has had a career that has been "rewarding and fascinating."

For a perspective that is lively, genuine, and trusted, tune in to see hometown professional and fellow alum Tony Perkins, mornings on Fox 5!
To learn more about the SOC campaign, visit the campaign homepage.