Kayleigh Thompson Government and Politics of EU & Pol/Econ of European Defense Courses
My initial study abroad plans were cancelled due to COVID-19.  I was really bummed out but seeing that I could at least take the Brussels classes online helped ease the sting of a lost experience!  I am a global governance major and specialize in Europe and there are very few EU classes in DC at AU. Almost all of my AU courses have been American-centric so it was extremely important to me to have this different perspective. I strive to find the non-American perspective and these classes really helps me achieve that goal.
José Alvarado European Union in Action, Spring 2018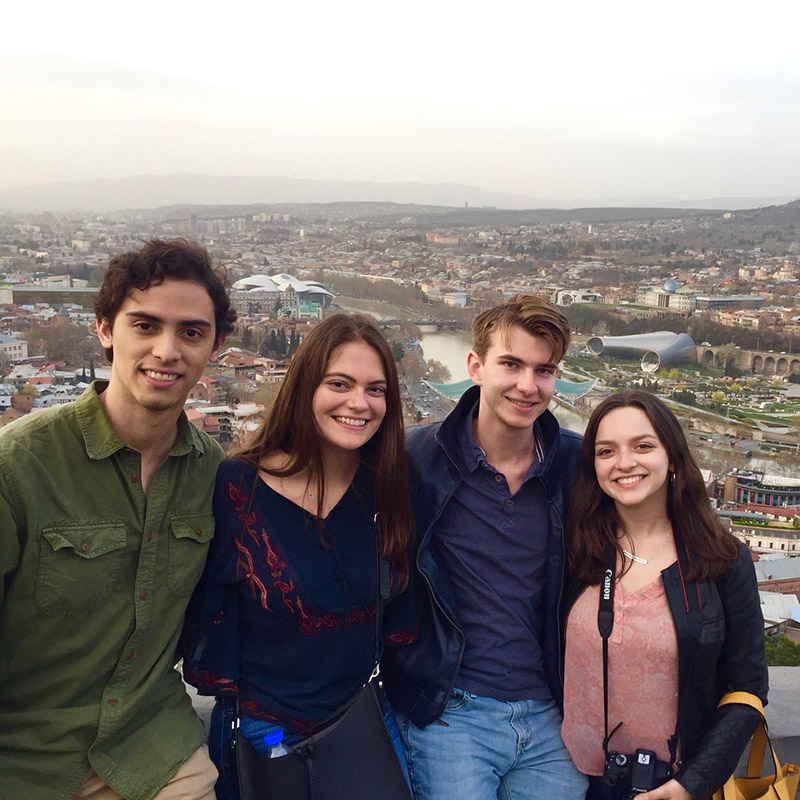 Ever since he was in high school and started learning about world politics, José Alvarado knew he would study abroad someday. As a freshman international relations major at American University, José started exploring his opportunities. "I knew AU is really big on studying abroad," he said. "My options were vast. I learned about AU's centers in Nairobi, Madrid, and Brussels, but when I learned more about the Brussels program, I realized it lined up exactly with my interests."
Two years later, José applied to the Brussels program, received a grant from AU Abroad, and boarded a flight to Europe on January 10. José had developed a particular interest in comparative global governance after studying that at AU in DC and looked forward to learning about the European Union in more depth.
"Before I went to Brussels, I hadn't taken any classes explicitly focused on foreign policy, security, or defense," Jose explained. "I wasn't as interested in NATO but studying in Brussels changed my perspective. When I learned about multilateral defense and what NATO does, especially after visiting EU countries and seeing the NATO policies put into practice, I better understood the importance of multilateral defense organizations."
While in Brussels, José and his 30 classmates stayed busy studying, working, and traveling. They took classes three or four days a week and worked in internships three days a week. Students spent three weeks traveling with the program, throughout Belgium and also to France, Luxembourg, the Netherlands, Germany, Bosnia-Herzegovina, Serbia, and Georgia. José also took time on his own to travel in Italy and visit relatives in England.
Three of José's classes were taught by AU Brussels Program Director Jerry Sheridan, including Economics of European Defense and Government and Politics of the EU. Geert Van Calster, a law professor from the University of Leuven in Brussels, taught a class on the economics of the EU, and NATO Deputy Assistant Secretary General for Emerging Security Challenges Jamie Shea taught a seminar on NATO. Students also had the option of enrolling in a French seminar, but José is already an intermediate French speaker, so he did not.
"I had the chance to practice speaking French with my coworkers at my internship," José said. "I interned with Confrontations Europe, an EU policy think tank that's based in Paris. They have a small team of three in Brussels, all of whom are French. I was researching policy issues, such as the EU's regional development policy." José enjoyed his internship so much that he is considering working for a think tank after graduation. He plans to apply for fellowships and internships focused on the EU and international trade policy, with an eye toward working in Europe in the future.
While he still has one more year to go at AU, José can already see how his time in Brussels has shaped his career path. "Learning about the economics of the EU, especially its role as a free trade area and customs union, and how as a bloc the EU has a lot more leverage in the global economy than it did 20 years ago has reconceptualized for me what the EU is all about."
Brussels Program Director Sheridan "always made a point to relate his lectures back to the importance of the EU in maintaining cooperation and peace among formerly warring states," José explained. "There were so many examples he gave us in his lectures that we then saw firsthand when we traveled. The idea that EU is a vehicle for peace was really significant for me."
Seeing the countries and their capitals that his class was learning about was powerful for José. "Being able to see the equivalent institutions that I've seen in Washington, DC of each respective country was powerful, and I was also able to visit countries I would never otherwise have traveled to. For example, the city of Tbilisi in Georgia, was stunning. It's surrounded by mountains and the architecture is a hybrid of Russian and Turkish and the food was incredible. Another important trip was to Bosnia. We learned about the tragedies that happened there in context, on the site where they happened, which makes you reconsider the way you look at politics and populism. It gets you thinking about the people who live in this beautiful country, and where they might go next. How can they move on and live in a functioning state when all these divisions still exist?"
Now back in the US, José has a broader view of the world and keener insight into how he can make his own contribution to the global community in the future, thanks to his semester in AU's Brussels program.
- By Betsy Rosso