Humanities
Carmel Institute Takes Students to Dumbarton Oaks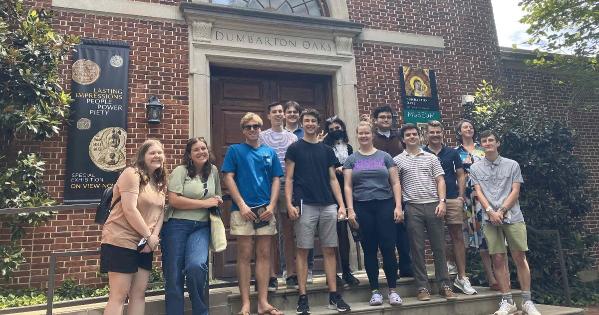 On Saturday, September 10, 2022, the Carmel Institute organized a trip to one of Washington's most unique museums, Dumbarton Oaks. Dr. Fedyashin's students in the History Majors Seminar received a 90-minute tour of Dumbarton Oaks' magnificent Byzantine collection with a focus on the current special exhibit "Lasting Impressions: People, Power, Piety." According to the museum's scheduling department, this was also the first time that a class from American University has visited. Dr. Elizabeth Williams, curator of the Byzantine Collection, gave the class an eloquent and highly informed tour that reinforced the students' assigned readings.
Museum visits, concert attendance, and class-trips have been part of the Carmel Institute's programming since its inception. As Professor Fedyashin has always reminded his students, although our knowledge about the past depends mostly on reading, history must also be walked, seen, touched, smelled, and tasted. Having just discussed Emperor Constantine VII's De Administrando Imperio (the Dumbarton Oaks bi-lingual edition from 1967), Dr. Fedyashin's class got to experience some of his world in a holistic experience that stays with students of history for much longer. After the visit, Dr. Fedyashin's class went on to read Andrzej Poppe's "The Political Background to the Baptism of Rus'," part of the Dumbarton Oaks Papers (1976), and then former DO director Edward Keenan's "Muscovite Political Folkways" (1986). Since so many paths lead back to Dumbarton Oaks in Byzantine and Muscovite studies, it is a blessing to have this unique museum so close to AU.
After the tour, the students went to lunch at Café Divan, where they sampled Turkish and Mediterranean cuisine. And afterwards, they returned to the famed Dumbarton Oaks gardens to enjoy their beauty and talk about Roger and Mildred Bliss, who started the museum collection and bequeathed Dumbarton Oaks to Harvard University in 1940. Experiencing the Byzantine past on the page and in the museum hall helped to open young minds to the wonders of history as well as the great legacy of American philanthropy.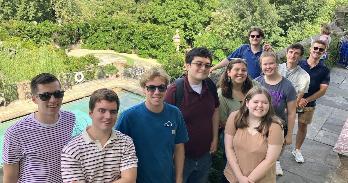 Dr. Fedyashin's history class pauses to smile during their tour of the Dumbarton Oaks gardens.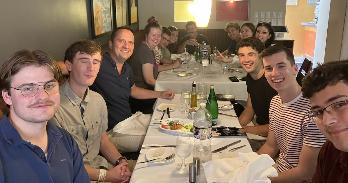 AU students and Dr. Fedyashin eagerly awaiting their delicious lunch at Café Divan.