International
Maslenitsa at the Embassy of the Russian Federation Past and Present Students from AU's Carmel Institute of Russian Culture History Attend Traditional Pre-Lenten Festivity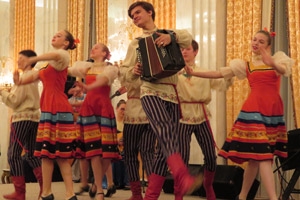 Say "Mardi Gras," and your listeners are likely to conjure up New Orleans-style mental images of Fat Tuesday, parades with elaborate floats, bead throwing, and general Southern revelry.
But the thirty-five current and former Carmel Institute students who attended "Maslenitsa—Russian Mardi Gras" on February 17 at the Embassy of the Russian Federation experienced a distinctly Slavic incarnation of the celebration—which is traditionally intended as a last indulgence before the prayerful asceticism of the Russian Orthodox Lent begins. 
The students were guests of Susan Carmel Lehrman, Founder and Chair of AU's Carmel Institute of Russian Culture History. 
Two of Washington's Russian Orthodox parishes—St. John the Baptist and Saint Nicholas—co-sponsored the event. "We do this event every year before Lent begins," said Archpriest Victor Potapov, the rector of St. John's.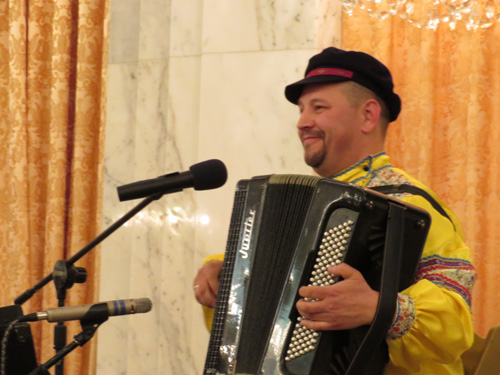 "I've actually never heard of Russian Mardi Gras," said Valerie Cariello, who is majoring in International Relations and Economics. "I was really excited when I got the invitation to come, because I've lived in Mississippi, and experienced US Mardi Gras—so I was really interested to see what Russian Mardi Gras was all about." Ms. Cariello studied in Moscow this past summer through a Susan Carmel Lehrman Award, and she hopes to return to Russia in 2018. 
Solomiya Syvyk—who is pursuing a degree in International Economics, and is of Ukrainian heritage—explained that Maslenitsa is "basically a celebration from winter to spring… a beautiful transition…everything was based on nature, so then nature is awakening." Dark, cold days and a diet of canned food surrender to the brightness of spring, with its light, warmth, and fresh crops. "Everything is fresh and new and wonderful," said Ms. Syvyk. "It's like a fresh start." 
Maslenitsa (Мaсленица) roughly translates in Russian as "Butter Week", a reference to one among several foodstuffs that are to be abstained from once Lent arrives. "Cheesefare Week" and "Pancake Week" are other ways of referencing Maslenitsa, which has both a pagan and Christian ancestry. Its most famous exponent—the "Russian pancakes" known as "bliny", which are made from butter, eggs, and milk—is not simply a tasty dish; round and golden, bliny also popularly symbolize the sun.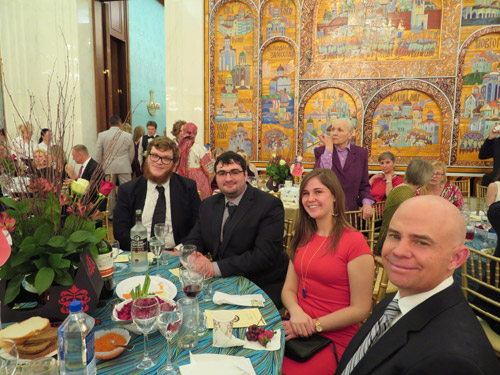 Nathaniel Cavin ('15)—who grew up in the Orthodox faith, and is a parishioner of St.John's—provided some additional historical context. "You're about to go forty days without eating dairy or meat," he explained. The geographic influence upon these spiritual prohibitions is apparent, said Mr. Cavin. "When you look at the fasting rules, you can tell they were written with a Mediterranean diet in mind, which gives you that Byzantine heritage." Every weekend during Orthodox Lent, Mr. Cavin noted, wine and oil can accompany meals. Since oils are used to add flavor to traditional Mediterranean fare, abstaining from it during the week would represent a sacrifice. 
Maslenitsa is not all about food, however. Anticipating the somber period of Lent to come—when the faithful often also "fast" from entertaining activities—people hold colorful masquerades, battle one another in friendly snowball fights, and enjoy sleigh rides. At the end of the celebration, a straw effigy of "Lady Maslenitsa" is consigned to a bonfire, accompanied by any uneaten bliny. 
Following a welcome reception, guests took their places at tables in the ballroom of the Russian Embassy's Ceremonial Building. The Ambassador of the Russian Federation, Sergey Kislyak, greeted the crowd, emphasizing that the celebration had a two-fold purpose: both to mark the religious occasion, and to keep alive Russian traditions. 
After a blessing, guests feasted on a Maslenitsa menu featuring an array of Russian delicacies such as marinated mushrooms, pickled herring and smoked salmon, pirozhki, bliny, beef stroganoff, and more. Enthusiastic applause and shouts of approval greeted the Matrioshki St. John parish dancers and the Russian and Georgian artists of the Golden Gates Ensemble, two folk dance troupes who performed during dinner.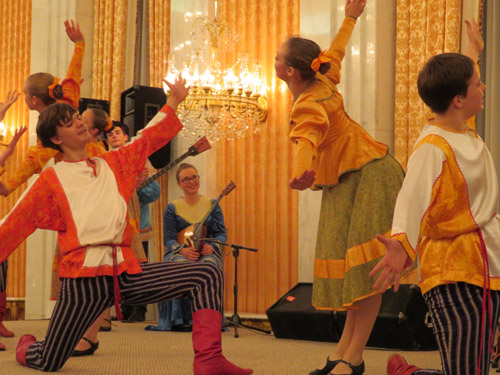 Nicole Orphanides ('14)—a History major who now works at the National Library of Medicine at the NIH—said she has attended Carmel Institute events since the Institute's founding, and continues to do so. In 2013, Ms. Orphanides took part in the Institute's "Romanov Russia" trip led by Drs. Anton Fedyashin and Anita Kondoyanidi. "It was a full immersion," she shared. "You got that feeling like you were really part of Russian culture for the two weeks that you were there." 
Sakari Ishetiar ('16) also continues to keep in contact with his classmates through the Carmel Institute's many events. "I appreciate their mission of bridging the cultural divide," Mr. Ishetiar stated. "I do a lot of work on international contracts, and a lot of how I bill myself is understanding the interchange of cultures, any two cultures—the US and Russia being no exception." 
As an AU Honors Capstone Project, Mr. Ishetiar directed and produced a stage version of Mikhail Bulgakov's classic novel The Master and Margarita, a piercing satire of Soviet society that the government considered too sensitive to publish in the USSR in full until 1973. Through a 2015 Carmel Institute trip to Russia, he had the opportunity to tour many of the places associated with Bulgakov's work and milieu. "It's so important to have students from Russia visit America; from America visit Russia—don't stop," Mr. Ishetiar advised.