International
US Premiere of The Spacewalker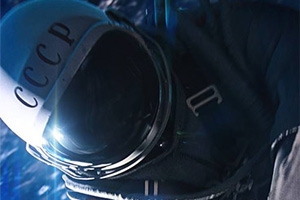 American University's Carmel Institute of Russian Culture & History co-hosts screening of new Russian Film to mark International Day of Cosmonautics.
With our planet beneath him and the infinite universe all around, cosmonaut Alexei Leonov—the first man to walk in space—was struck by the fragility and isolation of it all. "The earth was small, light blue, and so touchingly alone," he later reflected.
Leonov's own vulnerability in the harsh environment of space was to become terrifyingly clear within minutes of exiting the Voskhod II spacecraft, when his spacesuit unexpectedly inflated and began to fill with his own sweat. Rendered nearly immobile as he floated by a seventeen-foot tether, Leonov quickly realized that his ballooned and inflexible suit would no longer fit back inside the airlock connected to Voskhod II. Faced with rapidly declining oxygen and certain death, he opened a valve, depressurized his spacesuit, and somehow scrambled to the relative safety of the capsule.
The historic and harrowing ordeal—and a host of other brushes with death that followed during the same mission—are now a pulse-pounding new Russian action movie, The Spacewalker. On April 12—the International Day of Cosmonautics—the US premiere was screened for a capacity crowd at the Russian Embassy's Tunlaw Theater.
Hundreds of Carmel Institute of Russian Culture & History students joined fellow scholars from local universities, diplomats, and representatives from NASA, the European Space Agency, and Roscosmos.
A pre-screening gathering offered Russian delicacies, and the reception area was decorated with posters featuring Alexei Leonov's space-themed artwork. Leonov—a talented artist who initially considered pursing that profession before he instead became a pilot—even sketched in space.
As guests took their seats in the Tunlaw Theater, thanks were offered to Carmel Institute founder Susan Carmel Lehrman. The screening was not the first time the Carmel Institute has focused its attention upon US-Russian cooperation in space. The Institute's Fifth Annual Symposium, "Partners in Orbit"—held at the National Air in Space Museum one year ago—also explored the topic.
Press attaché Nikolay Lakhonin shared a greeting from Russian Ambassador Sergey Kislyak. "This day back in 1961, the first human, Soviet cosmonaut Yuri Gagarin, traveled into space," Ambassador Kislyak said. "We are very happy that people all over the world celebrate this commemorative date with us. Interaction between the Russian space agency Roscosmos and NASA is a positive example of fruitful cooperation. We hope you enjoy the movie, and we wish every success to our cosmonauts and astronauts who support the traditions of remarkable cooperation between our nations."
In his introductory comments, Carmel Institute Director Anton Fedyashin recounted the historical background of the Voskhod II flight. Congratulating the representatives of the international space agencies for their efforts, he drew everyone's attention to international cooperation in space as a model of what nations can achieve through educational programs and combined intellectual effort.
During the two-and-a-half hour cinematic adventure, the audience witnessed Leonov's journey from daredevil military test pilot to a member of the first class of cosmonauts. "That man is crazy, I swear," his commanding officer declares, after watching Leonov barely land his fighter jet following an engine flame-out. "Crazy is exactly what we need," observes Soviet Air Forces General Nikolai Kamanin, who directed cosmonaut training for the USSR from 1960-1971.
The so-called "space race" became a feverish scientific sprint as both the US and Russia competed to be the first to break various spaceflight milestones. The Voskhod mission time frame was itself compressed by two years, and the resulting strain—and risks—are dramatically depicted in The Space Walker.
With space travel now an accepted routine, it is easy to overlook that it was—and remains—incredibly dangerous.
Leonov's twelve-and-a-half-minute spacewalk is stunning to behold, but the tranquility is shattered by his life-threatening spacesuit malfunction. Once he safely returned to the Voskhod II capsule, Leonov's unplanned spacesuit depressurization resulted in the equivalent of the "bends" a diver experiences when surfacing too quickly. The ejection of the airlock that followed sent Voskhod II into a spin, and equipment failure caused oxygen levels to climb to such a rate that a single spark threatened to incinerate the spacecraft. A faulty re-entry trajectory and the failed separation of the orbital and landing modules veered Leonov and his fellow cosmonaut Pavel Belyayev wildly off course for an landing in the northern wilderness compounded by a blizzard that threatens to kill them.
The audience greeted the film's joyful conclusion—both Leonov and Belyayev were rescued, and hailed as heroes—with applause, and adjourned to the lobby for desserts.
Many viewers were unfamiliar with Leonov's chapter of spaceflight history. Ten years after Voskhod II, Leonov commanded the Soviet half of the 1975 Apollo-Soyuz Test Project mission. Apollo-Soyuz was the first international cooperative flight between the US and the USSR, and is often remembered by the iconic photo of Leonov and US astronaut Tom Stafford shaking hands after the two spacecraft docked in orbit. Leonov commanded the cosmonaut team from 1976 to 1982, and was also deputy director of the Yuri Gagarin Cosmonaut Training Center, where he supervised the preparation of crews. He retired in 1992.
"The thing that was most amazing to me is that I'm an American, I was raised in the Midwest, and all they taught in the textbooks is the moon landing—the moon landing was amazing; we won the space race; so on and so forth," said Sakari Ishetiar (AU '16), who also attended the Carmel Institute's 2016 "Partners in Orbit" symposium. "I had no idea—as just a world citizen—that the story of this spaceflight was so amazing," Mr. Ishetiar shared. "It's every bit as compelling as the moon story. So I think from a global perspective, this was amazing, the symposium was amazing, just to see that everybody has played their part in getting us into space."
"I actually didn't know very much about this," said Antara Kshettry, an AU freshman and guest of Mr. Ishetiar. While both have attended previous Carmel Institute movie screenings, Mr. Ishetiar said "it's always interesting to see the newer ones—something that's fresh out of the cinema…I certainly think it stood up compared to any space film that we would see here."
The premiere of The Space Walker marked the thirty-first Russian film presented by the Carmel Institute of Russian Culture & History, which has hosted over 25,000 guests at its various events.
Anton Smaliak—who studies Global Business at Georgetown and is also pursuing a Certificate in Russian/Eurasian/East European Studies—brought the perspective of a native Russian speaker. Originally from Belarus, Mr. Smaliak praised the film as "phenomenal; I thought it was very good. But one thing that I feel might have been missed by American audiences…I think there was a lot of subtle humor that is oftentimes lost in translation; that happens a lot when you have foreign films translated to English," he observed.
Matt Ellison, a junior at the Georgetown University School of Foreign Service, also enjoyed The Space Walker. "It was very impressive. But I also thought the story was really moving, as well." Referencing the pre-screening comments of Dr. Fedyashin, Mr. Ellison said, "I liked how he tied together US and Russian relations in space, which, for someone who's studying international politics and aspires one day maybe to go into foreign service or American foreign policy, focusing on this area of cooperation, I think, is really important…as a model for building these bridges between the US and Russia."
"For the whole space program, it just emphasizes the point of how hard space is— whether it was back in the 60s; whether it was our program; anybody's—to get out of earth's gravity; to survive," said Jim Kirkpatrick, Executive Director of the American Astronautical Society. "At the time, the Soviet Union didn't put out a lot of details—and they would never have made a movie like this, probably then—but it's so wonderful they can do it now, so we can know what they went through."
Desserts followed the film, and guests departed with rocket-shaped cookies to mark the occasion.
Photos from the film screening can be viewed on the Carmel Institute of Russian Culture & History Facebook page.