In the Community
AU Students Experience Third Annual Tatiana Ball Honoring Patron Saint of Students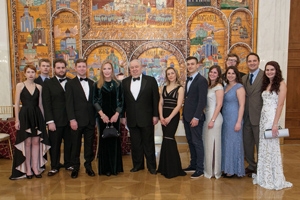 The end of exams is always a reason for students to celebrate.

But in Russia, January brings three pretexts for pupils to party: the 25th marks the end of the first term of the traditional academic year; it is the feast day of St. Tatiana, patron saint of students; and it commemorates the founding of the first Russian university.

With so many incentives to be festive, it is perhaps not surprising that the St. Tatiana holiday would migrate to the Russian community in America, or that the organizers of the third annual Tatiana Ball DC—which was held on January 27 at the Embassy of the Russian Federation—are hopeful that this venerable Russian tradition can find a permanent home in the District.

Among the evening's guests were one hundred Consortium students, who attended thanks to Susan Carmel Lehrman, Founder and Chair of the Advisory Committee of AU's Carmel Institute of Russian Culture & History.

"I really think tonight just kind of shows how great Russia-US relations can be," said Valerie Cariello, who concentrates her AU coursework in International Relations and Economics. Ms. Cariello—who also studied in Moscow this past summer through a Carmel Institute grant—felt that social and cultural events like the Tatiana Ball can help to improve US-Russian dialogue. "There are so many stereotypes that we have about Russians, and that the Russians have about us," she shared. "And if we were just to interact more often, I think those would slowly go away."

Patrick Reed—a 2016 AU Honors graduate, winner of the Carmel Institute's 2015 James Symington Award, and a major in International Studies (with minors in Russian Language and Computer Science)—agreed with Ms. Cariello's assessment. "I think part of it's a generational problem," Mr. Reed observed. "A lot of the students who are under thirty years old here didn't really grow up during the Cold War, for example. So you get kind of a blank slate when it comes to understanding—at least from a cultural perspective—Cuba, Russia, the Russian Federation. So I feel like events like this are good in terms of building up a kind of positive sense of the other country—kind of building that cross-cultural communication in a positive way early on."

Professor of Russian history and Director of the Carmel Institute, Dr. Anton Fedyashin, noted that "the Ball dovetails perfectly with the Institute's mission of exposing American students to Russian culture through educational programming and exchanges. We're very grateful to Ms. Carmel Lehrman for purchasing a block of tickets every year for students from the entire Consortium of Washington area universities. Attending this ball for the third year in a row, they seem to have made the Tatiana tradition their own, too."

While a spirit of cultural sharing was evident among the guests, the Tatiana Ball is a celebration with a dual purpose, since it also directly benefits needy children in both Russia and America.

Carmel Institute Founder and Advisory Committee Chair Susan Carmel Lehrman—a sponsor of the 2017 Tatiana Ball—noted that there is "a profound spirit of charity at work" through the event. Culture and charity, she said, form an inseparable bond. "When we share with one another—when we care for one another—artificial barriers and tensions melt away."

The Carmel Institute of Russian Culture and History was established and endowed in 2015 by Ms. Carmel Lehrman, who is a businesswoman in addition to her philanthropic commitments. The Carmel Institute—which expands upon the former Initiative for Russian Culture (IRC)—reflects Ms. Carmel Lehrman's vision that cultural diplomacy can be a potent ingredient for unifying nations. "As we share the beauty of our cultures, we can also build upon our shared common goals and interests," she remarked.

The Ambassador of the Russian Federation, Sergey Kislyak, said that the Tatiana Ball DC is "an initiative of many Russians, especially of the younger generation, who want to preserve Russian traditions and be part of them." Ambassador and Mrs. Kislyak and the Embassy of the Russian Federation have hosted the Ball since its 2015 founding.

"Ambassador Kislyak was very supportive, and it was born three years ago," said Xenia Woyevodsky, a member of the Tatiana Ball Committee, and Secretary of the Parish Council of St. John the Baptist Russian Orthodox Cathedral in DC. St. John's is among the Ball sponsors and supporters, which also included RussianDC.com.

"We wanted to encourage the younger generation to get involved," she recounted. Ms. Woyevodsky—who is the former Executive Director of the Tolstoy Foundation in New York — originally proposed the introduction of the Tatiana Ball to Washington, DC.

"The whole point was to bring them all together—the younger people from the Embassy; people from the World Bank; from the different international organizations; from our church," she explained. "It's not what they expected," Ms. Woyevodsky said of young people attending their first Tatiana Ball. "Whatever stereotypes there were, it's very different when they meet."

Eight debutants from St. John's were presented to Ambassador Kislyak. Each curtsied and received a golden-trimmed sash before dancing a promenade with their tuxedo-clad escorts. The scene was, many guests thought, reminiscent of the sort of grand social gatherings depicted in classic Russian literature such as War and Peace or Eugene Onegin.

Archpriest Victor Potapov—the rector of St. John's—arrived at the Tatiana Ball after conducting a Naval Station Norfolk memorial service for six Russian sailors who died in 1877. It was, he said, very intense "to see American military standing shoulder to shoulder with Russians, and praying at this memorial service, and giving honor to these sailors. And right after that, we got into the car and drove straight here to the Ball. So for me, it's an overwhelming day, spiritually and culturally."

Father Potapov also emphasized the historical importance of the Ball. "This is wonderful because it resurrects the wonderful traditions of the Russian Tatiana Ball, which has a long history in Russia, and it was forgotten during Soviet times," he said. "We have American young people, Russian-American young people, come together and celebrate this wonderful tradition, and help to keep it alive."

Photos from the 2017 Tatiana Ball can be viewed on the Carmel Institute of Russian Culture & History Facebook page.