Asian Studies
4400 Massachusetts Avenue NW
Washington
,
DC
20016
United States
Critical Race, Gender & Culture Studies Collaborative (CRGC)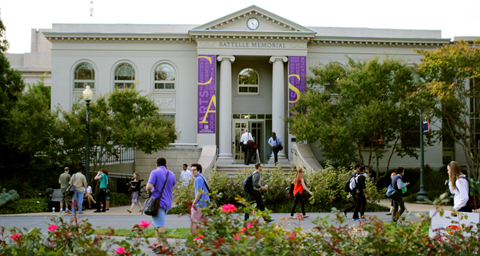 The Critical Race, Gender, and Culture Studies Collaborative (CRGC) is a vibrant and inclusive community of faculty and students that explores diverse voices, histories, and experiences through socially engaged scholarship.
The collaborative houses six interdisciplinary programs that offer bachelor's degrees, minors, and certificates:
(major, minor)
(major, minor)
(major, minor, undergraduate certificate)
(major, minor, undergraduate certificate, graduate certificate)
(minor, undergraduate certificate)
(major, minor, undergraduate certificates, graduate certificate)
Our courses discuss race, ethnicity, gender, sexuality, class, culture, religion, and more from a critical perspective. We encourage our students to research complex problems and explore interdisciplinary interests.
Collaborative faculty members are distinguished teachers and researchers from a number of departments in the College of Arts and Sciences, and from other schools at the university. Our professors work closely with DC community leaders and institutions to bring real-world learning experiences into the classroom. Many of our students complement coursework with internship and employment opportunities in DC's political, social, and cultural institutions, and some students study abroad to gain an international perspective on their areas of interest.
Our flexible curriculum teaches students to become critical thinkers, innovative researchers, and skilled communicators. Our alumni enter the workforce with a social awareness that serves them well in the increasingly diversified workplaces of our globalized economy. In gaining a deeper understanding of their world and themselves, our students are prepared for a wide range of careers in communications, education, the arts, the non-profit sector, and government and public policy agencies.
Announcements
Ibram X. Kendi (director of the Antiracist Research and Policy Center) wrote an opinion article for the New York Times about the history of racism and what makes a person a racist. Kendi wrote, "A racist is what a person is, what a person is saying, what a person is doing." Kendi also talked with WTOP-FM and KCRW Radio.
The Washington City Paper interviewed Ibram X. Kendi to learn more about the center and its initiatives, his research, and what the media can do to promote antiracist beliefs. Kendi said that the media should be, "thinking through ways to present the imperfections of people in D.C., that there is nothing wrong with those imperfections, because that's what makes them human."
Theresa Runstedtler (chair of the Critical Race, Gender and Culture Studies Collaborative) spoke to Mother Jones magazine about remarkable figures in black history that are often overlooked and forgotten. Runstedtler said, "Usually, we go from the civil war and somehow magically end up in the civil rights movement…this narrative that erases all of that work, can also be disempowering for people"