Critical RGC Studies
4400 Massachusetts Avenue NW
Washington
,
DC
20016-8144
United States
Critical Race, Gender & Culture Studies Collaborative (CRGC)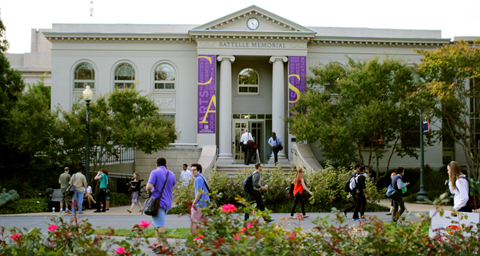 The Critical Race, Gender, and Culture Studies Collaborative (CRGC) is a vibrant and inclusive community of faculty and students that explores diverse voices, histories, and experiences through socially engaged scholarship.
The collaborative houses six interdisciplinary programs that offer bachelor's degrees, minors, and certificates:
(major, minor)
(major, minor)
(major, minor, undergraduate certificate)
(major, minor, undergraduate certificate, graduate certificate)
(minor, undergraduate certificate)
(major, 2 minors [in Women's and Gender Studies or Sexuality and Queer Studies], graduate certificate)
Our courses discuss race, ethnicity, gender, sexuality, class, culture, religion, and more from a critical perspective. We encourage our students to research complex problems and explore interdisciplinary interests.
Collaborative faculty members are distinguished teachers and researchers from a number of departments in the College of Arts and Sciences, and from other schools at the university. Our professors work closely with DC community leaders and institutions to bring real-world learning experiences into the classroom. Many of our students complement coursework with internship and employment opportunities in DC's political, social, and cultural institutions, and some students study abroad to gain an international perspective on their areas of interest.
Our flexible curriculum teaches students to become critical thinkers, innovative researchers, and skilled communicators. Our alumni enter the workforce with a social awareness that serves them well in the increasingly diversified workplaces of our globalized economy. In gaining a deeper understanding of their world and themselves, our students are prepared for a wide range of careers in communications, education, the arts, the non-profit sector, and government and public policy agencies.
Events at and around AU
June 15

Katzen Arts Center American University Museum - Summer Opening Reception
Mix and mingle with artists, curators, and fellow patrons at our Summer opening reception and see five new exhibitions on view. Free and open to all, no RSVP required. Please attend the Summer Opening Reception from 6-9pm in Katzen AU Museum.
 

June 27- 29

Summer Institute on Education Equity and Justice (SIEEJ)

The Annual AU Summer Institute on Education Equity and Justice (SIEEJ) was developed to provide professional development opportunities for community members, particularly educators, who want to learn promising practices that lead to equitable educational outcomes for underserved students, families, and communities. Our theme is "Shared Voices: Utilizing Antiracist Pedagogy to Transform Communities and Schools." This year's SIEEJ co-sponsors are the American University College of Law and Anti-Racist Research and Policy Center. Keynote speakers include Dr. Ibram X. Kendi, Professor and Director of the American University Antiracist Research and Policy Center. 

If you are interested in attending, this institute will occur on June 27-29, 2019 at American University. Discounts are provided for AU Faculty, Staff, and Alumni with tickets priced at $75 if purchased before June 28, 2019. More information may be found at the SOE website here.
 

July 18

The Taoist Day Search for Immortality
Many Westerners are familiar with Taoism as a set of teachings that center on following nature and nurturing the spirit in this life. Learn about another component of Taoist thought and practice: the search for immortality. This event will be on Thursday, July 18, 2019 from 6:45-8:45pm at the S. Dillon Ripley Center on 1100 Jefferson Dr SW and more information may be found at at the Smithsonian event page here.
 

August 16

FREE Film Screening and TalkBack: Amazing Grace

In early 1972 at the age of 29, Aretha Franklin performed a live gospel concert over two nights at the New Temple Missionary Baptist Church in the infamous Watts neighborhood of Los Angeles, California. The concert, which was filmed and directed by Oscar winner Sydney Pollack (Tootsie, Out of Africa) would lay in obscurity for over 30 years never to be seen in theaters. In Spring 2019, the film, titled Amazing Grace was finally released in theaters to nationwide acclaim. The film's soundtrack would become the biggest selling disc of Franklin's career as well as the highest selling live gospel music album of all time. It also won the 1973 Grammy Award for Best Soul Gospel Performance. Although a Detroit native, Franklin had a strong affiliation to DC, having performed in the nation's capital numerous occasions including at the inauguration of three U.S. presidents.

The museum invites you to view this amazing film tribute to the "Queen of Soul" on August 16, the one-year anniversary of Franklin's death. The film will be shown at Allen Chapel AME Church, 2498 Alabama Ave SE, Washington, DC. A short talk-back with the audience will take place immediately after the screening. This event will occur on Friday, August 16, 2019 from 7-9pm at Allen Chapel AME Church. Registration is recommended, although seats will be first-come, first-served. This special program is being presented in recognition of Smithsonian Year of Music 2019." More information may be found at the Smithsonian Event Page.
 

Monica Morin

Sr. Administrative Assistant CAS - Critical RGC Studies

Pamela Nadell

Patrick Clendenen Chair in Women's and Gender History CAS - History