Greenberg Theatre 4200 Wisconsin Ave. NW
March 30–April 2 | Department of Performing Arts
Book by Edna Walsh
Music & Lyrics by Glen Hansard & Markéta Irglová
Based on the Motion Picture Written and Directed by John Carney
Directed by Colleen Sullivan
Music Direction by Marci Shegogue
Movement Direction by Thadd McQuade
Dublin, mid 2000s. An Irish busker meets a young Czech woman and in five days they discover the healing power of music together. In this soft-spoken story of romance, cultural and musical chemistry, the cast sing and play their own instruments for all the songs, including the Oscar-winning Falling Slowly from the indie film Once.
Once is presented through special arrangement with Music Theatre International (MTI). All authorized performance materials are also supplied by MTI.
2022
February 10–12
The Sins of Sor Juana
2021
February 19 & 20

The Pliant Girls
 

February 26 & 27

Dance Capstone
 

April 2 & 3

Too Much Unhappy (working title)
 

April 16 & 17

DanceWorks 2021
 

April 23 & 24

Alone in the Crowd (working title)
2020
February 13-15

The Boy Detective Fails
With the able assistance of his sister and his best friend, Billy Argo can solve any crime that comes his way—except for the most disturbing puzzle of all. Read the review in DC Metro Theater Arts

March 26-28

The Birds by Aristophanes
cancelled
First performed in 414 BC, the story is timeless—humans frustrated with life on earth seek a utopia. They find it in the trees with the birds. Then things get complicated...

April 17-18

DANCEWORKS 2020
cancelled
AU Dance Program's annual mainstage presentation of fresh and seasoned perspectives on concert dance.

September 25-26

Overture: 200222020
Online

What does it feel like to turn 18 in 2020? AU's incoming theatre class speaks out.

October 16-17

The Women
Online
This classic 1930's comedy of manners is a hysterical and touching exploration of the pampered lives and power struggles of wealthy Manhattan socialites and the gossip that propels and destroys their relationships. The Women is presented by special arrangement with Dramatist Play Service, Inc., New York.

October 29-30

Miss You Like Hell
Online
This fresh new folk-rock musical by Pulitzer Prize winner Quiara Alegría Hudes explores the complicated bond between a teenage daughter and her mother—an undocumented immigrant from Mexico—as they embark on a roadtrip together across the US. "Miss You Like Hell" is presented through special arrangement with and all authorized performance materials are supplied by Theatrical Rights Worldwide 1180 Avenue of the Americas, Suite 640, New York, NY 10036.
 

November 13-14

CHOREOLAB
Online
Choreolab 2020 is a concert of new dances by emerging choreographers. Choreolab gives selected students the opportunity to research and develop their creative methodologies and stretch and articulate their artistic tastes and ideals, drawing from a variety of cultural and social influences.
2019
October 17–19, 25–26

How to Succeed in Business Without Really Trying
Big business leads to big laughs in this clever lampoon of life on the corporate ladder.

February 14 – 16

The Wolves
Nine members of a high school soccer team warm up for practice, negotiate growing up, and battle with each other and themselves.

March 28 – 30

The Government Inspector
A hilarious case of mistaken identity sends a Russian town into panic and greed.

April 13 – 14

Danceworks 2019: Fulcrum
American University Dance Company brings fresh and seasoned perspectives on concert dance.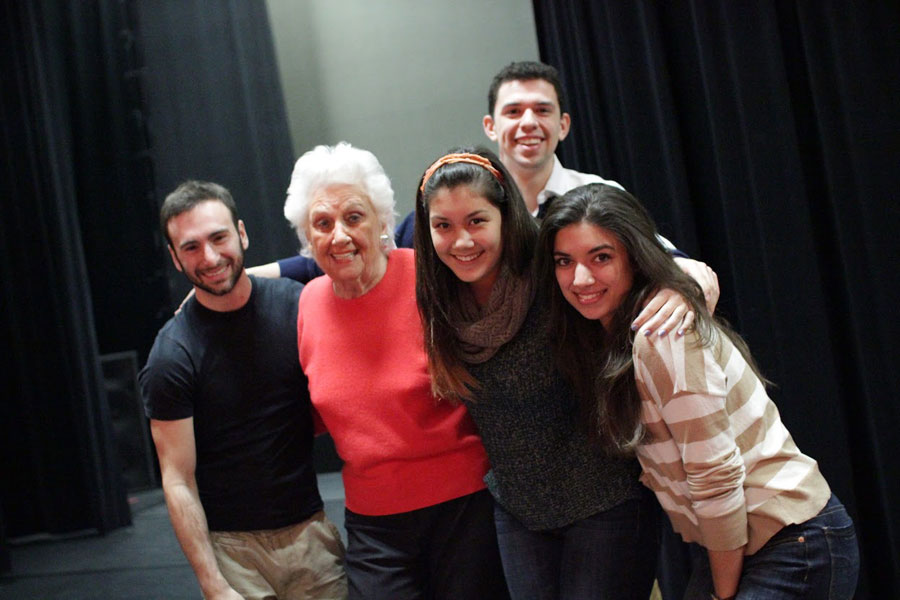 AU Mourns Passing of Arts Patron Sylvia Greenberg