4400 Massachusetts Avenue NW
Washington
,
DC
20016
United States
Greenberg Theatre Facilities
Greenberg Theatre seats 296 and features professional quality amenities, including:
audio-video, lighting, and film-screening equipment
production staff, orchestra pit, set-making, and costuming capacity
PA-equipped dressing rooms, green room, and backstage
box office with ticket sales via window, phone, and internet
Please email greenbergtheatre@american.edu for rental information, rates, and policies. Please note that for alcohol to be served at events a formal request process must be followed.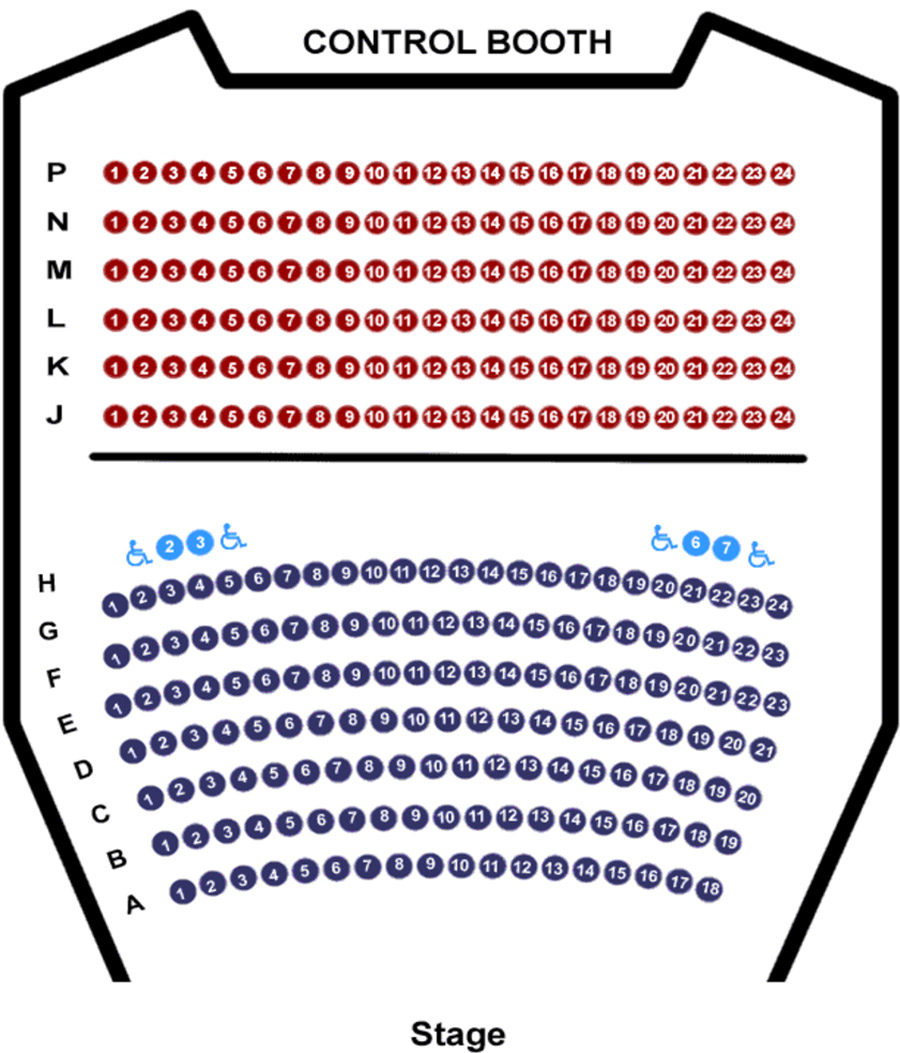 Greenberg Theatre seating chart.



Policies, Forms, and Rates
Facility Information
Type of Theater: Traditional Proscenium
Color of Main Drape: Red
Travel of Main Drape: Horizontal Only
Operation of Main Drape: Manual, SL
*Rigging Note : all battens are fixed (dead-hung), there is no fly space
Stage Hands: Non-union professional staff labor & student labor pool.
House Capacity: 296 seats plus 4 wheelchair locations for a total of 300 maximum capacity. 4 seats are partner for the wheelchair locations. Standard house-hold: 15 seats or 5%.
Basic Venue Rental Fee: For space only and does not include costs for equipment rental, box office, and crews. Please email greenbergtheatre@american.edu for prices.

Audio
Console: Soundcraft Series II (GT Audio Operator required, can be shadow)
Input:
• 24 Channels Microphone Level Inputs
• 2 Stereo Channel Line Level Inputs
• 4 Auxilary Stereo Line Level Inputs
Output: (house configuration in parentheses)
• Main (L&R)
• Mono (C)
• Matrices: 2 (1;Delay House Fill)
• Subgroups: 8 (3/4: Surround L&R; 5/6: Under Grid L&R House Fill)
• Aux Sends: 8 (3/4 Side Monitor L&R; 5: Overhead Stage Monitor)
PA: Channels include Left Main, Center, Right Main, Right Surround, Left Surround, Delay Fill and Subwoofer
In-House Audio Mix:*
*Requires the use of six seats in the house. Requires advance arrangements, additional set-up time, and additional labor and equipment costs.
Console: Yamaha 01V96VCM Digital Mix Console (GT Audio Operator required, can be shadow)
• 12 preamped analog input channels
• 4 line level input channels
• 8 digital ADAT input channels
• Focusrite Octopre LE with 8 microphone preamp inputs
Monitor: 1 Overhead, 2 JBL wedges, 2 Stage side fills
Signal Processing:
• 1 TC Electronics M-One Effects Processor (2 channels)
• 2 Sabine Graphi-Q GRQ-3100 Compression, EQ, FBX (2 channels each)
Playback:
• Stereo CD (CDR)
• 8 Channels QLab Computer Playback
Mics:
• 14 channels Sennheiser Evolution series ew300 Lavalier (One Handheld is available)
• 2 Shure SM 57 instrument mics
• 3Shure Beta 58 vocal mics
• 2 DPA 4028 hanging area mics
• 3 Crown PCC-160 surface mount mics
Listening Assist: 5 receivers available from the Box Office
Projections / Video:*
*All video/film formats will need to be confirmed at least two weeks before event date
• 1 Eiki LC-W4 Multimedia projector 4700 ANSI Lumens WXGA
• Denon DN-V300 DVD Player
• Sony BDP-S560 Blu Ray Player
• 2 Christie 2k 35mm projectors w/o platters (GT Projectionist required)
• Dolby analog surround.
• 1 permanently mounted 24'W x 16'H white front-projection screen
Pianos:
• 1 Yamaha low-profile upright
• NOTE: Piano movement into Orchestra Pit involves a minimum charge of $300
Stage Specifications
The stage meets ADA accessibility requirements. Access may be affected by show-specific technical installations.
Proscenium opening: 16'-0"H x 29'-11"W
Stage Depth to back wall: 31'-0" from plaster line
Stage Depth to back of playing space (scrim/cyc): 21' from plaster line
Apron (architectural): 2'-6"
Apron (w/modular extension): 7'-6"
Orchestra Pit: 30'-0" x 8'-6" nominal (18 musician capacity, accessible)
Ground Plan: please see Ground Plan below
Lighting
Repertory lighting plot: 1 color Front, 2 color top, 1 color back, 2 sidelight systems, 6 specials
Dimming: 196 Strand CD80 & 12 NSI D4DMX
Control: ETC Ion (GT Lighting Operator required, can be shadow)
Dressing Rooms
Total rooms: 2
Large Dressing room: with 25 mirrors, can be split with hospital curtain to 9 and 16 (accessible)
Small Dressing "Diva" room: space at counter for 2-3 (accessible)
Restrooms: 2 for both rooms, equipped with showers (accessible)
Communications
PA: stage announce and house program feed broadcast to dressing rooms, green room, and production areas.
Clear-Com: dual channel system available wherever necessary
Box Office
Box Office service is available 24 hours/day on the internet at american.edu/auartstix. All tickets purchased online or over the phone are held as will-call at the box office and may be picked up 1 hour prior to the show or during normal operating hours.
Box office hours are 3pm-6pm Tue-Sat and 1 hour prior to each ticketed performance. The box office accepts cash, check, MasterCard, Visa, and AU's EagleBucks$ from customers as payment for tickets.
Crews, Building Attendants, Security, and Equipment Rentals
Please request rates regarding charges for personnel needs and equipment rental rates beyond basic rental fee for space use. For normal rates please email the Greenberg Theatre at greenbergtheatre@american.edu.

Costumes, Scenery, and Props
Garment Z-racks and portable steamers are available for use in dressing rooms. The theatre is unable to provide costumes, scenic pieces, or properties for any production. Limited consultation for sourcing of such production requirements may be provided upon request.
Load-in Facilities
Loading Dock is located on the West side of the building above the main building loading dock. Due to limitations of size and location, it is considered more of a materials loading entrance than a workable load-in site. Load-in for scenery will generally take place through the building loading dock and service elevator. There are size limitations (see dimensions below). Oversize items may require street loading from Wisconsin Ave NW, which requires advance notice. (Harold and Sylvia Greenberg Theatre is in no way responsible for obtaining the requisite permits for blocking traffic on this street but may withhold access if client fails to obtain.) Boxes may be no longer than 60" @ 36" W (variables may work, call).
Service Elevator Dimensions: door opening 41.5" wide x 83.5" tall, interior 56" deep x 78.5" wide x 102.5" tall
Loading Dock height: 18' above ground
Loading Dock Door opening: 5'H x 7'W
Loading Dock access: Via yard arm with ½ ton electric motor and 6' Spreader bar; lifting speed 30ft/minute
Greenberg Theatre ground plan.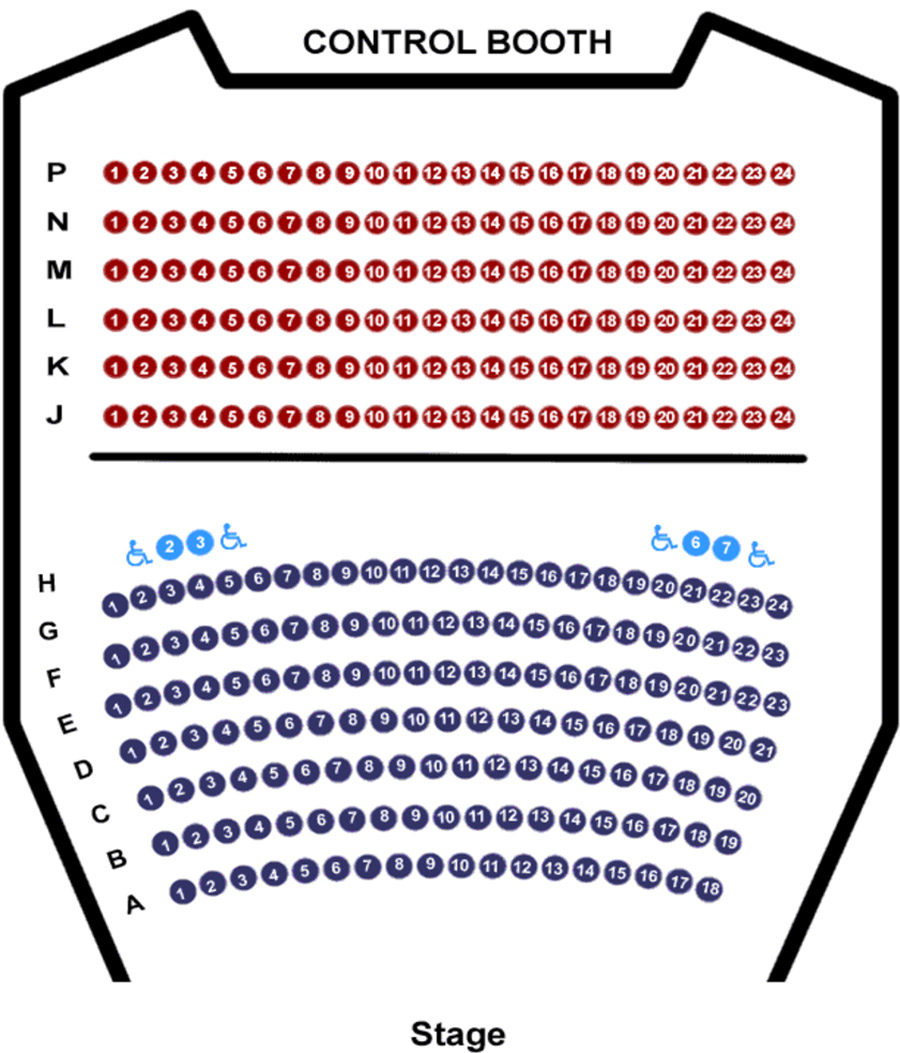 Greenberg Theatre seating chart. Features 296 seats.