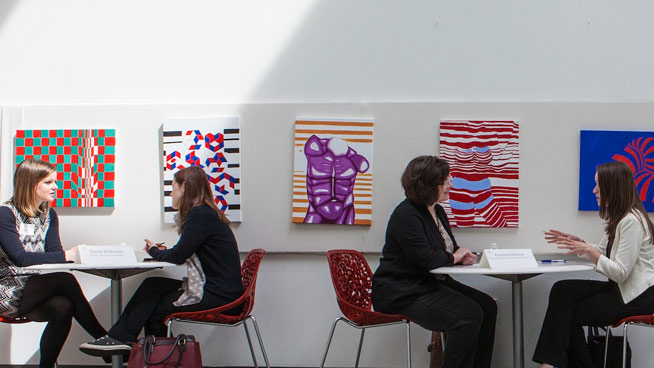 The CAS LEAD Program is based on the study and practice of leadership and ethics in diverse areas and fields, local and global, historical and contemporary. Leadership has been studied and taught for millennia, but most research and teaching has focused on leadership in politics, the military, and business. CAS LEAD recognizes and studies leadership more broadly, looking at all fields, including leadership in the arts, humanities, social sciences, and sciences. Throughout the four years, you will take part in cohort-based seminars, engage in rigorous inquiry-based discussion and debate, analyze case studies and simulations, and explore your interpersonal strengths and understanding of intrapersonal dynamics. You will study and analyze:
leadership theory, history, and practice

recognized leaders, as well as non-traditional leaders from all the disciplines and practices of human endeavor
ethics and the development of ethical solutions to contested and seemingly irresolvable issues, reading and discussing teachers such as Aristotle, Plato, Kant, Hume, Mill, and Rawls, as well as historical and contemporary case studies
power relations and imbalance, including the embedded practice of treating people or groups as "other" or different
group dynamics and non-verbal communication
your own and others' leadership styles, how leadership decisions
can lead to conflict, and how these conflicts can be resolved.


In addition, you will:
participate and serve as leaders of leadership projects, learning how to lead and to follow and support other leaders
develop substantive leadership projects that help resolve real world problems
study and practice leadership in your academic disciplines.


Seminar Descriptions

First Year Seminar

(CAS-150, CAS-151, one credit each semester)

One of the most effective paths to leadership is understanding your own authority and the effects you are already having on others. The curriculum covered in the first year introduces you to strategies for increased awareness and recognition of characteristics that support individual development and effective agency. You will learn that you are already a leader making a difference to yourself and others through the way you are leading your life now and the decisions you are making. Through the rigorous study of leadership and ethical development, you will learn how to advance and refine your leadership by acting mindfully. You will meet weekly as a cohort in a seminar and in small groups to share and discuss your work and its application to leadership.
The curriculum is based on studying real life issues. You will study and critically evaluate leaders and leadership theory, and build and test concepts of effective leadership. You will also take leadership styles inventories to learn about you own preferred leadership styles and how to practice others. You will work throughout the year in small groups, studying critical issues, identifying a problem, and working to develop solutions.
You will also study contemporary leadership from diverse populations, starting with AU and DC leaders (particularly in the DC Public Schools and Public Health and social service agencies). Additional contemporary leaders you will study include leaders in the following sectors: the U.S. military (including site visits to the U.S. Naval Academy and the Pentagon), the Executive, Legislative, and Judicial branches of the federal government; the professions (including Bar and Medical associations); business (including executives at The Kiplinger Company and other leading Washington business organizations); theatres and the arts, including Arena Stage and the Shakespeare Theatre; non-profits; the Smithsonian Institution and other area museums; journalists and Washington writers. You will also have the opportunity to study from the Hispanic Leadership Network, American Indian/Alaska Native tribes, and from other diverse communities.


Do the Right Thing  
PHIL-120 (3 credits, fall semester, or as soon as you can take it)
This course is offered every semester, but during fall semester there is a special section set aside for CAS LEAD students, meeting at 5:30 p.m. immediately before the CAS LEAD First Year Seminar. The course counts for both General Education credit (Area 2) and CAS LEAD credit. It provides a critical foundation for the CAS LEAD Program and focuses on putting moral theory into practice, what many call applied ethics. Whiles some major moral theories are put forward and discussed, significant attention is given to analysis of contemporary ethical and political problems.
Second Year Seminar

(CAS-250, CAS-251 2 credits each semester)

During the second year, you will continue your study of leadership theory and practice, initiate individual projects working with CAS faculty, and jointly plan and host an interdisciplinary leadership symposium. 
Third Year Internship

(CAS-391, 3 credits fall or spring semester)
During the third year you will focus more experientially on leadership and ethics through an internship, supported by a CAS LEAD Program internship seminar. In the class, you will be guided to reflect on the concrete realities of your internship site, evaluate the ways in which the internship supports or alters your previously articulated goals, and identify what you will need to do to achieve your clarified goals. In addition, the program will encourage you to study and intern abroad to learn about global leadership. Credits from study abroad can be counted toward the nine additional credits that are part of the program. If you elect not to study abroad, you will be encouraged to take coursework that addresses global issues and requires you to engage with global problems in a diverse community.
Fourth Year Capstone Seminar  
(CAS-450, fall or spring semester, or other approved Capstone course)
During your fourth year, you will complete an individual or group Capstone project based upon research with a university faculty member and supported throughout a weekly Capstone seminar. This final project will represent the culmination of what you have learned in the four years, with a focus on a particular substantive and leadership area that supports your work in your academic major and your leadership engagement. This rigorous, analytical and practical assignment can serve as a foundation for career entry as well as for graduate and professional school applications. As a fourth year student you will host an Advanced Leadership Symposium in the spring semester, at which your projects and your culminating responses to the program will be presented and discussed. 
Additional Coursework Supporting Your Academic Major and Long-Term Professional Goals

(six university credits, selected by you in consultation with program director and major field faculty)
In addition to your CAS LEAD Program cohort classes, you will complete at least two additional classes for the program, selected to support your major fields of study and your academic and professional goals. These courses may also be counted as part of your major, if you, your major field faculty, and the program director concur. The program will work with you, recommending courses and faculty to consult with, but recognizes that you, as a unique leader with unique leadership and professional potential, should also prepare persuasive arguments for particular courses, using the well-developed powers of analysis, synthesis, and persuasion developed through the program. Credits from study abroad, including SEA Semester, can be counted.
CAS LEAD Program Coursework

Required Courses Overview
1st Year LEAD Seminar
CAS-150, CAS-151 (1 credit each semester)
Do the Right Thing
PHIL-120 (3 credits, fall semester, or as soon as you can take it)

2nd Year LEAD Seminar
CAS-250, CAS-251 (2 credits each semester)
3rd Year LEAD Internship Seminar
CAS-391 (3 credits fall or spring)
4th Year LEAD Capstone Seminar
CAS-450 (3 credits in fall or spring semester, or other approved capstone course)
Years 1-4
6 additional credits in university classes, selected by each student to supplement and support leadership and ethical development and individual student academic and professional goals
Total Credits: 21