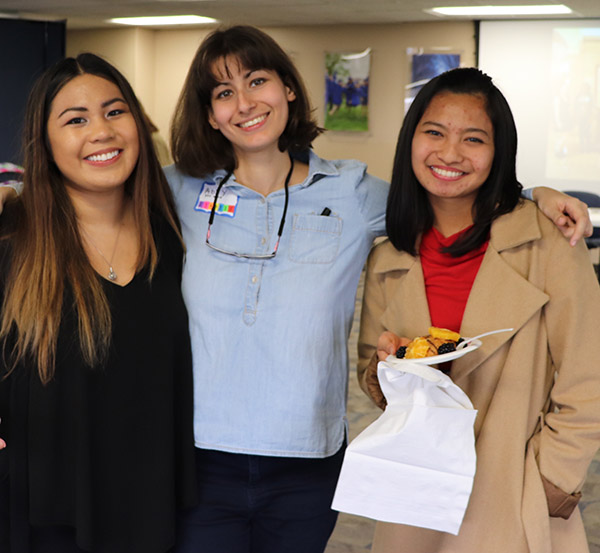 "CAS LEAD Seminars are great because they allow me to think critically about issues I never previously considered and they have given me a new take on a lot of my values." Asanat Odeyale, CAS LEAD Psychology Major
The CAS LEAD Program is based on the study and practice of leadership and ethics in diverse areas and fields, local and global, historical and contemporary. Leadership has been studied and taught for millennia, but most research and teaching has focused on leadership in politics, the military, and business. CAS LEAD recognizes and studies leadership more broadly, looking at all fields, including leadership in the arts, humanities, social sciences, and sciences.
Throughout the four years, you will take part in cohort-based seminars, engage in rigorous inquiry-based discussion and debate, analyze case studies and simulations, and explore your interpersonal strengths and understanding of intrapersonal dynamics. You will study and analyze:
leadership theory, history, and practice

recognized leaders, as well as non-traditional leaders from all the disciplines and practices of human endeavor

ethics and the development of ethical solutions to contested and seemingly irresolvable issues

power relations and imbalance, including the embedded practice of treating people or groups as "other" or different

group dynamics and non-verbal communication

your own and others' leadership styles, how leadership decisions can lead to conflict, and how these conflicts can be resolved.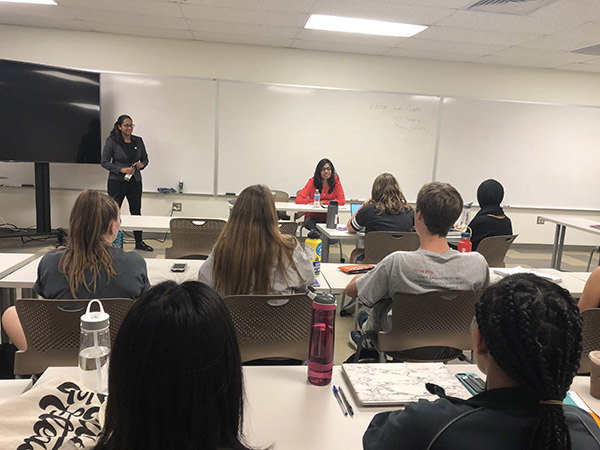 In addition, you will:
develop substantive leadership projects that help resolve real world problems

study and practice leadership in your academic disciplines and in the DC community.
"This program has allowed me a space to discuss complex ethical issues with people who genuinely hope to learn from each other. I have loved watching content from program seminars bleed into other areas of my daily life and even adding depth to issues discussed in other classes." Emily Heard, CAS LEAD Psychology Major
Seminar Descriptions
First Year Seminar(s)
(CAS-150 and CAS-151, one credit each semester for students who enter CAS LEAD in their first semester OR CAS-152, two credits, for students who enter CAS LEAD in their second semester)
One of the most effective paths to leadership is understanding your own authority and the effects you are already having on others. The curriculum covered in the first year introduces you to strategies for increased awareness and recognition of characteristics that support individual development and effective agency. You will learn that you are already a leader making a difference to yourself and others through the way you are leading your life now and the decisions you are making. Through the rigorous study of leadership and ethical development, you will learn how to advance and refine your leadership by acting mindfully. You will meet weekly as a cohort in a seminar and in small groups to share and discuss your work and its application to leadership.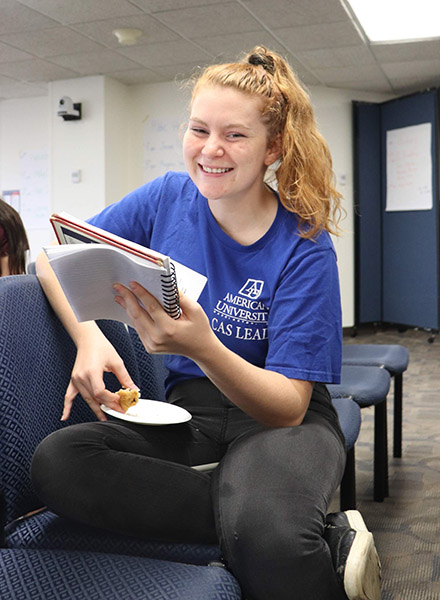 Second Year Seminars
(CAS-250, 1 credit, and CAS-251 2 credits)
During the second year, you will continue your study of leadership theory and practice. The first semester is focused on the intersection of ethics, leadership, and the interpersonal communication skills needed to lead well.
In the spring semester, students will engage in community projects and study leadership in an applied setting in the DC community.
(CAS-260 Ethical Leadership and Social Inequality, 3 credits) 
How can you lead to promote a more equitable society? What does it mean to lead well in the context of structural injustice? In this course you will examine these questions through the lens of race and its intersections with identity markers such as gender, sexuality, class, and body size. In the first unit of the course, we lay the foundations for understanding the legacy of racism in the United States and how it is sustained and reproduced today. As the course progresses, we continue to discuss a variety of practices that help sustain racism, and we think through how ethical leaders can work to resist and intervene upon them. Finally, we will study the leadership and thought patterns of activists from historically marginalized groups and learn from them about how to lead effectively and authentically in the face of injustice. Throughout the course, we will emphasize the ethical challenges that arise in the context of social justice leadership and how these challenges differ depending on one's social location. As a whole, the course provides students with the opportunity to reflect on leadership practices vital for achieving a more racially equitable society.
*We recommend students take CAS-260 in their second year or third year fall semester. This course fulfills the CORE Diversity & Equity (DIV) requirement. If, for scheduling reasons, students must take this course in their first year or fourth year fall semester, they are encouraged consult with the CAS LEAD director before enrolling*
Third or Fourth Year Seminar
(CAS-350, 1 credit, fall or spring semester)
In this culminating experience, students will put their leadership skills to the test by working in teams to create a series of presentations for other CAS LEAD students. Students in this course will also design a final symposium presentation that highlights their growth and potential for ethical leadership. In addition, this seminar will provide students with the skills and tools necessary for success on the job market.
Additional Coursework Supporting Your Academic Major and Long-Term Professional Goals
(3 university credits, selected by you in consultation with program director and major field faculty)
In addition to your CAS LEAD Program cohort classes, you will complete at least one additional class for the program, selected to support your major fields of study and your academic and professional goals. This course may also be counted as part of your major. The program will work with you, recommending courses and faculty to consult with, but recognizes that you, as a unique leader with unique leadership and professional potential, should also prepare persuasive arguments for particular courses, using the well-developed powers of analysis, synthesis, and persuasion developed through the program. Credits from study abroad, including SEA Semester, can be counted.
CAS LEAD Program Coursework
Required Courses Overview
1st Year LEAD Seminar(s)
For students entering CAS LEAD in the fall: CAS-150 (fall semester), CAS-151 (spring semester) (1 credit each semester)
For students entering CAS LEAD in the Spring: CAS-152 (2 credits, spring semester)
2nd Year LEAD Seminars
CAS-250 (fall, 1 credit)
CAS-251 (spring, 2 credits) 
3rd or 4th Year LEAD Seminar
CAS-350 (either fall or spring, 1 credit)
Years 1-4
Ethical Leadership and Social Inequality CAS-260 (3 credits, fall semester). This class counts towards the AU CORE Diversity & Equity Integrative Course Requirement as well as towards the CAS LEAD certificate program.
Supplemental Credits 3 additional credits in university classes, selected by each student to supplement and support leadership and ethical development and individual student academic and professional goals
Certificate Program Total Credits Required 12 credits (6 unique CAS LEAD credits, 3 credits count towards AU CORE Diversity & Equity (DIV) requirement, and 3 credits count towards your major)
See also AU Catalog version of LEAD Requirements.