Arts
AU'S Exciting Spring Arts Season Calendar AU Arts offers a new season of visual and performing arts events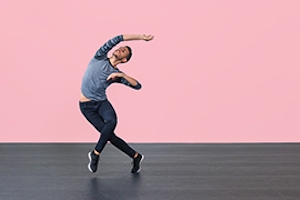 American University's 2018 spring arts season will fill the campus with art, music, drama, and dance. Our exhibition schedule will bring you artists from DC and around the world, working in a variety of media. AU's musical ensembles and internationally acclaimed musicians-in-residence will perform classical, modern, and contemporary pieces ranging from opera and chamber music to jazz. From Shakespeare to Sondheim, our dramatists will demonstrate the breadth of their talents as they stage a musical, two tragedies, and an original production inspired by classical literature. The AU Dance Company will present a dance concert as well as discussions and master classes with the program's guest artists.
With the exception of dance master classes, all events are open to the public-so please join us at AU Arts, where art is made.
Tickets can be purchased by visiting american.edu/auartstix, the Katzen Arts Center Box Office, or Greenberg Theatre Box Office.
DANCE
MOVEMENT SPEAKS: CONVERSATIONS ABOUT DANCE
Featuring Guest Artists Cynthia Gutierrez-Garner and Charles O. Anderson
Cynthia Gutierrez-Garner: Saturday, February 3, 8 p.m. | Charles O. Anderson: Friday, February 23, 8 p.m.
Katzen Arts Center, Dance Studio, Room 152
Movement Speaks is a discussion series featuring professional dance artists discussing their work as choreographers, researchers, scholars, and performers. As the culmination of week-long residencies with AU's Dance Program, guest artists Cynthia Gutierrez-Garner and Charles O. Anderson discuss the choreographic process and give a sneak peek of new works with the AU Dance Company. Free and open to the public.
DANCE MASTER CLASSES
Cynthia Gutierrez-Garner: Saturday, February 3, 12-2 p.m. | Charles O. Anderson: Saturday, February 24, 12-2 p.m.
Katzen Arts Center, Dance Studio, Room 152
Join AU Dance Program guest artists for master classes in intermediate and advanced dance practices. Cynthia Gutierrez-Garner offers a jazz dance class that pushes dancers' musicality, and Charles O. Anderson guides students through afro-contemporary fusion. Free and open to AU students, faculty, staff, and alumni.
DANCE WORKS: AU DANCE COMPANY IN CONCERT
Artistic direction by Britta Joy Peterson
Friday-Saturday, April 20-21, 8 p.m.
Greenberg Theatre
The AU Dance Company presents the annual Spring Dance Concert, featuring choreography by AU students, faculty, and guest artists. Participate in a post-concert discussion with the choreographers on Friday, April 20. Tickets: $10-15
THEATRE

Tickets: $10-15
ASSASSINS
Thursday-Friday, February 15-16, 8 p.m.
Saturday, February, 17, 2 p.m. and 8 p.m.
Greenberg Theatre
Music and Lyrics by Stephen Sondheim
Book by John Weidman
Orchestrations by Michael Starobin
Directed by Tom Story
Musical Direction by Nathan Blustein
Choreography by Britta Joy Peterson

Stephen Sondheim's musical Assassins brilliantly exposes our nation's culture of celebrity and the violent means some will use to obtain it. Assassins bends time and space, taking the audience on a nightmarish roller coaster ride where assassins and would-be assassins from different historical periods meet, interact, and inspire each other to commit harrowing acts against US presidents in the name of the American Dream. Assassins is based on an idea by Charles Gilbert, Jr. Playwrights Horizons, Inc. - New York City produced Assassins Off-Broadway in 1990. Assassins is presented through special arrangement with Music Theatre International (MTI). All authorized performance materials are also supplied by MTI. www.MTIshows.com.
OTHELLO
Thursday-Friday, March 1-2, 8 p.m.
Saturday, March 3, 2 p.m. and 8 p.m.
Katzen Arts Center, Studio Theatre
Written by William Shakespeare
Directed by Caleen Jennings
Shakespeare's Othello is as mystifying and controversial in 2018 as it was in 1603. With language as poetic as it is accessible, and the addition of stage combat and a solo saxophone, this production allows the famous Moor of Venice to be viewed through a contemporary lens, capturing today's social mores and beliefs. Participate in two post-show discussions, Black Shakespeare Scholars Confront Othello, and Being a Black Man on AU's Campus. Dates for the post-show discussions to be announced.
BLOOD WEDDING (BODAS DE SANGRE)
Thursday-Friday, April 5-6, 8 p.m.
Saturday, April 7, 2 p.m. and 8 p.m.
Greenberg Theatre
Written by Federico García Lorca
English Translation by Caridad Svich
Directed by Kyle Bostian
A wedding between members of two respected families. Repressed passion between the bride and her ex-fiancé, a "bad boy" who's now married to her cousin. A decision that could prove the difference between life and death. Federico García Lorca's lyrical, and at times surreal, drama will take audiences on a profound journey exploring ways that heredity and environment interact with social customs and self-perceptions to determine our fates.
THEATRE/MUSICAL THEATRE SENIOR CAPSTONE
Thursday-Friday, April 26-27, 8 p.m.
Saturday, April 28, 2 p.m. and 8 p.m.
Katzen Arts Center, Studio Theatre
Artistic direction by Colleen Sullivan and Meghan Raham
Graduating theatre and musical theatre students present an original work inspired by The Odyssey. (This production contains mature themes.)
MUSIC

Tickets: $5-10; unless otherwise noted

CONCERTO AND ARIA COMPETITION

Saturday, February 10, 7:30 p.m.
Sunday, February 11, 3 p.m.
Abramson Family Recital Hall
Directed by Matthew Brown
The AU Symphony Orchestra hosts the annual competition, open to all AU undergraduate students. Held in two rounds, the winner will perform as soloist with the AU Symphony Orchestra in a future public concert. Free and open to the public.
AU CHAMBER SINGERS AND AU CHAMBER ORCHESTRA: CONTEMPORARY COLLUSION
Saturday, February 24, 7:30 p.m.
Sunday, February 25, 3 p.m.
Abramson Family Recital Hall
Daniel Abraham and Matthew Brown, conductors

AU Chamber Singers and AU Chamber Orchestra collaborate to present an exciting program of modern music from the twentieth- and twenty-first centuries. The program includes Samuel Barber's Adagio for Strings (1936), Pēteris Vasks' Dona nobis pacem (1996), Tarik O'Regan's Triptych (2005), and Arvo Pärt's Salve Regina (2011).
AU SYMPHONY ORCHESTRA: IN NATURE'S REALM
Friday, March 2, 7:30 p.m.
Sunday, March 4, 3:00 p.m.
Abramson Family Recital Hall
Directed by Matthew Brown
To celebrate spring, the AU Symphony Orchestra presents works inspired by humans' relationship with nature. The program takes its title from Antonín Dvořák's symphonic poem, In Nature's Realm, which will be paired with Beethoven's quirky Symphony No. 6 (Pastorale), which was inspired by the composer's retreats to the countryside in search of solace. The program will be rounded out with the prelude to Saint-Saens' rarely performed oratorio, Le déluge, a musical setting of the well-known biblical story of the flood.
YULIYA GORENMAN IN CONCERT
Saturday, March 24, 7:30 p.m.

Yuliya Gorenman, internationally acclaimed concert pianist and AU's musician-in-residence, presents her spring concert. Tickets: $10-25
AU WORKSHOP: THE MUSIC OF BELGIUM
Friday, April 6, 7:30 p.m.
Abramson Family Recital Hall
Directed by Noah Getz

In this new series of music from other countries, the AU Workshop contemporary music ensemble will explore the rich musical history of the birthplace of Adolphe Sax, the inventor of the saxophone, and composers Django Reinhardt and Cesar Franck.
AU CHAMBER SINGERS: THIS PROGRAM HAS NO THEME
Saturday, April 14, 7:30 p.m.
Sunday, April 15, 3 p.m.
Abramson Family Recital Hall
Directed by Daniel Abraham
The AU Chamber Singers present a broad program of music featuring favorite and "bucket-list" works selected by members of the ensemble. In conjunction with the Chamber Singers' reunion, alumni members will be featured along with the current group to perform a few of their favorite selections from years past.
AU CHORUS AND AU SYMPHONY ORCHESTRA: CENTENARY CELEBRATION
Saturday, April 21, 7:30 p.m.
Sunday, April 22, 3 p.m.
Abramson Family Recital Hall
Directed by Casey Cook and Matthew Brown
AU Chorus and AU Symphony Orchestra commemorate the 100th anniversary of the birth of Leonard Bernstein with his timeless masterpiece, Chichester Psalms. The program also includes works by Mahler and Elgar and concludes with Antonín Dvořák's Te Deum for chorus and orchestra.
AU JAZZ ORCHESTRA: SPRING SWING
Friday, April 27, 7:30 p.m.
Abramson Family Recital Hall
Directed by Joshua Bayer
The AU Jazz Orchestra plays swingin' big band jazz.
AU SYMPHONIC BAND: IMPACT
Sunday, April 29, 3 p.m.
Abramson Family Recital Hall
Directed by Ben Sonderman
Join the AU Symphonic Band for an exciting program of new favorites, with an emphasis on percussion instruments, in what is sure to be a rousing show.
ARTS MANAGEMENT
EMERGING ARTS LEADERS SYMPOSIUM
Sunday, March 11, all day
Katzen Arts Center
The annual Emerging Arts Leaders Symposium (EALS) is a day-long event for students and emerging arts professionals to engage in discussion with experienced leaders about the issues that affect arts organizations. This year's theme Art Now highlights topics in arts management that seek to illuminate new perspectives, foster diplomacy between differing opinions, and bring fractured communities together. For tickets and more information, visit ealsatau.org.
ART
MOVING STATUES: TOWARDS AN EIGHTEENTH-CENTURY ONTOLOGY OF THE ANTIQUE
Lecture by Sarah Betzer, Associate Professor, University of Virginia
Wednesday, March 28, 3 p.m.
Abramson Family Recital Hall
While masterworks of ancient sculpture had long been the focus of admiration, the second half of the eighteenth century witnessed a sea change in how these objects were viewed and in how they were mobilized for thinking through questions of aesthetics. Professor Sarah Betzer probes the key elements at the heart of antique sculpture's newly consolidated artistic and art philosophical centrality by way of interlocking circuits of objects and artists, viewers and collectors, during the golden age of the Grand Tour. Free and open to the public.
AU DESIGN SHOW
Tuesday, April 3-Wednesday, April 11
Katzen Arts Center, Rotunda Gallery
An exhibition of selected student design work from the next generation of leaders in graphic design. Free and open to the public.
MUSEUM EVENTS & PROGRAMS
Admission to the American University Museum is free.
WINTER EXHIBITIONS
January 27-March 11
Members' Preview: Friday, January 26, 5:30-7:30 p.m.
Opening Reception: Saturday, January 27, 6-9 p.m.
Six new exhibitions feature work by Thomas Downing, the renowned Washington Color School painter; a retrospective of photographer Frank DiPerna; works of magical realism by Erik Thor Sanberg; large-scale installations by Czech artist Kateřina Vincourová and video installations by Brian Dailey; and multidisciplinary work by Abel Tilahun.
SPRING EXHIBITIONS
April 3-May 27
Members' Preview: Friday, April 13, 5:30-7:30 p.m.
Opening Reception: Saturday, April 14, 6-9 p.m.
Spring brings new exhibitions highlighting the depth and breadth of the sculptural and painting practices of Jiha Moon, Carol Brown Goldberg, Francisco Toledo, Clark Fox, and Miya Ando. The work of AU's Studio Art graduate students will also be shown.
GALLERY TALKS
All exhibitions feature gallery talks with the artists or curator.
FRIDAY GALLERY TOURS
February 2-March 9 and April 13-May 25, 11:30 a.m.
Explore the galleries with a free guided tour by our volunteer docents during the winter and spring exhibitions.
MUSIC IN THE MUSEUM
April 12, 7:30-9 p.m.
AU ensemble-in-residence INTERFERENCE new music collective explores the use of technology in composition and performance. During the concert, attendees are encouraged to move around the museum to experience the music from a variety of vantage points and alongside different works of art. Free and open to the public.
KIDS@KATZEN
Sunday, February 4, 1 p.m.
Sunday, April 22, 1 p.m.
Bi-monthly art classes for children ages 5-12 inspired by a current exhibition and often featuring a local artist-led tour and hands-on workshop. $10 per child.
YOGA IN THE GALLERIES
Every Wednesday, 10 a.m.
January 31-July 25
A peaceful Kripalu yoga class. All levels welcome. $10 per class, $5 for museum members. Free for Associate Level members and above.