Science
AI Spider Robot Makes Debut at American University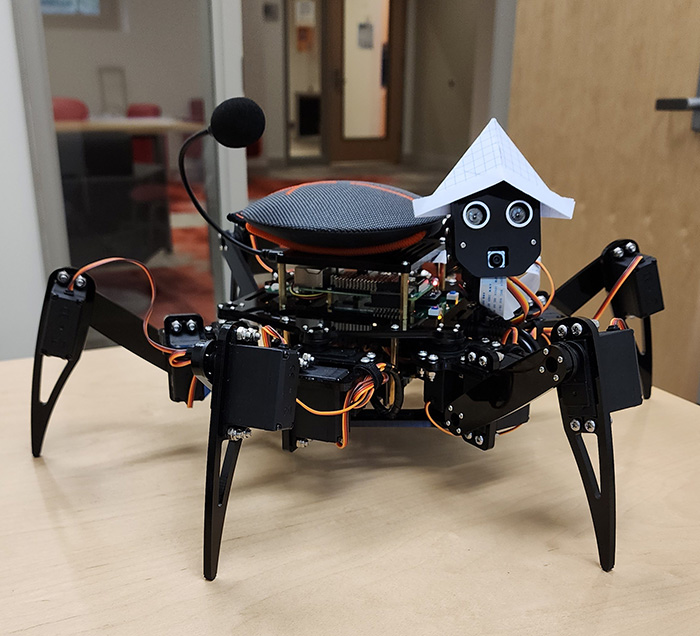 Meet Spidey, American University's very first AI robot. Spidey can walk, talk, recognize faces, greet people by name, and answer questions. 
Developed by Computer Science Professorial Lecturer Aref Zahed, the six-legged spider robot harnesses the power of ChatGPT, one of the most well-known Artificial Intelligence (AI) platforms. Spidey is wirelessly controlled by iPhones, Android devices, computers, or any Linux-based operating system. 
Zahed plans on creating a group of robots that can communicate with students across AU and provide them with relevant information when asked, from an explanation of quantum computing to the answers to complex mathematical problems.  
Zahed's next step is to develop a humanoid robot capable of human interaction, similar to the famous Sophia, which was developed in 2016 and displays humanlike expressions as it interacts with people.
Robotics and AI at Lightning Speed 
AI and robotics developments are progressing in leaps and bounds across the world, rapidly changing the way humans live and work. ChatGPT was just released to the public on November 30, 2022, and Zahed began developing Spidey two months ago. "The significance of Artificial Intelligence and robotics for our future cannot be overstated," he says. "I wanted to familiarize my students with robotics concepts and allow them to explore diverse hardware and software components. For this reason, I selected this robot type and started developing software and integrating various hardware components." 
Spidey is affordable and versatile, Zahed says, in terms of the robot kit and components, coupled with its advanced features. "Moreover, it runs on a Raspberry Pi 4 board, providing ample flexibility and capabilities to incorporate various modifications and improvements—and it can be programmed with Python, a programming language taught in AU's Department of Computer Science, making it appealing to students."
Next Steps
Spidey is still a work in progress, pushing the boundaries of AI and human interaction. "Currently, the robot has the ability to recognize faces and speech and can initiate a conversation based on the person recognized by its facial recognition system," Zahed says. "I am currently focused on further developing its human interaction and conversation abilities by leveraging the ChatGPT AI platform. I expect that Spidey will be able to comprehend speech through the utilization of speech recognition technology, appropriately analyze it via ChatGPT AI, and then verbally respond to people." 
Zahed is also working on installing a small solar panel and charging controller on Spidey, which enables the robot to be sustainable and charge itself with solar energy.
Technology and Innovations 
Zahed's professional interests are in the areas of cybersecurity, robotics, green technologies, and sustainability, and Spidey is just the latest innovative project to capture Zahed's imagination and expertise. He developed a total solution for an advanced Audio/Visual switching system as a part of Classroom Technology's ERP (Enterprise Resource Planning) for classrooms, which can reduce costs and improve safety, as well as a model for detecting cyber threats based on real-time hard-drive activity. He is currently working on launching a Solar Car Team at American University. 
To see Spidey in action, visit Zahed's LinkedIn page.