Alumni
Alumni Eagle Award for Dr. Sara Nieves-Grafals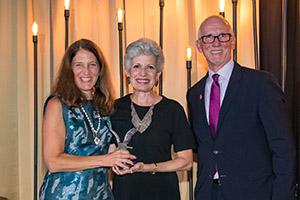 Dr. Sara Nieves-Grafals, CAS/BS '75, CAS/MA '79, CAS/PhD '80, received the 2019 Alumni Eagle Award on October 4, 2019. A retired Clinical Psychologist, Dr. Sara Nieves-Grafals spent 32 years as a psychotherapist and psychodiagnostician and published professional articles about the diagnosis and treatment of trauma with a special focus on traumatized refugee populations.
Currently she is a member of the College of Arts and Sciences Advisory Board and the Latino Alumni Alliance Leadership Circle. She also has served as vice president of the Alumni Board and on the AU President's Council on Diversity and Inclusion.
Originally from Puerto Rico, Sara focused her professional practice on cross-cultural adaptation and posttraumatic stress disorder and worked with people from all over the world, aided by her language skills and extensive knowledge of global cultures. A native Spanish speaker, she speaks a total of five languages and has travel command of four more.
Her love of world exploration, cultures, and cooking also led to the publication of a travel cookbook and magazine articles co-written with her husband, Al Getz.