Achievements
Anthropology Students Win Award, Present at Conference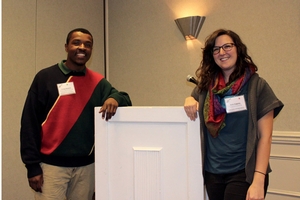 This spring, Craig Stevens (BA Anthropology '17) won the 2017 Council for Maryland Archaeology (CfMA) MAAC Student Award. Stevens and Erin Cagney (MA Public Anthropology '18) were also honored with an opportunity to present their original work at the 45th Mid-Atlantic Archaeology Conference in Virginia Beach.
"Both students presented excellent original papers at the conference, alongside professional and academic archaeologists from around the region," said Becca Peixotto (PhD Anthropology 2017).
Craig Stevens
Stevens' award was presented for his paper based on research for his senior capstone project, Maryland's Josiah Henson: A Tale of Black Resistance.
"Craig's CfMA award recognizes an outstanding piece of undergraduate scholarship," said Peixotto. "His project is a terrific example of real world public anthropology, combining archaeology, linguistic anthropology, and technology to share an important and overlooked piece of local African-American history with the public."
The award was sponsored by CfMA, a professional organization founded in 1976 to foster public awareness, concern, and responsibility for the conservation of archaeological resources in Maryland. Members are professional archaeologists who work to promote research, preservation, and management of archaeological resources in Maryland.
Erin Cagney
Cagney presented a paper titled Of Palisades and Postmolds, co-authored with AU Associate Professor of Anthropology Richard Dent. Their paper tackled the complex subject of discerning patterns of post-in-ground house structures and palisades from hundreds of post mold features exposed at the Biggs Ford site in Maryland. Cagney and Dent compared the structures at Biggs Ford with other Late Woodland period villages, demonstrating a consistency in both construction techniques and plans, and, by extension, in community organization amongst these sites in Maryland.