Arts
AU Arts Management Colloquium Tackles Diversity and Funding in the Arts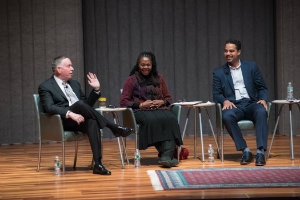 On February 26, American University's annual Arts Management Colloquium brought together more than 160 participants in AU's Abramson Family Recital Hall, and an additional 678 online viewers across the US and abroad, to focus on recent studies exploring issues of equity and funding for arts organizations of color. The event was hosted by AU's Art Management Program and organized by Denise Saunders Thompson, AU arts management professional lecturer and executive director of the International Association of Blacks in Dance.
"The event was a watershed moment in how we think about diversity, inclusion, and inequity in arts organizations," said Ximena Varela, director of AU's Arts Management Program.
Saunders Thompson added that the colloquium raised important issues from past and present. "A purposeful lesson that arose during the session resonated with the importance of how historically organizations of color functioned as a vehicle to help transform our society and raise social consciousness," she said. "And when it came to funding this type of work, various arts foundation officers were hesitant to financially support such a political statement. Many artists resigned to not receiving large funding support if that meant changing their artistic approach, 'selling out,' to the power structure just for the sake of money."

Panelists and Attendees
The event's moderator was Baraka Sele, independent arts consultant. Panelists included Michael Kaiser, president of the DeVos Institute of Arts Management; Donna Walker Kuhne, vice president of community engagement for the New Jersey Performing Arts Center; Malik Robinson, executive director of Cleo Parker Robinson Dance; and Zannie Voss, director of the National Center for Arts Research. 
Varela said that many organizations brought their entire staffs, or senior staffs, to the events. These organizations included the Arts and Humanities Council of Montgomery County, National Arts Strategies, the League of American Orchestras, the DC Commission on the Arts and Humanities, Fractured Atlas, Caribbean Center for the Arts, and Dance/USA. 
For More Information
Visit the website of American University's Arts Management Program.