Achievements
AU 2019 Global Health Competition Winners Announced Winning team develops innovative approaches to address climate change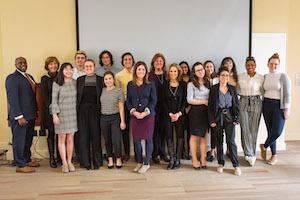 What would you do if you ran a public health nonprofit organization and just received a $2.5 million grant to address climate change at the local level?
This was the question confronting teams of American University students on February 27 in AU's 2019 Intramural Global Health Case Competition, sponsored by the Department of Health Studies and the College of Arts and Sciences. Each team was given the "case" details two weeks before the competition. They had to research the issues, develop strategies, and prepare an action plan.
The teams then presented their plans to four judges: Carlos Williams, MD, MPH, MBA, 2018-19 National Academy of Medicine and Robert Wood Johnson Foundation Health Policy Fellow; Kara Kokernak, MS, senior green building consultant, DNV GL; and, Trina Ulrich, MD, professorial lecturer, Department of Health Studies, American University.
"The event was a great success," said Jolynn Gardner, director of AU's Public Health Program. "All of the interdisciplinary teams presented very innovative, well-researched strategies to address the case. The judges commented on how impressed they were with all of the presentations."
The Winning Team
The winners, whose solution was titled "Addressing Malnutrition in Mekong Delta in Vietnam," won a $1,000 prize. Members included:
Jenny Park (BA public health '19)
Luc Marzano (BA public health '19)
Ben Davis- (BA political science '20)
Tim McPhillips- (BA film '19)
Rachel Swartz (BA public health '19)
Hannah Rapoport- (BA journalism '19)
The team created a rice fortification and subsidized greenhouse initiative, which was targeted toward the mission of mitigating "short-term and long-term climate damage by investing in the development and implementation of nutritional, climate change adapted crops by increasing funding towards diverse agricultural production and biodiversity in Vietnam."
The innovative approach would "create a sustainable program that could be duplicated locally worldwide that mitigates climate-caused agricultural damage that threatens the world's vulnerable populations' nutritional well-being."
Gardner said that the winning team's solution stood out. "They presented a sustainability plan and evaluated strengths, weaknesses, opportunities, and threats. They prepared a logic model and thoroughly researched a feasible and practical strategy to address the issues of the case," she said. "Additionally, they based their approach on solid theory. They created a very thorough evaluation plan, which directly reflected the desired outcomes. The winning strategy also reflected the reality of the need to engage the local community in assessment of needs and development and delivery of interventions."
The Runner-Ups
Gardner praised the work done by all the teams. "The second- and third-place teams also based their strategies on sound theory and feasible goals," she said. "They presented very creative ideas and expertly utilized evidence to support their approaches. All of the presentations were impressive: the judges actually had a hard time making their final decisions!"
Second Place Team: Sustainable Justice ($500 prize)
Hannah Francis, (BS public health and BA international affairs '19)  
Mita Huq (BS public health '19)
Sofia Hinojosa (BA public health '19)
Sophie Hathaway (undeclared '22)
Third Place Team: Connecting Corners of the World ($300 prize)
Kendell Lincoln (BS public health '19)
Giselle Rodriguez (BS public health '19)
Roger "Alex" Ahlstrom (BA economics '19)
David Kalwicz (BA psychology and statistics '20)
Mary Kate Fogerty (BA public health '20)