International
AU Students Attend Opera Concert AU's Carmel Institute of Russian Culture & History invites students to culturally enriching performances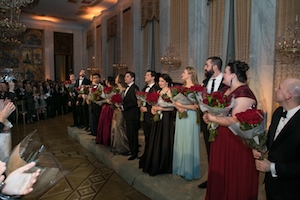 "Only music clarifies, reconciles, and consoles."
When composer Pyotr Ilyich Tchaikovsky asserted this unifying power of music during the nineteenth century, he could not have anticipated the state of international relations in the twenty-first. Nonetheless, the truth of Tchaikovsky's philosophy was demonstrated on Friday, March 23, when more than 200 students from American University and other area colleges visited the Russian Embassy for a joint concert of the Young Artist programs from the Washington National Opera (WNO) and the Bolshoi Theatre. The students were among 500 guests invited for an evening of music and dining, including intricate Fabergé egg-inspired desserts.
Now in its eighth year, the WNO-Bolshoi Exchange program was launched by American University's Carmel Institute of Russian Culture & History founder Susan E. Carmel to train young opera artists from the United States and Russia. The partnership—which Carmel underwrites—enables some of the world's most gifted and promising opera singers and pianists to further their development through cultural exchange.
World's Premier Music Exchange 
The training programs at Washington National Opera and the Bolshoi are two of the most respected in the world. Through the exchange program underwritten by Carmel, artists from the WNO and Bolshoi travel to each other's countries for voice lessons, movement training, language study, and visits to local cultural attractions. The exchange culminates in two joint concerts.
While the WNO-Bolshoi Exchange Program is fundamentally about rigorous artistic instruction, it is also about building much-needed global unity through culture. "In challenging times, a cultural dialogue is critically important. Without dialogue, there is no hope. Without hope there is no future," said Carmel. "Person-to-person communication is vital. Culture helps you to have that dialogue, at least on a person-to-person basis. It also reaches out to the young people today, and reaches beyond where it is not political—and it can endure through difficult political times on a person-to-person basis, keeping those cultural bridges open and finding ways that we can cooperate."
Carmel also stressed the role of cooperation and mutual respect, which she noted "are critical for any kind of diplomatic relations, whether it's political or not."
Art as Unifier
Anatoly Antonov, the Ambassador of the Russian Federation, observed that, "Among our guests tonight, [there are] many American students, educational and cultural figures, members of business and government organizations. For us, it is clear evidence that, despite the complicated situation in our bilateral relations, there is a great deal of interest towards the Russian culture."
"We have to keep this exchange alive," urged Robert Ainsley, director of the Washington National Opera Domingo-Cafritz Young Artist Program. "This is the way we learn, the way we grow, and this is why this is special. Art is a great unifier. It's the thing that brings us together. We can all appreciate beauty; we can all appreciate music."
Miranda Dotson, a student at American University, agreed. "As an anthropology major, I think culture is what carries a nation—and what carries societies through history and time," she said. "Being able to connect with an individual in a society on a cultural level, and exchanging beauty and ideas is a great way to establish a friendship, especially when times are tense like these. It's great to be able to come here—have a wonderful dinner, see a beautiful performance, appreciate Russia for what it has to offer, and put politics on the back burner."