Science
AU Scientists and Local Advocates Team Up to Protect Water and Air Quality
What is fracking, and how badly does it hurt the environment? What toxins does it release, and does it affect water quality in nearby streams?
What happens to air quality around new construction projects in urban areas? Does construction release pollutants that can have cardiovascular and respiratory effects, such as heart attacks, asthma attacks, and bronchitis?
These are just a few of the questions that American University Environmental Science Professors Karen Knee and Valentina Aquila are researching in partnership with the American Geophysical Union's Thriving Earth Exchange.
It's research with real-life implications for our air and water quality. The Thriving Earth Exchange connects community advocacy groups in need of scientific expertise with scientist volunteers like Aquila and Knee. Aquila is working on air quality issues with advocacy groups in Washington, DC. Knee is working with an Ohio group that is documenting the effects of deep injection of fracking wastewater on local stream water quality.
"To be responsible stewards of the environment, we need data about how human activities, including fracking, affect the natural world," Knee explains. "Industry and state governments may not be motivated to collect these data, and community groups working to protect the environment often lack the equipment, scientific knowledge, and funding to do it themselves."
Fracking and Heavy Metals in Our Water
Knee, who serves as chair of AU's Department of Environmental Science, has been involved with the Thriving Earth Exchange for the past year. The exchange paired her up with Columbus Community Bill of Rights (CCBOR), an Ohio nonprofit that advocates for clean air, water, and soil. CCBOR is concerned that the disposal of salty, toxic, radioactive wastewater from hydraulic fracturing or "fracking" in deep injection wells might affect the water quality of nearby streams. Knee is helping the group monitor the water quality in the streams.
The job is a great fit for Knee's research expertise. She has been investigating connections between fracking and stream water quality in the Marcellus Shale since 2013. Over the years, she collected more than 150 water samples during six separate sampling trips in the parts of Virginia, West Virginia, Maryland, Pennsylvania, and Ohio underlain by the shale deposit. She published two papers – both with AU student authors – that revealed subtle but statistically significant ties between the prevalence of fracking wells and the concentrations of heavy metals in stream water.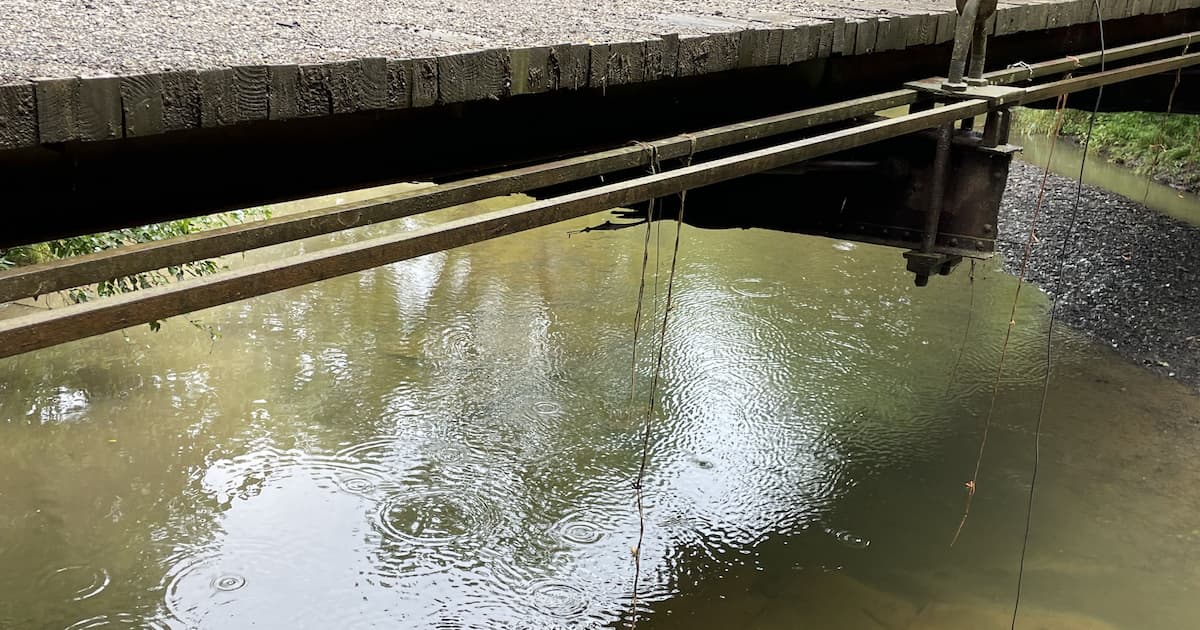 Knee met virtually with CCBOR members every two weeks in late 2021 and early 2022. Together, they developed a plan to place devices into the stream to continuously monitor the conductivity (saltiness) of water upstream and downstream of wastewater injection wells. The idea is that if a leak from the well occurs, the conductivity will spike downstream of the leak, but not upstream.
Knee traveled to Columbus in July to help install the devices. She also collected samples of stream bottom sediment at each site. The sediment samples will be analyzed for radium, a toxic and radioactive element found in fracking wastewater.
One of Knee's motivations to become an environmental scientist was the opportunity to help people protect and advocate for the natural world. "In the past, I coordinated with local government and community groups in Hawai`i, Ecuador, and Saipan to guide the development of research projects and disseminate results," she says. "The Thriving Earth Exchange truly prioritizes the needs of local communities – something that remains all too rare in scientific research, but which I hope to do more of in the future."
Construction and Air Pollution in Our City
Aquila has been working with residents of DC's Brentwood neighborhood in Ward 5 to measure local air pollution. Through the Thriving Earth Exchange, she connected with community leader Catasha Davis and other Brentwood residents concerned about the community impacts of a new bus depot that the city has proposed to build in their community.
Since June, Aquila and AU graduate student Lynn Heller have been installing and maintaining a network of PurpleAir air quality monitors that measure concentrations of fine particulate matter (PM2.5), a pollutant linked to cardiovascular and respiratory effects, such as heart attacks, asthma attacks, and bronchitis. Aquila has experience with this work: she and AU graduate students Stephanie Braddock and Josh Rivera measured PM2.5 concentrations in the SW DC neighborhood of Buzzard Point during the summer of 2021 after residents contacted her with their concerns about the many construction sites in their community.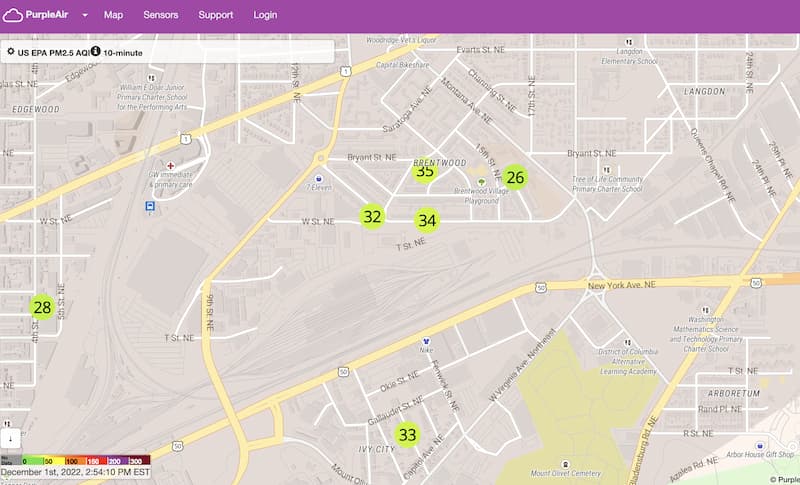 For this study, Aquila and her team installed nine air quality monitors at volunteer houses throughout the Brentwood neighborhood. Five of these monitors are still active, and their measurements can be monitored in real time on the PurpleAir website. The data for the first months of the deployment are currently being analyzed at AU and will be shared as a report that establishes the levels of PM2.5 across the neighborhood. Preliminary data collected between June and October show that, while not exceeding the threshold that the Environmental Protection Agency currently considers concerning, PM2.5 concentrations in Brentwood are higher than in all other Wards that host PurpleAir monitors.
Relevant Work to Protect Local Environments
Aquila says that the project has been rewarding because of its service to local communities. "Its relevance is clear, and this gives a different meaning to my work," she explains. "The fact that it was driven by questions from the residents was a new experience for me, and in fact, it motivated me to expand my expertise into studying urban air quality, a new field for me."
Knee adds that she hopes that her work with CCBOR to document water quality effects related to fracking will empower the group to protect their local environment more effectively. "I am planning to provide the full data set to the CCBOR group and assist them in presenting it to local and state agencies and lawmakers so that they can argue for better regulation of deep well injection or even putting a stop to it (if the data show evidence of fracking related pollution)," she says. "I also plan to publish the results in a scientific journal and help draft documents aimed at the general public, such as a newspaper article or social media posts."