Arts
AU's "Lost Girl" Cast Coached by Playwright Kimberly Belflower
It's not every day that actors get to rehearse an upcoming play with the playwright themself. But in February, American University students cast in the upcoming production Lost Girl had the privilege of meeting its author and creator, Kimberly Belflower. Belflower is a professor at Emory University and a successful playwright whose other works include John Proctor is the Villain, which premiered at DC's Studio Theatre last spring.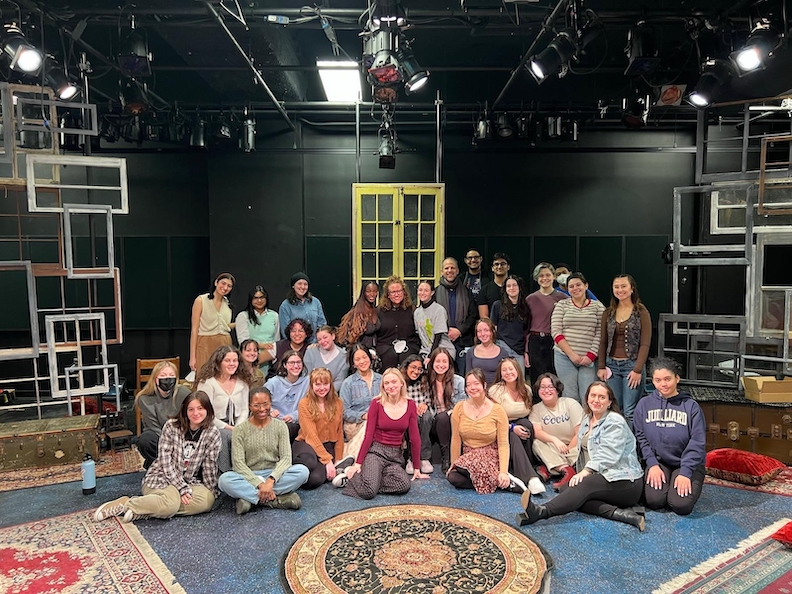 A coming-of-age story, Lost Girl tells the story of what happens when Peter Pan's Wendy Darling grows up. Feeling stuck in the past, Wendy decides to search for Peter to reclaim her kiss, and in the process finds other girls who have returned from Neverland. The Department of Performing Arts will present Lost Girl in Katzen's Studio Theatre March 1-4, featuring two separate casts under the direction of Aaron Posner. All performances are sold out, but you can sign up for our mailing list to learn about upcoming productions.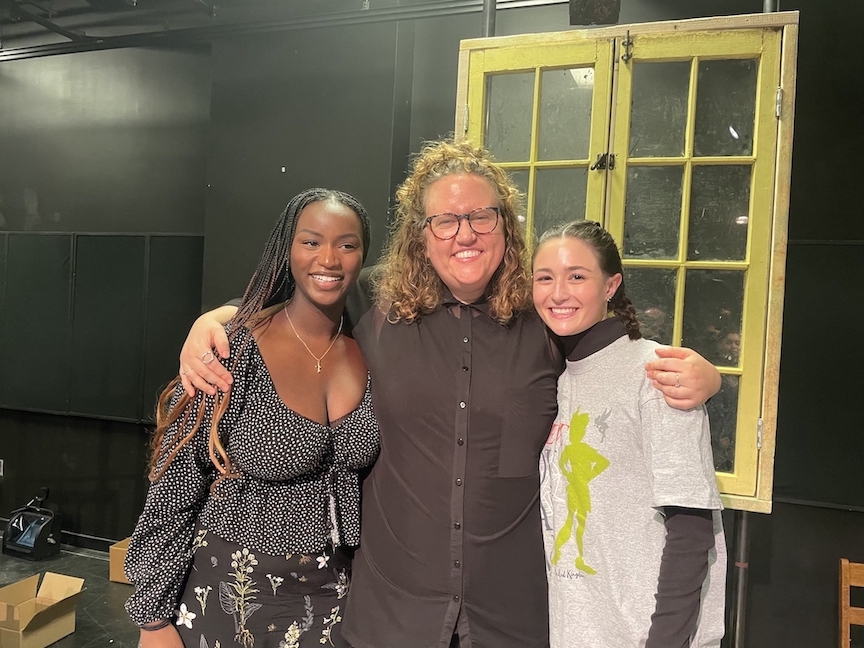 Belflower started her visit with theatre students enrolled in the Senior Capstone class for a discussion, where she shared details about her background, education, and the origins of Lost Girl. Belflower was an undergraduate student at Columbus State University in Georgia when she began working on Lost Girl, and it took a decade for her to finalize it.
The play's themes of growing up and searching for love were born out of Beflower's own experiences. "I wrote Lost Girl while I was writing myself. Every new stage I found myself in I was pouring into the play..." Belflower said. "It came out of my first real heartbreak." Belflower gave students insight into the process of writing and workshopping a play. And later that day, both casts performed Lost Girl, received feedback from Belflower, and gained more insight into the play. Sirra Faal, (CAS/SOC '24) who stars as Wendy, said, "Getting to meet Kimberly Belflower was an amazing experience. It's not often that you get to have the playwright in the room while you're working on the play. She was so generous both in offering her perspective as a writer and in sharing parts of her story that shine through Wendy." Abigail Altemose (CAS/SOC '24) who plays Wendy in the other cast, said, "When we asked Kimberly specific questions about the play itself, there were several questions she wouldn't allow herself to answer. She purposefully leaves answers up to audience interpretation so viewers can relate to it in their own unique ways. That is something I truly admire in Kimberly's writing."
Director Aaron Posner noted the energy in the room during the workshop, which he attributed to student actors connecting with a young, accomplished woman playwright whose experiences are preserved in the Wendy character. "We select plays for our students for a variety of reasons, but we hope to choose shows that they can connect to deeply." Posner felt that Belflower's visit inspired the students in their final weeks of rehearsal. "They have the privilege and responsibility of not only bringing Wendy to life, but to serve as guardians of Kimberly's perspective in the world."  
"Lost Girl" is presented by arrangement with Concord Theatricals on behalf of Samuel French, Inc.