In the Community
Russian Sax Player Igor Butman Plays at Embassy of the Russian Federation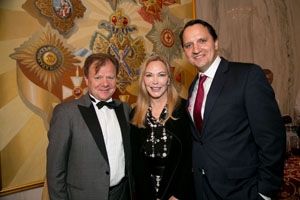 On Thursday, October 22, American University's Carmel Institute of Russian Culture and History (CIRCH) sponsored a night of jazz-and cross-cultural understanding-at the Embassy of the Russian Federation. Russian saxophonist and jazz personality Igor Butman performed with his band, drawing an overflowing crowd of students from AU and other area schools.
"I am honored to host such a great musician and cultural diplomat at tonight's Carmel Institute of Russian Culture and History's special event," said Susan E. Carmel, who established and endowed the Carmel Institute in honor of her late husband Robert Carmel. "Maestro Butman's commitment to making the world, particularly the world of US-Russia relations, a more joyous place through music is a wonderful example for our students to emulate."
Carmel pointed out that the evening was about more than music. "It is increasingly important that we continue to celebrate the many cultural and historical connections between the United States and Russia," she said, "and to work together toward a shared goal of overcoming persistent cold-war stereotypes, which can negatively influence us and create an environment that is counter-productive to mutual respect and cooperation."
A Beloved Sax Player
Butman is Russia's number-one beloved jazz personality and saxophonist-and a band leader, club owner, and television host. He's performed around the world at major jazz festivals and concerts and at every Olympic games since Athens 2004. He has produced several albums, and in 2009 he launched his own record label, Butman Music. Former President Bill Clinton praised Butman at a state dinner hosted by Vladimir Putin at the Moscow Kremlin, "[Butman] may be the greatest living saxophone player … ."
The Music
At the Embassy of the Russian Federation, Butman and his band of young artists performed many pieces, including "Intimacy of the Blues" and "Young Beauty: Here is She."
Anton Fedyashin, director of the Carmel Institute of Russian Culture and History, and associate professor of history at American University, spoke at the event: "Igor Butman's contributions to jazz diplomacy between Russia and the US are unparalleled. It is therefore appropriate that the Carmel Institute celebrated an important milestone with his concert tonight. As of tonight, over 15,000 students and guests have attended our events over the past four years, which demonstrates that the positive message guiding our commitment to US-Russian cultural enrichment produces real results."
The Evening
Enthusiastic AU students said they enjoyed Butman's performance and appreciated the opportunity to explore Russian culture. "I think events like tonight are particularly important because you get to meet people from another country and learn all about their culture," said Sagatom Saha (BS in business administration and international studies'15)who studied abroad in Russia during his time at AU.
Denis Gonchar, acting chief of mission, Embassy of the Russian Federation said, "He [Butman] is one of the best cultural ambassadors, whose main language is the language of music. He played saxophone in the Soviet Union where jazz was often treated by the authorities as a product of Western culture, and he plays it now proving to the world that music has no borders and is bringing people together."
The Carmel Institute of Russian Culture and History
The Carmel Institute promotes greater understanding of Russian culture's versatility and richness among students in the Washington area. It offers academic conferences, student exchanges, musical and theatre performances, art exhibits, and other events held at AU, the Embassy of the Russian Federation, and other locations around the Washington Metropolitan area. The Carmel Institute also offers students opportunities for Russian language study, and to take courses on Russian literature, film, culture, and history at AU.
For more information and a calendar of upcoming events, visit the CIRCH website.