Science
I-Corps: The "I" Is for Innovation, the "S" Is for Success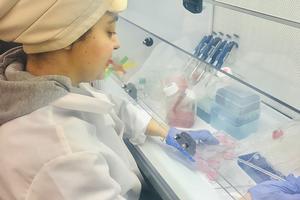 In spring 2018, American University became an official I-CORPS site. I-CORPS is a National Science Foundation-sponsored program aimed at developing science and technology entrepreneurship. Three semesters, 13 teams, 12 faculty mentors, and 20 students later, the results are in: I-CORPS is a resounding success.
Students in the I-CORPS program at AU have been admitted to medical school and engineering PhD programs, secured global innovation internships, and gained employment in technology firms. Some have even patented their technologies and are continuing to research their projects by working with the American University Center for Innovation (AUCI).
Irena Volkov is one such success story. One of the inaugural students in the I-CORPS program at AU, Volkov established Surgicure Technologies, LLC through the AUCI Incubator. Her company developed and patented a bite block and medical tube securing device, which allows patient airways to remain open during medical procedures while preventing damage to skin and teeth. She is currently pursuing a PhD in the Medical Engineering and Medical Physics program run by MIT and Harvard.
I-CORPS curriculum teaches early stage product and business development using the Lean LaunchPad model, which focuses on "customer discovery"—using customer crowdsourcing techniques and interviews to determine whether a venture idea has commercial merit. The program provides students with $2,250 to develop their ideas, including building prototypes in AU's Design and Build Lab.
"I became more confident talking to people," says Rana Said, a biotechnology MS graduate who is currently in the PhD program in Biotechnology in the Department of Chemical and Biochemical Engineering at Tufts University. "The interviews helped me find the way to the question I wanted to answer, and having my project related to research I was doing was really powerful." Said worked with Biology Professor John Bracht on research into weight loss proteins while at AU, and through I-CORPS developed a device that allows for easier, painless delivery of weight loss therapies based on both her lab research and her customer discovery results.
Success also is in the cards for I-CORPS students continuing at AU. Colleen Baldwin is now working in the AUCI on her project, Moodbase, a wearable technology that monitors mental health. Baldwin, along with Volkov, won prestigious VentureWell e-team awards that provide funding and support to promising student inventors and entrepreneurs.
Chemistry Professor Alexander Zestos has also taken his research to the next level. After mentoring Alexander Mendoza, who graduated with a neuroscience degree this spring, in the commercial development of a brain monitoring probe, he and his team have been invited to participate in the National I-CORPS program this summer.
By developing marketable skills through the Design and Build Lab, teaching product development techniques, and providing a platform for science communication, I-CORPS at AU is clearly fostering both innovation and success. "I-CORPS has opened many opportunities for me," says Said. "What I did in I-CORPS really nailed the essence of biotechnology: the application of scientific research to real technology."