Science
New Hall of Science Opening in 2020 Embodies University's Commitment to Supporting the Sciences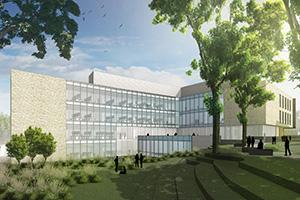 As its latest commitment to supporting the sciences, American University will open the new Hall of Science in Fall 2020. The airy, 125,000-square-foot, state-of-the art facility will house AU's biology, environmental science, chemistry, and neuroscience departments. It joins the Don Myers Technology and Innovation Building, which was completed in 2017 and houses physics, mathematics and statistics, and computer science, as well as the AU Game Lab, the Kogod Center for Innovation, and the Design and Build Lab.
Science is the fastest-growing area of undergraduate study at AU. College of Arts and Sciences faculty have grown their research funding by 116 percent, securing 48 unique awards from the National Institutes of Health and National Science Foundation over the past five years. In 2018, its faculty received a total of $8.3 million in new research funding. The Hall of Science and the Don Myers Technology and Innovation Building will position the university to receive more funding grants as its researchers utilize the facility's advanced labs and infrastructure.
Innovation and Collaboration to Solve Critical Challenges
Scientists must work across disciplines to solve today's scientific challenges. The Hall of Science's design will spur collaboration between students and faculty from different areas of science—and from different fields of study, such as policy. The facility will enhance the student experience and position the university to launch new academic programs in the sciences.
"At AU we are building an integrative scientific culture, as opposed to a collection of individual laboratories," says Terry L. Davidson, director of the Center for Behavioral Neuroscience. "We are uniquely supportive of diverse research interests."
The Hall of Science is designed to become a hub of innovation, where award-winning scientists and students can optimize their research on issues from hunger to national security to climate change, and where they will have the opportunity to collaborate with scientists from such prestigious organizations as the National Institutes of Health, National Institute of Standards and Technology, and National Aeronautics and Space Administration.
"Solutions to problems like climate change, cancer, obesity, and dementia demand great effort from scientists and policy-makers alike," said Peter Starr, dean of the College of Arts and Sciences at AU. "The new Hall of Science will empower our outstanding AU scientists in remarkable ways."
Funding Science Infrastructure at American University
Fundraising continues for the Hall of Science, including a recent $5 million gift from alumnus and trustee Gary M. Abramson (School of Public Affairs/BA '68) and his wife, Pennie. To honor the Abramsons' generosity and in the tradition of creating spaces to foster discovery through community, the Hall of Science auditorium will be named the "Gary and Pennie Abramson Discovery Hall."
For more information about giving to the Hall of Science or becoming more involved, please contact Elizabeth Harless at 202-885-5907, harless@american.edu, or please visit the giving page.