Arts
Celebrate Jazz History Month at AU's Jazz Concert Featuring Local Legends JAZZ: Concert and Conversation, April 22 at Katzen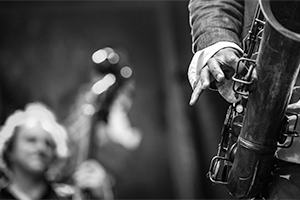 On Saturday, April 22, the College of Arts and Sciences hosts its annual spring concert featuring the American University Jazz Orchestra and special guest band, The Sax Summit, with Peter Fraize, Antonio Parker, and Elijah Jamal Balbed.
"April is Jazz History Month—as good a time as any to present in a grand fashion an art form that is uniquely America's classical music," said Joshua Bayer, AU musician in residence and director of the AU Jazz Orchestra. "This program will allow those in attendance to not only experience an exciting jazz performance, but to connect with jazz artists—perhaps we will be able to remove the mystery!"
Panel

The event begins at 6 p.m. at the American University Museum with a panel discussion moderated by Bayer. "This event follows AU's tradition in bringing people together on campus to experience, discuss, and participate," Bayer says. Panelists will discuss the business of jazz, as well as jazz education and performance.
Panelists include Rusty Hassan, longtime jazz host at DC community radio station WPFW 89.3 FM; DeAndrey Howard, musician and director of the Jazz and Cultural Society; saxophonist and composer Elijah Jamal Balbed; and legendary performer and educator Antonio Parker.
The panel is free and open to the public, but RSVPs are required.
JAZZ: The Concert

Following the panel is a reception at 7 p.m., and the jazz concert begins at 8 p.m. in the Abramson Family Recital Hall. The concert begins with a performance by The Sax Summit, a group of highly respected musicians and performers. Bayer will join in, playing the guitar. For the concert's second half, Bayer will lead the AU Jazz Orchestra as it performs a variety of jazz works.
Concert tickets are $5-10 and can be purchased in advance.