Science
AU's Center for Behavioral Neuroscience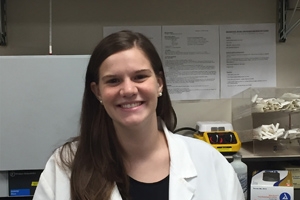 One might think of neuroscience as a subfield of biology or psychology, considering the cells or neurons in the nervous system that serve as a foundation for the cognitive and behavioral functions the brain performs. But neuroscience is essential for multiple fields—psychology, biology, chemistry, physics, statistics, etc.—to form a common goal or hypothesis. At American University, an active multidisciplinary neuroscience research environment is offered to both faculty and students and made possible through the Center for Behavioral Neuroscience.
Behavioral neuroscience investigates—at the level of neurons, neurotransmitters, hormones, and brain circuitry—the basic processes that underlie normal and abnormal behavior. Behavioral neuroscience also assesses how normal behavioral function can be disrupted through abnormal processing or dysfunction in the brain. Organized by the College of Arts and Sciences, the Center is a diverse group of more than 42 faculty members from many departments at AU, including biology, chemistry, health studies, mathematics and statistics, and psychology.
The Center greatly enhances the educational experience for neuroscience students at AU. Students in laboratories affiliated with Center members have the opportunity to conduct state- of-the-art research on many topics, including the brain circuits that underlie reward, memory, decision-making, language development, and addictions. Students also contribute to basic science discoveries on health-related topics such as brain trauma, drug transport in the central nervous system, depression, obesity, dementia, smoking, attention deficit hyperactivity disorder (ADHD), nutrition, and cancer. Integration of these research efforts with that of other Center members who are experts in the cognitive, sensory, and behavioral sciences makes it possible for students to acquire knowledge that spans multiple levels of analysis. Many of these students are working to obtain advanced degrees in AU's multidisciplinary Behavior, Cognition, and Neuroscience (BCaN) PhD program. Other students are working on completing their degrees in AU's new undergraduate neuroscience major, which had its first graduating class in May 2016.
Many studies are performed through the use of core facilities and collaborative research at AU. The Center provides access to core research facilities with equipment for confocal microscopy, optogenetic experiments, as well as human intracranial brain stimulation and electro- encephalographic (EEG) studies. Several current members of the Center have achieved significant external funding from the National Institutes of Health based in part on their access to these facilities or on other support from the Center. For example, Center members Stefano Costanzi (chemistry), Katie DeCicco-Skinner (biology), David Haaga (psychology), David Kearns (psychology), and Catherine Stoodley (psychology) have each been recent recipients of grants from NIH to support their research. Further, more than 10 other labs involved in the Center have recently published in the past year in top academic journals in their respective subfields. Many Center members have collaborated together on research projects; there have been 12 collaborative projects involving more than one Center member in the past year. These are the types of collaborative research projects and relationships that the Center strives to promote.
Another way the Center is able to support neuroscience research is through hosting work- shops and symposiums in neuroscience-related topics and fields. Terry Davidson, professor of psychology and director of the Center, hosted a conference on Childhood Obesity and Cognition in October 2014, and Mark Laubach, professor of biology, hosted the International Meeting on the Computational Properties of the Prefrontal Cortex in May 2015. In April 2017, the Center will host a symposium on sex differences in neuroscience studies.
The Center also supports neuroscience research by sponsoring external speakers. In 2015, the Center hosted eight external speakers through a Summer Colloquia and a Special Lectures in Neuroscience Series. These events brought in speakers from the University of Maryland, Brown University, Boston University, the National Institutes of Health, the National Institute of Mental Health, and the National Institute of Diabetes and Digestive and Kidney Disorders. The Summer Colloquia and Special Lectures Series allowed Center members and BCaN students to interact with leading experts in the field and gain insight into cutting-edge research in neuroscience.
The Center for Behavioral Neuroscience is a vehicle that helps students and faculty to come together and generate new ideas, methods, and discoveries in a broad range of disciplines. By promoting a uniquely collaborative and multidisciplinary research environment, the Center promises to increase understanding of how behavior and mental processes are influenced by brain and nervous system function and dysfunction. Success in achieving this goal will increase the visibility and impact of behavioral neuroscience and of all the sciences at American University.