Arts
Chilean President Dedicates New Mural at AU Museum President Michelle Bachelet visits Todas Las Manos Exhibition
On September 22, Chilean President Michelle Bachelet paid a visit to the American University Museum at the Katzen Arts Center to dedicate a mural that symbolized painful events in Chilean history — events that reached all the way to American University.

The mural, Todas Las Manos, was unveiled by Chilean artist Francisco Letelier in the museum's sculpture garden and depicts experiences from his own life with the Augusto Pinochet regime of Chile. One particular panel holds special reverence for him: it depicts a memorial for his father Ambassador Orlando Letelier.
Ambassador Letelier
Ambassador Letelier was killed in a car bomb in Sheridan Circle in 1976. The bomb was planted by the Pinochet regime because Letelier had spoken out against the regime's brutal tactics. The death also affected the American University family as Letelier served on the AU faculty while he lived in Washington. "I was working in Washington at the time and I remember the assassination vividly," said Katzen Museum Director Jack Rasmussen. "It's just a powerful thing to be able to bring Todas Las Manos here."

The ambassador's son is no stranger to delving into controversial art topics. He has previously created works related to the Palestinian, Northern Irish, and other Latin American conflicts. For this particular mural, Letelier partnered with students at the Latin American Youth Center, a charity supported by his father while living in Washington.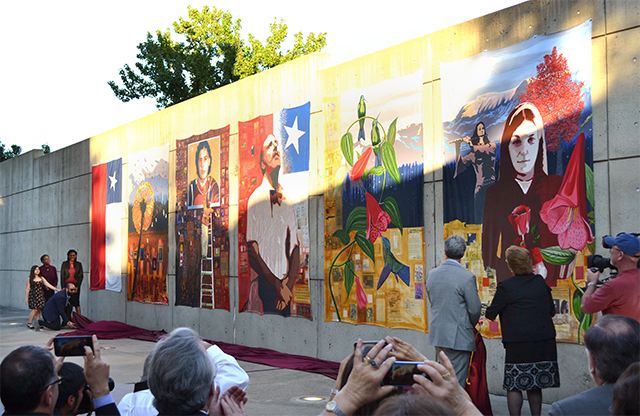 President Bachelet
Katzen's sculpture garden was filled with 200 VIPs, including representatives of the Chilean Embassy and staff from the Latin American Youth Center. President Bachelet's comments recalled the troubled past of her nation while embracing the future, especially amongst those who have been underrepresented in the past. Bachelet herself has a connection to the troubled past — both her parents were political prisoners of the Pinochet regime.
For More Information
Todas Las Manos will be on display at American University until October 23. For more information visit American University Museum at the Katzen Arts Center.